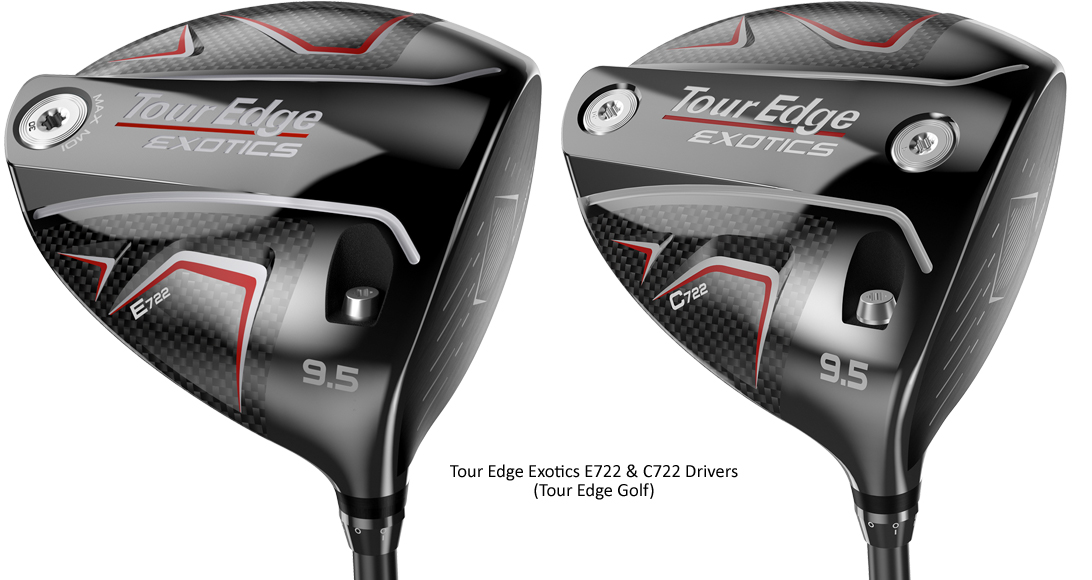 Capitalizing on the success of last year's 721 metalwoods Tour Edge Golf has updated them in the Exotics 722 family with the game-improvement category E (Extreme) series and batter-player category C (Competition) series.
Fast Facts Tour Edge Exotics 722 drivers
E722
Game-improvement category
460cc clubhead
Ridgeback design carbon fiber crown
Diamond Face VFT Tech
30g back weight
Adjustable hosel +/-2°
At retail March 5, 2022, $399.99
C722
Better-player category
445cc clubhead
Ridgeback design carbon fiber crown
Adjustable sole weights
Adjustable hosel +/-2°
At retail March 5, 2022, $429.99
WYNTK
The Exotics E722 driver has extremely high stability and resistance to twisting (MOI); Tour Edge says its 18% higher than the previous model. This makes it easy to hit but the newbie also incorporates a couple of notable technologies.
First is the Ridgeback design of the crown which incorporates a center strip of titanium running from the front to rear and flanked by large panels of carbon fiber. The titanium doesn't stop at the rear of the crown but continues around to the sole where it connects with a sole rail. Not only was weight saved versus previous designs which could be redistributed to help the forgiveness of the E722, but it also allowed the addition of a 30-gram backweight to improve ball launch characteristics.
The smaller headed and more expensive Exotics C722 driver uses the Ridgeback design but also has front and back sole weights to dial in both the MOI and spin rate. Standard positioning is a 20-gram weight in the back and 5-gram in the front, but the optional weight kit has 10, 12.5 and 15-gram weights.
Company founder and President David Glod commented about the new 722 drivers, "We hit a really nice groove with 721, so the 722 design goals were all about optimizing everything we could in the design phase," said Glod. "This meant putting our focus on optimizing CG, spin and M.O.I. for every player, adding launch without adding spin, adding some really cool adjustability that will be vital to our tour efforts, all while improving on our industry leading sound and feel. We nailed every design goal and it's showing up in the testing across the board."
Also announced at the same time were the Exotics E722 and C722 fairway woods priced at $249.99 and $299.99 respectively plus E722 ($229.99) and C722 ($249.99) hybrids. New for this year, all have adjustable hosels and Tour Edge's RyzerSole for easy launch with low spin and less turf drag.