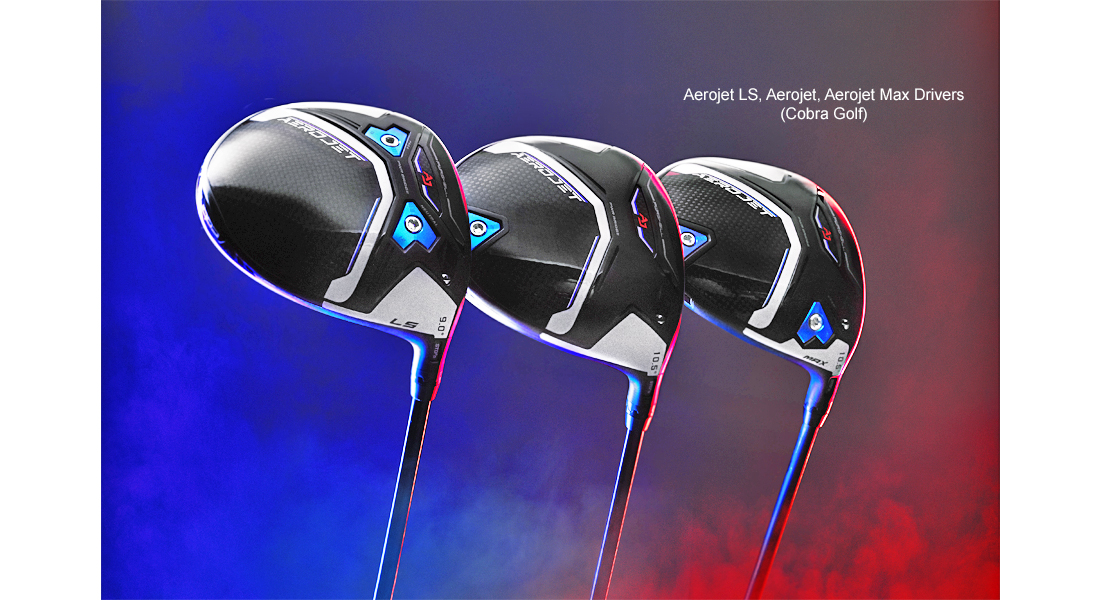 Cobra Golf's newest club family is called Aerojet comprised of drivers, fairway woods, hybrids, and irons. The drivers include major upgrades to last year's models such as improvements in shaping, internal structure and face geometry.
Fast Facts Cobra Aerojet Drivers
Head shaped for less drag
Variable thickness L-shape face
Internal PWR-BRIDGE
MyFly hosel—loft & lie adjustable
Stock grip: Lamkin Crossline
At retail February 9, 2023
$549
Cobra Aerojet Driver
Game-improvement category
Fixed 12g rear weight
Stock shafts: MCA KAI'LI White/Blue, UST Mamiya Helium Nanocore
Cobra Aerojet Max Driver
Super game-improvement category
Draw bias
Back & heel weights (12g & 3g)
Stock Shafts: MCA KAI'LI Blue, UST Mamiya Helium Nanocore
Cobra Aerojet LS
Better player category
Two sole weights (12g & 3g)
Stock shafts: MCA KAI'LI White/Blue, Project X HZRDUS Black
WYNTK
Cobra engineers have succeeded in creating three driver shapes each of which materially reduce the downswing aerodynamic drag meaning more club speed for the same amount of effort. Key to the drag reduction is the rounding of the top and bottom leading edges of the head plus a reshaping of the crown which is different for each of the three models. Robotic testing showed the Aerojet LS (Low Spin) is 1.5mph faster than last year's LTDx LS with less spin and this translates into more distance.
The PWR-CORE of the LTDx has been replaced with a 13g internal bridge that does not touch the sole nor the wraparound lip of the L-shaped face. Being suspended, if you like, the bridge provides the strength needed in the head but also allows for more face flex at impact. Speaking of the face, which Cobra calls a PWRSHELL insert, it was designed with a new variable thickness geometry using sophisticated AI software.
Also interesting, and reflecting the present driver market, the 2023 Aerojet is $50 more than last year's LTDx Driver.
"The aerodynamic package in the new AEROJETTM family of drivers is our most advanced to date," said Mike Yagley, Vice President of Innovation, COBRA Golf. "We continue to balance the aggressive streamlining with optimum mass and resilience properties to give players maximum club head speed and ball launch characteristics for increased distance."