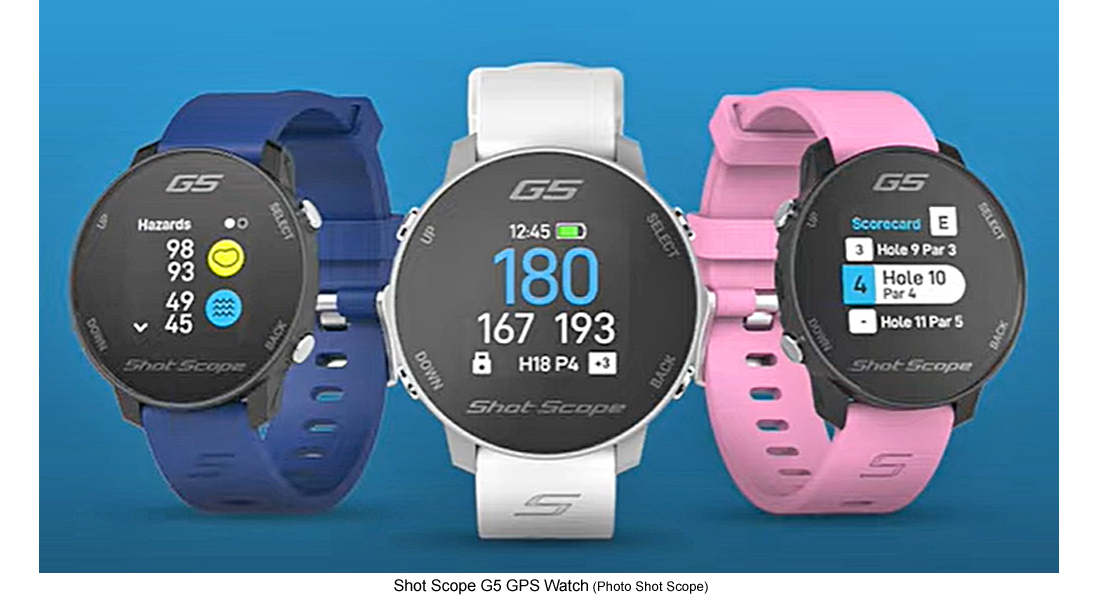 The new G5 GPS Golf Watch from Shot Scope is easy to operate with a large display and offers interchangeable color straps at a rock bottom price.
Fast Facts Shot Scope G5 GPS Watch
Lightweight 42 grams
Easy to set up—no phone app needed
36,000 courses worldwide preloaded
Digital scorekeeping
Yardage to front, back & middle of greens
Yardage to front and to carry hazards
Dogleg layup yardage
Two quick change straps–optional 12 straps
2 year warranty
$149.99 black or gray
WYNTK
The biggest reason you might buy a GPS watch is not that it makes a fashion statement but with the G5 it certainly may be a factor taking the colorful straps that are available into consideration. Make no mistake though, the G5 with Shot Scope's reputation for quality and performance, should be on the "must see list" and at a wallet-friendly price it has move to the front of the line.
Right out of the box the G5 is ready for the course, no app to download to your phone or computer connection required. The four side buttons do all the functions, the color display is bright enough for the sunniest days and the company tells me the battery will last for more than two rounds.
David Hunter, CEO, Shot Scope puts it best. "G5 is a product where performance truly meets style, as golfers get unmatched accuracy from Shot Scope's award-winning GPS distance measuring technology, as well as advanced course strategy features, while also having the option of matching their strap colors to their style preferences."
In the G5 announcement Paige Spiranac, a Shot Scope Brand Ambassador, was quoted, "The G5 golf watch adds the perfect blend of style to a truly innovative on-course game management tool. The innovative features of G5 allow you to play your best golf, while also building a custom watch to accessorize your game with stylish strap colors to match your outfit. It's cool, fun, and most importantly it performs at the highest level."