Austin, Minn. may never achieve being the epicenter of worldwide golf shoe manufacturing but don't tell a local outfit named GoBe Golf who are bringing to market their line of performance golf footwear…not surprisingly called GoBe's.
GoBe's have a highly water resistant upper material that, according to GoBe's testing, is roughly 20 times more water resistant than treated leathers plus it's breathable, resists staining, very durable, will make you better looking and banish 3-putts forever from your game…just kidding about the 3-putts.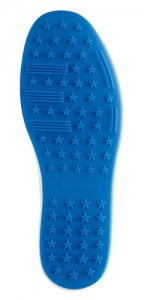 Mated with a liner having interior moisture management construction plus anti-microbial and anti-odor properties and your feet will stay cool and dry.
They are stylish and comfortable with an innovative approach to providing on course traction – 5-pointed stars patterned across the sole.
The company, which was started by footwear industry veterans and PGA Professionals, makes use of a patent-pending Talon tread sole they say, "allows for superior traction on the course without the need for cleats for a 'go anywhere' design."
"The technology behind GoBe's 5-point star tread elevates the golf shoe so it is a part of a golfer's performance equipment," said Joe Allen, President. "The traction and wear benefits of these soles are clearly superior in comfort to cleated soles without losing any traction benefits."

"The stars are a terrific breakthrough in tread design because the five points on the stars can really grip the grass without creating the pressure points traditional cleats cause which tire feet," said Allen. "The traction stripes are placed right where your feet need the most support during the swing to keep from sliding; it's added insurance against slippage. The confidence you get from those traction points will make a big difference in the power of your swing."

GoBe offers three styles for men at a SRP of $159 and two styles for women – SRP $139.