adidas Golf is calling the new adipure motion "the latest evolution in the adipure collection" and specifically engineered for more stability and flexibility to increase ground contact throughout the swing.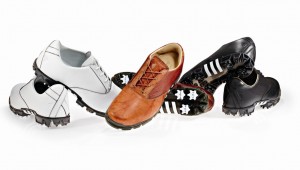 "The game of golf has evolved and, quite frankly, so has players' swings," said Bill Price, VP of adidas Golf Footwear. "Our focus for adipure motion was to deliver stability through enhanced flexibility and activate natural foot movement. More flexibility increases ground contact, which in turn maximizes force and ultimately equals more power."
Weighing 5 ounces or 23% less than the previous adipure model, adipure motion features a 7-spike, ultra-light outsole for ease of movement. "Heavy, stiff, platform shoes of the past don't provide the motion, support and lightweight comfort today's golfers are seeking, says Dr. Phil Wagner, Sparta Performance. "Natural motion footwear is becoming the new standard on the PGA Tour, and adipure motion with puremotion technology gives golfers premium performance while allowing the foot to function in its most natural state."
adipure motion shoes have a SRP of $250 and will be in shops Nov. 1.