Marked with a Japanese character, a kanji that translated means "striving" or "noble effort," the New Wedge Series from Miura Golf are so well crafted they almost could be considered works of art in addition to being wonderfully designed golf clubs.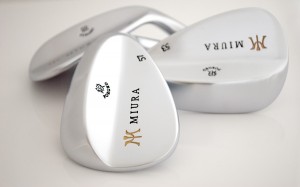 According to President Adam Barr, "Shinei Miura and his brother Yoshitaka, with help from their father, Mr. Miura, have come up with a truly artistic set of refinements for our wedges. Significant changes don't have to be big. After watching and listening to hundreds of players, the Miura family learned a great deal about how golfers like their wedges to get through the turf. So while some of our bounce angles haven't changed in terms of number of degrees, subtle improvements in the overall sole shape have made more effective bounce angles that the Miuras are very proud of."
 The New Wedge Series are available in odd-numbered lofts from 51 degrees to 59 degrees and each has a precise leading edge and bounce angle designed for consistency and control. After all, wedges are not for hitting the ball a long distance but for knocking it close to make birdies and pars.
 Barr said, "The story of the New Wedge Series is one of refinement, putting together everything we've learned about wedges the past three years."
 The amount of offset changes with the wedges loft, highest in the 51 degree model gradually decreasing until there is actually onset in the 57- and 59-degree models. The New Wedges have very tight tolerances with weight variation within 1/56th of an ounce. Head weight range from 297 grams in the 51-degree model to 307 grams in the 59 and are made to tight tolerances of with 1/56th ounce.
Miura's New Wedge Series are available at select custom fitting shops and carry a SRP of $235.