In order to capitalize on the banning of anchored putting and only two days after the USGA made the announcement, Callaway Golf's (NYSE:ELY) Odyssey brand introduced the Metal-X Arm Lock Putter.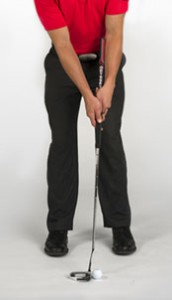 This almost mid-length putter allows the user to make a stroke with the putter against the inside of the left forearm and a conventional grip. Odyssey says this proves a stabilized putting stroke within the Rules of Golf as "a natural-feeling extension of the golfer's arm." The Arm-Lock would also facilitate a set up similar to that used by Matt Kuchar on the PGA Tour allowing for the right hand to overlap the grip and left forearm.
According to Chris Koske, Global Director of Odyssey, "We have been working toward solutions for the proposed ban on the anchoring technique for some time now, and working with our Tour players, have identified an alternative and Tour-proven putting method. We're now moving quickly to deliver the Arm Lock products that promote a stable and consistent putting stroke for both Professionals and amateur golfers."
The Metal-X Arm Lock Putter will be available in January with two models, the Metal-X #7 and the Metal-X DART both with a SRP of $189.99.