Leupold's GX-1i and GX-2i infrared laser rangefinders boast accuracy to 1/10th of a yard out to 800-yards "shooting" a reflective surface and beep when a prism reflector equipped flagstick is "locked on."
"These two new models include all the high-performing features that have made the GX series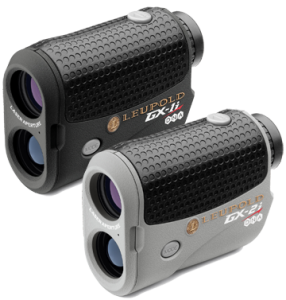 rangefinders so successful," said Rob Morrison, Leupold's vice president of marketing. "By incorporating our next-generation DNA engine technology into this platform, GX-1i and GX-2i models take ranging speed and precision to the next level. Leupold has a historic and well-respected reputation for developing advanced technologies to provide pinpoint accuracy for many applications."
DNA stands for Digitally eNhanced Accuracy while the Prism Lock Technology works in scan mode for either the GX-1i or GX-2i and each has a Fog mode for those early morning, albeit misty, rounds,
In the GX-2i Leupold makes us of True Golf Range (TGR) and Club Selector for distance information factoring slope to the usual line of sight distance measurement plus temperature and altitude to arrive at an adjusted "plays like" yardage. For example a shot from 150 yards straight line to the pin with an uphill slope of six degrees plays as if it were 164 yards.
If the user inputs the distance of three specific clubs the Club Selector feature will show which club to use for each shot.
Both the GX-1i and GX-2i are weatherproof, lightweight (6.1 ounces) and compact and measuring 4.1 inches long, 2.9 inches high and 1.3 inches wide. A magnification factor of 6X is standard and the scan mode may be activated with just one touch. Suggested retail for the GX-1i is $374.99 and $439.99 for the GX-2i.