"Drive for show—putt for dough."
So says the old adage but Mark Broadie in his new book "Every Shot Counts: Using the Revolutionary Strokes-Gained Approach to Improving Your Golf Performance and Strategy" shows this accepted wisdom just isn't true. In fact he explains a new way for golfers to look at their games and help their make their scores lower.
It's all based on the concept of strokes-gained and Broadie should know since he is the one that came up with the stokes-gained-putting stat based on ShotLink data from the PGA Tour. But the surprising fact is when applied to the other parts of the game like driving, long approach shots, short approach shots and shots around the green, putting accounts for only 15 percent of the difference in scores at every level—professional to rank amateur.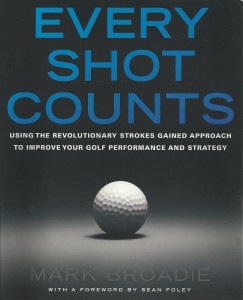 For those who may not be sure of what strokes-gained is, here is a passage from the book:
"If a stroke starts on a tee where, according to historical data, the average score is four, and if it finishes at a position in the fairway where the average strokes to hole out is 2.8, then the tee shot has moved the ball 1.2 strokes closer to the hole with just one stroke. The single tee shot has gained 0.2 strokes compared to an average tee shot, so it has a "strokes gained" of 0.2"
A simple calculation, just subtract one number from the other, but the devil is in the details. Getting the data was impossible until ShotLink.
Applied to recreational players about two thirds of the difference in scores between touring pros and weekend warriors is for shots from over 100-yards which of course places a premium for everyone to practice approach shots rather than driving and putting.
The message of "Every Shot Counts" is not that we recreational golfers are worse than tour players, we already knew that, but by using strokes-gained to analyze our individual games and then practicing to make our weaknesses strengths we will score a lot better.
Finally Broadie has the credentials for us to pay attention to what he says. Not only was able to discover the truths revealed by strokes-gained, he is the Carson Family Professor of Business at Columbia Business School, a member of the USGA handicap research team and a former club champion at Pelham Country Club.
"Every Shot Counts: Using the Revolutionary Strokes-Gained Approach to Improving Your Golf Performance and Strategy" By Mark Broadie from Gotham Books–March 10, 2014 in Hardcover & eBook