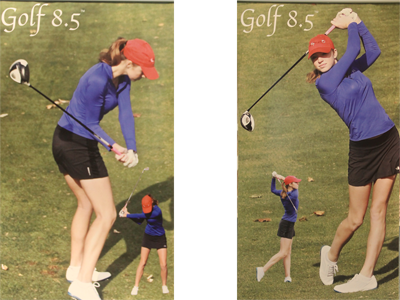 Golf is simple…really. Not easy certainly but simple and LPGA Teaching & Club Professional Hall of Fame instructor Kay McMahon figured that out one day when she realized her traditional way of teaching wasn't cutting it. The message she and a lot of other instructors were passing on seemed to be even at the amateur level, golf was complex, complicated…maybe even beyond most of us struggling to learn. McMahon saw this clearly was the case and after her years teaching golfers from rank beginners to accomplished players also saw clearly a different approach was required. After a lot of thought and applying insights from her competitive experience the result was a new simpler teaching method she named Golf 8.5 and as anyone who has had the experience of working with McMahon will tell you, it's spot on.
Golf 8.5 deals with the swing simplistically and unquestionably best of all, demystifies the endless list of things most people think they have to do in the less than two seconds a swing takes. McMahon's company, eduKaytion Golf in Lennox, Mass. at the Cranwell Spa & Golf Resort, teaches Golf 8.5 in schools, seminars and private lessons. Director of Operations Eloise Trainor, whose golf credentials include starting the FUTURES Tour (now the LPGA Symetra Tour), and McMahon make an effective team getting the word out. Once the basics are understood there are really only 4 things to do before and 4.5 things during the swing, hence Golf 8.5. For example after holding and aiming the club and feet take the club back thinking of a "Y" formed by the shoulders, arms, hands and shaft. When the club is waist high make an "L" by bending the right elbow and continue turning until the shaft is over the right shoulder. Simple to describe and simple to do. Of course there's a lot more to McMahon's teaching but her personality encourages students without talking down to them and makes a lesson seem like time well spent on the road to playing this greatest of all games. We asked McMahon to share her thinking concerning some of the issues surrounding today's golf instruction and her philosophy of making golf simple. Significantly, McMahon believes making golf instruction less complicated is a key in attracting and keeping players and growing the game.
ERT: What's the biggest problem learning an effective golf swing? KM: There are so many fragmented "tips", videos, isolated TV comments, and "professional or not" opinions on the golf swing that the average person ends up trying to do those 1001 things in 1.2 seconds and thus confusion reigns. Those tips are fragments that never give the complete picture. Then people go out, whack golf balls trying all of the various theories without much understanding of what is going on. And people practice swinging way too fast in an attempt to get more distance. Not effective practice at all because they have nothing to practice. The focus tends to be on the golf ball with the most common piece of advice: "Keep your head down or your eye on the ball!" ERT: How does Golf 8.5 address that problem? KM: Golf 8.5 is simple. It's about the club, not the ball. We first teach from a point of understanding, meaning the first step is to understand ball flight. Then more importantly how the club is used to affect ball flight. The focus tends to be on the golf ball which is not moving. We focus on the club because the club is the thing that is moving. Understanding where the club has to be, how to keep the club square, and then how to do it in only 4.5 steps. To change or to have an effective swing, practicing in parts and in slow motion, increases the learning stage rapidly. A person can change a swing in 7-10 days by taking the speed out and later putting it back in. Looking at the club head is first knowing where the club is and where it is square. Using Golf 8.5 people know what and how to practice. ERT: Why is Golf 8.5 different from traditional teaching methods? KM: Our message…Golf is simple. Golf 8.5 proves it. Traditional teaching methods make it complicated for the average person. It becomes difficult to understand. Little tidbits of information never get connected and/or are misunderstood. Golf 8.5 breaks it down into only 4 things to do before the swing and only 4.5 things to do in the swing. When the first three things of the 4 pre-swing are done in the right order, then the fourth thing posture, happens automatically. Traditionally posture is taught first with people feeling uncomfortable and looking like pretzels. In Golf 8.5 posture happens automatically. Therefore, we do not have to teach it–it happens! The 4.5 things in the swing of Golf 8.5 are 4 and 1/2 positions encompass or result in all those 1001 things that are taught. In Golf 8.5, a person only has to do or think about 4 and 1/2 things. Golf 8.5 creates a whole picture of the swing from the putter to the driver which is the same, gets rid of all the clutter in the 6-inch attic, and keeps it simple and extremely doable. ERT: Is the Golf 8.5 method just for girls and women? KM: Are you kidding? Is golf for men only? Golf 8.5 is for everyone from 3 to 103, from novice to experienced, men, women and children of all ages. Golf 8.5 is simple, easy to learn, and produces high results in a short amount of time. We want to grow the game not limit it. Golf 8.5 can do that because it is simple and gets results. When people play better, they will want to play and play more. The industry is talking about all kinds of ways to grow the game except teaching. Traditional teaching methods have hinder growing the game. We are want to revolutionize teaching methods by simplifying how it is taught. We are talking about changing teaching methods and developing quality simplified education as the biggest way to grow the game.