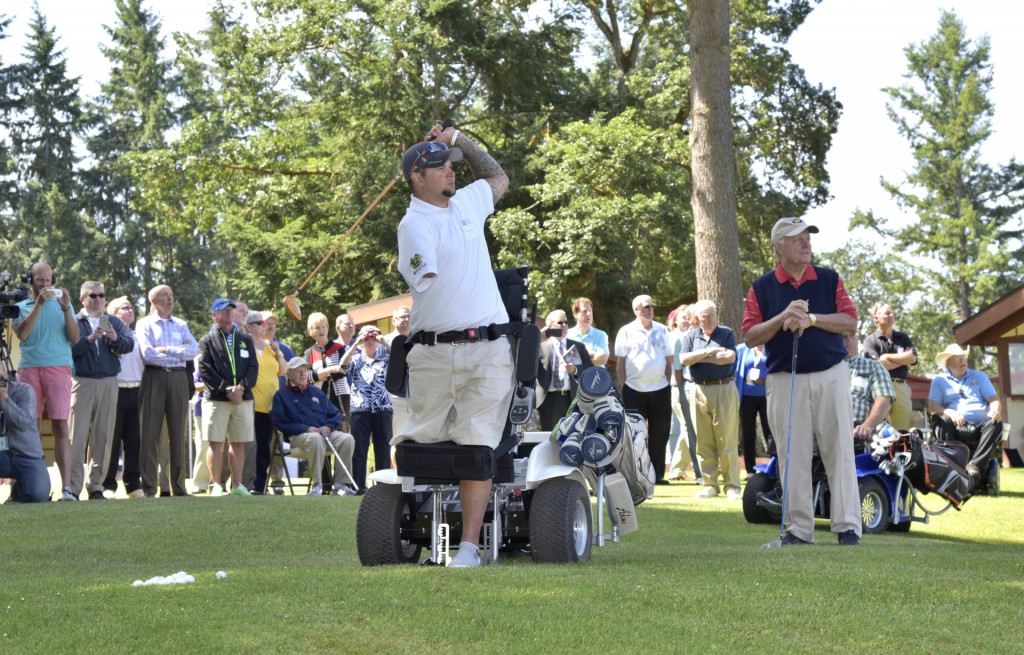 The "Nicklaus Nine" at American Lake Veterans Golf Course (Lakewood, Wash.) opened this weekend appropriately during Jack Nicklaus' own PGA Tour event, The Memorial presented by Nationwide.
The Golden Bear donated his design services for the new nine to encourage more veterans to participate and enjoy golf. It is a Jack Nicklaus Signature Golf Course and the 400th course worldwide since his first in 1969.
"It is a very interesting thing to watch these guys that come home after serving our country and to help them transition back to society. Golf has been a big, big booster to a lot of the guys that have post-traumatic syndrome," Nicklaus said.
"We've got a lot of men and women coming back home, and they need our help," he added.
The Nicklaus Nine opening coincided with American Lake's annual volunteer appreciation tournament with a ceremonial ribbon cutting by Joanne Hatner, whose father was the director of the VA Hospital during the first ribbon-cutting ceremony for the course in 1957, an event she attended.
Ken Still, a member with Nicklaus of the 1969 Ryder Cup squad hit the first drive representing close friend Nicklaus while the Golden Bear is in Dublin, Ohio at Muirfield Village Golf Club in Dublin, Ohio.
"Kenny called me, oh, I don't know, six or seven years ago," said Nicklaus, "and he told me, 'Jack, I need your help. We've got nine holes of golf out here, and it's playing 40,000 rounds a year. We need more golf. All these veterans, they're unbelievable, and I want to help them."
"'I want you to design another nine holes,'" Nicklaus recalls Still asking him, "'and fix up the other nine.' Well, we've raised the money. We've done the renovation work on nine holes. And we've gotten the [additional] nine holes built." The much-anticipated expansion will be open for others to play beginning Sunday, June 5. The course is ADA-accessible and is run by 200-plus volunteers and operates without any federal funding or paid employees.
"I could not be happier that American Lake turned out to be Nicklaus Design's milestone 400th golf course," Nicklaus said. "Everything that American Lake stands for parallels our mission at Nicklaus Design, and that is to give people a place to recreate and congregate, and to design a course that best services the needs of the people who play there. It's been a labor of love to be involved in the planning, fundraising, groundbreaking and design of the Nicklaus Nine at American Lake. I have always said that, in some ways, golf course design is a vehicle for me to give back to the game of golf. This time, we get the opportunity to give back to the men and women who have sacrificed their lives and limbs so we can live free in this country. To thank our nation's heroes in this small way really is my privilege. It is the least we can do for the 1% of Americans who protect the other 99% of us, reminding us that there is nothing free about freedom."