[For more on this year's Ryder Cup, check out The Grain e-magazine]
Scotland's split with Great Britain may have been voted down last week but that's not the only excitement in the country seen as the home of golf. The biannual Ryder Cup is begins Friday at the Gleneagles Hotel course in Perthshire and Team U.S.A. will try to make up for the crushing 2012 defeat they suffered at Medinah when the European squad won 8 ½ points in the Sunday singles to take the Cup back across the Atlantic.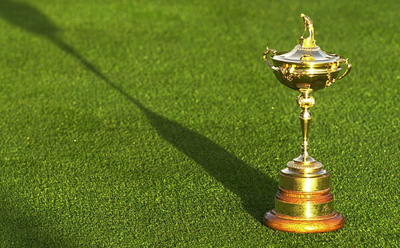 The Ryder Cup is the ultimate of international golf competitions and has a fascinating history going all the way back to 1927. The first five Ryder Cups were each won by the home team until in 1937 when the U.S. squad captained by Walter Hagen beat Great Britain at Southport & Ainsdale Country Club in Southport, England.
From 1939 through 1945 play was suspended due to the European war which became World War II after the attack on Pearl Harbor. Most people don't realize however during the war years the United States Ryder Cup team was still picked and actually played matches albeit not against the usual British opponents. It was against teams of other first caliber American players most notably Bobby Jones and Gene Sarazen and were played to benefit war charities.
In 1939 the American Ryder Cup team, with Walter Hagen as captain as he had been on the previous five teams, though never teeing it up against Great Britain was a real powerhouse led by Sam Snead, Byron Nelson, Henry Picard, Horton Smith, Paul Runyan and Jug McSpaden.
One day at an exhibition in Toledo Captain Hagen was doing a bit of bragging, spouting off, his team was so good they would have easily taken Great Britain if only the war hadn't interfered…in fact, they could beat anybody. Sarazen, who was not on the team being neither selected by the PGA of America nor as one of Hagen's captain's picks, finally had heard enough. The feisty competitor who obviously had taken a burn at being "included out" called Hagen to task saying he and a team he would pick could beat Hagen's Ryder Cuppers hands down.
The challenge was accepted and matches set for 1940 at Oakland Hills near Detroit. That first year Sarazen's challengers (Ben Hogan, Jimmy Demaret and Craig Wood among others) were soundly beaten 7 to 5 but in 1941 the tables were turned. Sarazen had been able to convince the great Bobby Jones, at least this once, to come out of retirement and play in the matches at Detroit Golf Club. Jones' skill helped make for a total reversal of results, a true upset, with the challengers winning 8 ½ to 6 ½. The next year Hagen didn't make the Ryder Cup team so "The Haig" played with the challengers however Captain Craig Woods "official" Ryder Cup team were the winners any way 10 to 5 at Oakland Hills.
Since it was felt the comparatively sparse crowds at Oakland Hills would be improved with a change in venue the 1943 competition was moved to Plum Hollow Country Club with Captain Craig Wood again fielding a strong team that included Sarazen, Jimmy Demaret, Lloyd Mangrum and Byron Nelson. Hagen was with the challengers again and teamed with such notables as Lawson Little, Harry Cooper and Bobby Cruickshank but still went down to defeat 3 ½ to 8 ½.
How important were these matches? Well certainly they were a diversion from the war as well as providing golf fans a chance to see their favorites who weren't away serving in the military and they also raised a lot of money for charity. For example the final day of the 1942 matches $35,000 was raised for the Red Cross plus an auction of war bonds totaled $139,000. Jimmy Demaret donated one of his knitted tam o'shanters that brought a bid of $20,000 and a hat autographed by all the players went for $100,000.
After the war was over with conditions in England slowly improving Ryder Cup play was resumed in 1947 at the Portland Golf Club in Portland, Ore. As a goodwill gesture (and because the English PGA couldn't afford the expense) Portland businessman Robert Hudson paid for Great Britain's team travel to Oregon including staterooms on the Queen Mary.
Not surprisingly and though the great Henry Cotton captained the visiting team the outcome was a lopsided win (11-1) for Ben Hogan's Americans.