adidas Golf has a new ultra-lightweight athletic shoe (only 10.6 ounces) for the active golfer. Though it looks and wears like a running shoe the Crossflex features in addition to modern styling breathable performance, flexibility and extreme comfort. 
It is built on a running last with spikeless, geometric outsole and transitions easily from the golf course to the street.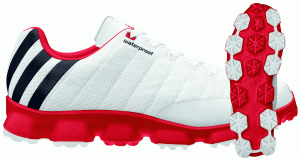 "Lightweight footwear is dominating the industry and the natural performance trend has made its way into golf," said Bill Price, VP of adidas Golf footwear. "With crossflex, you have long-lasting cushioning on and off the course with the advanced performance and style to be the next step in revolutionizing the way golfers approach the game."  
The outsole consists of 96 triangular traction lugs on 16 hexagonal pods allowing the foot to move freely while providing support and grip. Each opposing triangular shape was engineered to adapt to varying ground surfaces for stability. Connecting each pod throughout the outsole are flex channels giving increased traction and reduced fatigue through the geometry. 
The Crossfelx comes in medium width, has two-year waterproof warranty and is available in four color combinations for $100 a pair.