Who's Your Caddy is a free golf mobile application, the information and service being paid by local advertisers. Created by Red Mat Media, it is now available on iTunes and for Android systems. In addition to being able to be downloaded for no charge, golf courses may also participate without a fee.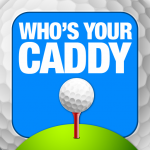 "Other golf apps can charge the course to be on the app. With Who's Your Caddy, not only does the course not pay a cent for the app, it can also make revenue from it with our revenue share program. We create partnerships with golf courses and users, no other golf app can say that," said Timothy Lyon, CEO of the parent company of Who's Your Caddy, Red Mat Media. 
The app also has Gimmes, are free gifts from businesses in the golfer's neighborhood such as a gift certificate to a restaurant that appear as text message while WYC is in use on the course. 
"The Gimmes really separate Who's Your Caddy from our competition," said President Suzanne Cahill-Manning. "It is a win-win-win program. Our advertisers gain exposure and direct access to potential new customers. The golf courses offer a benefit to their players, and receive a portion of advertising revenues. And of course, the golfers win with the Gimmes while using the very best golf app on the market. And it is all free." 
WYC features bothGPSyardages and Caddy Tips which detail each hole along with strategy to play the hole using videos from the club professional. Courses may purchase advertising on the mobile app with part of the fee going into a pool to be split among participating courses based on usage. 
Find more information at http://www.whosyourcaddy.com/.