Arnold Palmer hasn't been seen often on the Golf Channel in recent years aside from a few sound bites, occasional snippets and a once in awhile interview.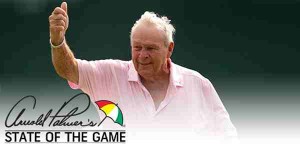 However fans of The King will be happy to know that's changed, at least as far as the Internet part of the Golf Channel. Palmer will now be an op/ed columnist for GolfChannel.com with a column appearing several times a year entitled "Arnold Palmer's State of the Game."
In his first Palmer wrote, "I have been around the game of golf since I first hit a ball when I was 3 years old. That was 80 years ago. I still have interests in golf course design, course ownership and so on, but I haven't really played competitive golf for quite some time. So as 2012 comes to an end, I'm seeing the game as you do: as a casual player, as a fan and as a businessman."
Golf Channel President Mike McCarley said in a press release, "Arnold Palmer's opinions are backed by a lifelong love affair with the game of golf, where he has seen nearly every issue from an insider's point of view. He is not only one of the most sought after and respected figures in the game, but also a treasured icon adored by fans of all ages across the world. So when he speaks, everyone in the game of golf listens. We're proud to provide a platform where Mr. Palmer can express those views as golf's elder statesman and that we can share this with visitors to GolfChannel.com."
Here are excerpts from the first "Arnold Palmer's State of the Game":
On issues affecting the game:
"Do we have issues? Sure – what truly global enterprise doesn't? We need to keep bringing the game to youngsters and women. We need to address the distance that today's ball travels. Slow play is turning time-starved people away from the sport. We need to encourage nine-hole rounds. We have environmental concerns to deal with and we have to keep a vigilant eye on the standards of sportsmanship that set our game apart."
On anchored putting:
"The U.S. Golf Association and R&A recently announced a ban on the practice of anchoring clubs – usually a long or belly-length putter – against the body. I applaud them for not only their ruling, but also for the patient and thoughtful approach they took, studying the issue for years and across all levels of golf before making their decision. There was nothing knee-jerk about it. The game is in good hands."
Good luck Arnie and welcome to the world of ink stained scribes, albeit a little late.