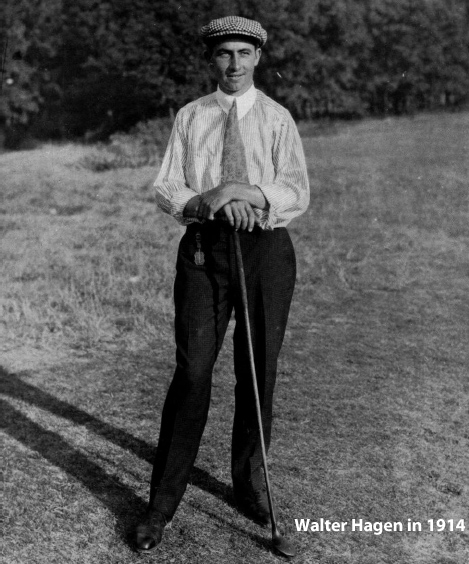 A cocky young professional begged a few days off from his club job so he could play in the U.S. Open and though not a "name" player the 20-year old was full of confidence. He was playing well and even dressed-the-game in a pure silk striped shirt, white flannel pants with a red bandanna casually knotted around his neck and white buckskin shoes that set him back ten whole dollars.
The year was 1913 and the stylishly garbed pro was Walter Hagen in his first venture on to the national stage where he displayed his high self-opinion while introducing himself to defending champion, "You're Johnny McDermott, aren't you? Well, I'm glad to know you. I'm W.C. Hagen from Rochester and I've come over to help you boys take care of Vardon and Ray." 
Certainly quite a beginning for Hagen in championship competition, especially against a future member of the World Golf Hall of Fame, Ted Ray, but more impressively in the same field was Harry Vardon, inarguably the best golfer in the world.
Everyone knows the story of the 1913 Open at The Country Club in Brookline, Mass. when unknown American amateur Francis Ouimet soundly beat the English superstars Vardon and Ray in an 18-hole playoff. Most people though don't know the brash future superstar Hagen finished three strokes out of the playoff after a triple bogey on the 14th hole in the final round.
The next year the Haig, after declining a contract with the Philadelphia Phillies, made the trip to Chicago for the Open being staged at Midlothian Country Club. All was not to smooth sailing however as the night before play began Hagen and a friend decided to try lobster and oysters for the first time…a lot of lobster and oysters. Horribly sick (Hagen believed it was ptomaine poisoning) and with no sleep, he could barely walk. However he managed to tee off in the first round, posting a course record 68 that was followed closely Ouimet with a 69.
After four rounds and battling his gastronomic problems the entire time Hagen prevailed with a score of 290 which tied the lowest 72-hole Open score to that point and won him all of $300.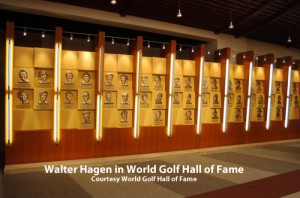 Hagen's first U.S. Open triumph was life changing. It gave him the "name" and fame (he already had the personality!) to build a lucrative career playing exhibitions in addition to competing in the sparse schedule of tournaments that would eventually become the PGA Tour. By forsaking his club position at the exclusive Country Club of Rochester he became the first of the modern golf professionals, banking instead on his money making ability on the course.
Ultimately Hagen had 45 tour wins including two U.S. Opens (1914 and 1919), four British Opens, (1922, 1924, 1928, and 1929) and five PGA Championships with an amazing run of four in a row plus he played for America on the first five Ryder Cups teams and captained the sixth. 
The Haig's was a superb competitor perhaps best reflected in in one of his most famous quotes, "Nobody remembers who came in second."