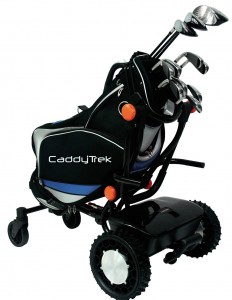 The CaddyTrek robotic golf cart is officially the coolest golf gadget since a bunch of crazy Scotsmen declared, "Let's play 18!"
The sleek, compact, next-generation golf bag schlepper leaves its remote-controlled predecessors in the deep rough when it comes to truly hands-free navigation around the craggiest of golf courses.
Specs. First, the techno-geek and related jibber-jabber:
250-watt dual motors
Lightweight 10Ah lithium ion battery, good for 27 holes or 10 miles on a full charge
Three-way folding aluminum frame (35 pounds without battery)
Multi-function remote control/transceiver
Wide-track drive wheels with matching caster wheels
LED Mode indicators for SB (Standby), FL (Follow), RC (Remote Control), and OA (Object Avoidance) on the transceiver
Folded dimensions: 22x17x11 inches
Maximum load: 45 pounds
Battery life: 500 charges
Replacement battery: $250
Price: $1,595
At your command. What all that means is that powerful dual motors, a featherweight but mighty lithium ion battery, and heavy-duty, no-maintenance wheels enable CaddyTrek to follow you for at least 27 holes of all-terrain golf. The cart will go when you go, turn when you turn, stop when you stop, and earn wide-eyed stares of envy from everyone within gaping distance.
Because CaddyTrek is truly a jaw-dropper. Whether you're tooling around on the fairway or ascending to a scenic overlook atop a mountainous layout (the manufacturer promises CT can climb hills up to 30 degrees), this cool little buggy will follow you wherever you go.
And that means everywhere. Earlier descriptions of the cart claimed the trolley could sense and avoid hazards and other dangers, but, that, alas, proved to be a bit beyond the capabilities of CaddyTrek. The machine, which hovers a respectful couple of paces or so behind you, will avoid collisions with people and objects like walls, but be sure to press "stop" before you walk over to mark your ball or hunker down into a green-side bunker. Greenskeepers may be wowed by your new toy but they still frown on carts rolling over their carefully manicured putting surfaces.
A few additional caveats: CaddyTrek requires a clear path between its sensors and the remote-sized transceiver, which you can handily slip into your back pocket or onto your belt. Should your golf towel, untucked shirt, or a close-walking playing partner inadvertently block such access, your trolley may become disoriented and begin stutter-stepping behind you.
Similarly, the transceiver must be within about 15 yards of the sensors or the signal will be lost somewhere in the ether. While you may turn the cart around and use the remote-control capability (with forward, backward, left, and right directional arrows) from distances up to 50 yards, the follow mode requires closer proximity between you and the cart.
The most complicated aspect of using a CaddyTrek is learning in what order to unpack and fold back up the chassis and wheels. You don't need an engineering degree from MIT to figure out how the front wheels fold underneath to form a bite-sized package small enough to fit in an overhead airplane berth — but it couldn't hurt. At least the directions that accompany the vehicle are clear enough for non-wireheads like me to follow.
Wireless battery. And that's about it as far as advisories go for this unique little conveyance. The battery, which may be CaddyTrek's standout feature, is five pounds of pure delight — especially compared with the 25-pound whopper that powers the remote-controlled cart I've been using. In addition to ease with which you can transport it, you'll be happy with its weight and design should your cart fall over.
For sure, CaddyTrek is not prone to tipping — thanks to its wide, sturdy, wheel base and four primary tires, which make the cart far more reliable than some of its remote-controlled cousins that rely on two back tires and a single wheel in front. (The fifth wheel on the CT and the fourth on other remote models is really a rear-end appendage that serves as a ballast of sorts to keep the cart from tipping over backwards.)
An unfortunately situated rock on a narrow, uneven dirt path, however, can upset the cart. It may also pitch forward as it follows you down a steep hill, so I suggest switching to remote control under such circumstances. But, while such accidents may render other carts unusable when the wires connecting the battery to the frame pull loose, the CaddyTrek has no such issues.
The literally wireless battery links to the cart via a built-in connector and is housed in its own covered compartment. Because there are no leads to yank out, should CaddyTrek lose its usually sure footing, just lift up the cart, straighten your clubs, and keep on truckin'.
Unless you're a touring pro with oversized luggage, or someone who likes to pack bricks in your satchel, CaddyTrek can easily accommodate your gear — up to 45 pounds of it. Another little benefit of the cart is its ability to maintain an steady pace and even stop on a downslope. The cart's internal computer provides braking power that acts like a governor usually reserved for drive carts.
Gimmick-free. If you're looking for a cart fancied up with a scorecard holder, umbrella holder, and other add-ons, CaddyTrek is not for you. While other companies offer a myriad of after-market sundries and gadgets, CaddyTrek is bare bones. It could use a cup-holder and perhaps a strap on the wireless remote for those of us who prefer not to swing our clubs with a clicker on our belt buckles. But you don't want too much clutter to interfere with the aerodynamics of the elegant, lean, bag-hauling machine.
Oh, and should you forget to charge either battery or remote sufficiently, turn off the power on the CT and easily push it like a manual cart for the rest of your round.
Sticker shock. Now for the bad news. CaddyTrek sells for $1,595, a hefty price tag that caused more than a few gasps as I put the cart through its paces on some select Massachusetts courses. Still, Richard Nagle, who handles North American sales for FTR Systems of Wakefield, Mass., says the company, which markets the product online and via several resellers, is shipping carts out as fast as they're making them.
"Everything we have in stock is going out the door," Nagle told us recently.
Alan Way, assistant store manager with Golf & Ski Warehouse in Hudson, N.H., concurred that price was not an issue for his customers, who were scooping up the item since it appeared on the showroom floor on April 14.
"Sales have been good," said Way.
Game-changer. Sticker shock or not, the bottom line is that CaddyTrek is a game-changer — both product-wise and for your play as well. While your fellow competitors are sucking wind from pushing, pulling, lugging, or just steering their rigs up those New England hillsides (FTR targeted the six-state region with its initial rollout), you'll power up the mountains with nothing but a confident stride, energy to burn, and a wicked cool miracle of modern technology following close behind.
Shipping since January, CaddyTrek comes with a one-year warranty on replacement parts. Contact the company at caddytrek.com.