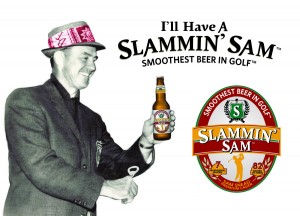 The next time you visit the 19th hole, you may want to ask the barkeep for the "smoothest beer in golf."
To commemorate the centennial of the legendary Sam Snead's birth — and just in time for this week's Greenbrier Classic — the Greenbrier Resort, where Snead was pro emeritus, has introduced Slammin' Sam, a craft-brewed premium lager inspired by the owner of golf's most classic swing.
While Wisconsin's Stevens Point Brewery came up with the recipe, the brew has a definite New England flavor.
"Mr. Snead is an international sports icon, and our first priority was to create an amazing beer that honors his legacy," Casey Bierer, founder and chief executive of Slammin' Sam Beer Company, a former producer-reporter with Golf Channel, and co-general manager of Wentworth Hills Golf Club in Plainville, Mass., said in a statement.
The company will make Slammin' Sammy available soon in the Boston area and nationally in cans, bottles, and kegs. For now, though, you'll have to book a flight to West Virginia — where Worcester native Scott Stallings hopes to defend his 2011 Greenbrier Classic title — for a quaff.
"Dad considered The Greenbrier his home away from home," Snead's son, Jack, said. "He'd be real proud of Slammin' Sam Beer, I can tell you that.
As for whether Slammin' Sam lives up to its own reputation — we'll let our own brew connoisseur, Tom Bedell, be the judge of that.