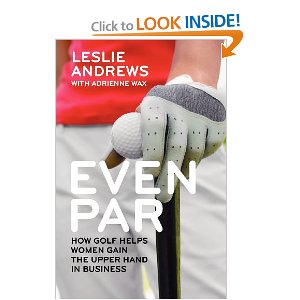 When Leslie Andrews learned how the head of the men's European Tour described Donald Trump's new Scottish golf course, "Wow!" was all the LPGA teaching pro and former corporate executive could exclaim.
"I'm dumbfounded by that," Andrews, the author of "Even Par," a book that encourages women to boost their business careers through golf, said to us about George O'Grady's comments regarding The Donald's latest exclusive retreat.
"It's a man's golf course," O'Grady told the Scotsman after playing the track, which opened earlier this month following years of skirmishes with environmentalists over development on protected wildlife areas. "It's meant for the highest level of play."
With the British Open just completed on Sunday, O'Grady's sexist remark reminded us of something the Royal & Ancient's chief executive said before last year's Open Championship about the no-women-need-apply Royal St. George's Golf Club. "The fact that it's male members-only is not something I'm overly concerned about," Dawson told The Telegraph in April 2011.
If nothing else, such sexist remarks illuminate the fact that women having to fight for equality on and off the course never goes out of style. Just ask IBM's CEO Virginia Rometty — though if her attendance at April's Masters tournament (sans a green jacket with which Augusta National's powers-that-be adorned her male successors) were any indication, chances are she won't offer an answer.
And that irks Andrews, who wants to level the playing field so that more than half the people in the world might have a sporting chance of furthering their careers. If Rometty, one of Time Magazine's Top 100 Most Influential People in the World in 2012, can't cadge a membership to Augusta that the heads of IBM — one of three sponsors of The Masters — traditionally receive, is all hope lost for the rest of us?
Definitely not, according to Andrews' book, though she expressed dismay over the way Augusta National's president summarily dismissed the idea of allowing women to join his old-boys club.
"When Billy Payne stood in front of membership [prior to the 2012 Masters], he talked about the importance of juniors and growing the game, and when he got to women he was suddenly speechless," Andrews said. "If you're in the business of growing the game, you can't ignore 51 percent of the population."
In "Even Par," Andrews explains that it's not really about the golf, but about making it into the secret club where business executives make business decisions. A study by research firm Catalyst, she notes, found that 46 percent of women surveyed said their exclusion from informal networks — with golf as a prime example — was a huge obstacle to enhancing their work lives.
Andrews lays out, in a convincing and readable fashion, the whys and wherefores of the business benefits of golf and how to hurdle the two primary obstacles to women crashing the boss' foursome: intimidation and fear of embarrassment. As an example, she points out that, contrary to popular opinion, no one would ever confuse Tiger Woods with the men who tee it up with the big boys from the executive suite.
"Plenty of the guys playing in business outings had a lot of reasons to be embarrassed — and many of them probably were embarrassed by their level of expertise, or lack thereof," Andrews writes in the "Myths and Realities" chapter. "The difference? It didn't stop them from being out there." [Andrews provides the emphasis.]
Andrews also offers easily digestible rules and etiquette tips for newbies, along with ways to overcome the mental barriers that keep women from grabbing opportunities on the course that could help them move up in their chosen fields. The book's strength is also its primary weakness, which is that it seems to target only new golfers or those considering taking up the sport. On the other hand, long-time players who are confident in their skills and will golf with anyone, anytime, anywhere probably don't need coaching to get in the game anyway.
As for whether women should "let the boys win" — as parents of a certain generation may have ill-advisedly cautioned their daughters — Andrews suggested that underlings (female or male) might want to give that some thought.
"Bruising your boss' ego comes at a cost," Andrews said, "whether you're a man or a women."
A Class A member of the LPGA Teaching & Club Professionals since 2002, Andrews previously spent 15 years as a senior-level marketing and sports-marketing professional with ESPN and Disney.
"Even Par: How Golf Helps Women Gain the Upper Hand in Business" from 85 Broads publishing house, is available from amazon.com.