Keegan Bradley has more than 267,000 Twitter followers, a ton of fans from his native New England, and now the 2011 PGA champion has a little guy running around with his name.
No, the 27-year-old Bradley and girlfriend Jillian Stacey aren't proud new papa and mama of a bouncing baby boy, but one of his legion of tweeps, Craig King, and his wife named their new son after the pride of Woodstock, Vt.
@ckingy tweeted last week about his bundle of joy:
"@Keegan_Bradley can I get a re-tweet for my son Keegan Bradley King? Born today at 1.23 am uk time"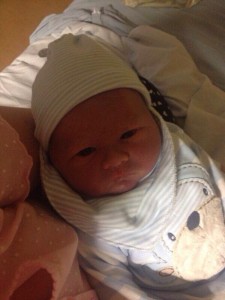 Seems Mr. and Ms. super fan were up in the air about what to name the newest member of the King clan, when suddenly it came to them. And despite what appeared to be some naysayers voicing their opinions, the Kings were all-in on the little one's new moniker.
"what is sick?" King typed. "We couldn't decide on a name and I was watching golf and the missus seen Keegan and liked the name"
Hey, why not? If the kid "Dufners" before he walks, though (fans of reigning PGA champ Jason Dufner know what we're talking about), there might be cause for concern for the mister and missus.