TaylorMade-adidas Golf is expanding its SLDR equipment franchise into the iron category with the introduction of the SLDR iron, which it says is engineered for golfers "seeking a classic club head'' in terms of shape, size and finish. The irons, according to TMaG, also feature the distance-enhancing and yardage-consistency benefits of its Speed Pocket technology.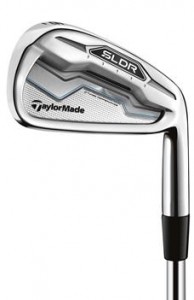 First featured in the legendary RocketBallz fairway woods and Rescue Clubs, and later adapted for the RocketBladez and SpeedBlade irons, TMaG says the SLDR iron's Speed Pocket with new ThruSlot Technology is characterized by a 2mm-wide slot cut high up behind the clubface. This ThruSlot, according to the company, enables a large area of the face to flex and rebound at impact, resulting in faster ball speed, a higher launch angle, strong ball flight and a steep, quick stopping descent angle.
"Golfers want to hit their irons far, which has put us on a path to engineer iron sets that have driver-like face speed," said Tomo Bystedt, TaylorMade's Director of product creation for irons, putters and wedges. "To find that speed, we created ultra-thin faces, introduced Inverted Cone Technology and now an enhanced Speed Pocket with ThruSlot Technology. The ThruSlot extends all the way through the bottom cavity, and works in conjunction with the ultra-thin clubface and deep undercut to promote tremendous face-flex at impact."
In addition, TMag says the ThruSlot Technology promotes a higher ball flight, longer carry distances and more consistent gapping between irons than the older versions of the Speed Pocket.
TMaG says the SLDR iron's remarkable sound and feel come from an advanced vibration-dampening system that includes the polymer that fills the Speed Pocket and a shock-absorbing badge positioned in the back cavity. The Speed Pocket is found in the soles of the SLDR 3-7 irons.
The SLDR iron will debut on the PGA Tour at next week's Byron Nelson Championship. They will be become available at retail beginning June 6 for a suggested retail price of $899. Wedges (SW, LW) will be sold separately for a SRP of $119 apiece.