Ping Golf says its new iBlade iron for golfers who rely on the precision and control to execute the most demanding shots in the game. In other words, low handicap and professional players. The sleek iBlade follows Ping's popular S55 model, which has amassed more than 50 wins around the world since its introduction more than two years ago.
"The iBlade project was a fun challenge for our engineers," said Ping Chairman John A. Solheim. "They approached the design with the mindset of what the best players in the world demand and need from their irons. They incorporated tour player feedback and created a beautiful club that delivers amazing performance.''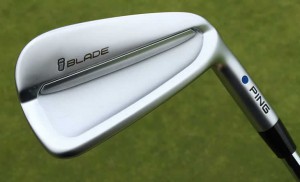 The iBlade, Solheim said, has a simple shape, clean cavity design and incredible feel.
"It's already our most-played iron on tour as players around the world have quickly converted to the new design,'' Solheim said.
The iBlade iron is available for pre-order today at authorized Ping golf shops around the world with a suggested retail price of $162.50 (steel) and $177.50 (graphite).
The body is precision cast from soft, high strength-to-weight ratio 431 stainless steel. The result, according to Solheim, is the softest, purest feel ever in a Ping iron. With the workability to shape shots on command, the compact iBlade iron head, Solheim said, delivers consistently precise distance and trajectory control that surpass skilled players' expectations.
The iBlade's feel, Solheim said, is achieved through a combination of the soft stainless steel and a larger surface area behind the face that houses an elastomer insert. The insert is "activated" at impact, which results in more vibration damping in the player's hands and a softer feel and pleasing sound. A hydropearl chrome finish repels water for more control and helps minimize fliers from wet conditions and lies in the rough.
"Consistency is the key to strong iron play, and that includes being able to hit the ball farther than before," Solheim said. "The iBlade delivers ample distance and height, but it's important that we engineer irons with control and proper gapping. We've designed this club to give skilled players the confidence to play any shot and know exactly how far the ball will go."