Since ushering in the golf push cart movement in 1999 with the introduction of the Speed Cart; Sun Mountain has continually refined and improved its carts.
New for 2017 are the three-wheeled Speed Cart GT and four-wheeled Micro-Cart GT. Notable updates include a redesigned bag support that the company says more easily accommodates golf stand bags and a new collection of add-on accessories. These new carts will be in golf shops in September with a suggested retail price of $209.99 for Speed Cart GT and $199.99 for Micro-Cart GT. www.sunmountain.com.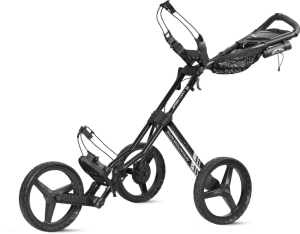 Sun Mountain says the Speed Cart GT features a redesigned upper bag bracket to better hold golf stand bags plus top and bottom bungee straps to more securely hold the bag. The cart's redesigned storage tray has a new mobile phone slot, a new drink holder, and an updated mesh basket. Speed Cart comes standard with an umbrella holder, scorecard holder, and padded storage tray.
Speed Cart GT folds down to W37" X H16" X D13" and weighs 17.25 lbs.
New on the Micro-Cart GT is a self-latching, lower bracket that Sun Mountain says clicks effortlessly into place when opening the cart and easily disengages when folding. An improved E-Z Latch on the upper bracket simplifies adjusting the handle height. Also new, is an upper bag bracket that has been redesigned to better hold stand bags. The new bracket also includes two bungee straps to more securely hold the golf bag.
The company says the front axle has also been improved with a no-tools-required system to extend the front axle by two inches to accommodate larger golf bags. The new Micro-Cart GT also offers an updated drink holder and new mesh basket to hold head covers, wind breakers, etc. Micro-Cart comes standard with an umbrella holder and a console with padded valuables compartment, magnetic scorecard holder, and pencil, ball, and tee holders.
Micro-Cart GT folds to: W27" X H17" X D13" and weighs 16.6 lbs.
There is also an ever growing collection of optional, add-on accessories including a water bottle cooler, range finder compartment, and cigar holder to go along with new cart covers and wheel covers.