Golf and resort apparel company Devereux, founded by brothers Robert and Will Brunner, today unveiled its Americana Collection for Fall 2016.  Americana features an array of tops, bottoms and layering items all geared towards bringing proper men's style to the golf course, and vice-versa.  www.dvrxthreads.com.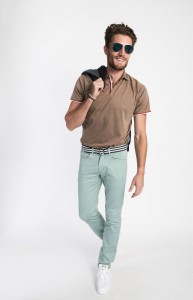 Americana is a collection that was inspired by the American resort and golf travel lifestyles.  Creative Director Robert Brunner, designed the collection around a softer color palette that features dusted blues, greens and tans with tasteful pops of red, white and blue integrated throughout.
"At Devereux we are fascinated by the resort life in America and the fashion that surrounds it," said Robert Brunner, creative director and company co-founder.  "Our Americana-vibed collection offers a selection of shirts that will appeal to the jet-setting man who is at his favorite resort for the week, or the sophisticated man looking to exude a cool confidence in a casual office environment.  We've really evolved from a golf-based collection to one that offers solutions for every aspect of the resort lifestyle."
Devereux's tops in the Americana Collection feature a proprietary blend of fine pima cotton and performance fabrics providing an amazing hand with a jolt of on-course performance and non-wrinkle convenience when traveling.  In addition, Brunner said, Devereux has evolved its fit to more of an American athleisure style.   Highlights of the collection include the new Beckham, Duke and Lucas polos (see details below).
This trio of designs perfectly complement Devereux's popular Andrew, Brunner and Lindley shirts in new colorways to offer fashionable men a comfortable, sophisticated option for every occasion.
Beckham Polo
Raglan style performance players knit blend that features a tri-blend of fine pima cotton, polyester and spandex.    This garment provides premium performance and moisture management. Available in white/navy, café/victory red and navy/pura vida blue colorway options.    Noteworthy features include:  a spread collar, heather effect, 3-button placket and striking grosgrain detail.
Duke Polo
The Duke is a Lux Tech Jersey that features a tonal palm leaf print front.  The Duke is constructed from a 65 percent pima cotton/35 percent poly fabrication offering luxurious comfort and fashionable function for the stylish, active man.  Available in white/victory red and white/navy colorways.  Noteworthy features include:  a spread collar, the aforementioned tonal palm leaf print and 3-button placket.
Lucas Polo:
A lux tech jersey utilizing Devereux's signature hybrid Pima/Poly blend for enhanced comfort and fashionable function.  Available in navy/pura vida blue/white and white/navy/victory red color schemes.  Noteworthy features include: a spread collar, two-tone cut-and-sew front, decorative button sleeves and 3-button placket.