Kevin Chappell won the Valero Texas Open with Eaton's Golf Pride Tour SNSR Straight 104cc putter grip.
More players are the PGA Tour are using oversized putter grips, with Golf Pride SNSR available in two shapes – the Tour SNSR Contour and the Tour SNSR Straight.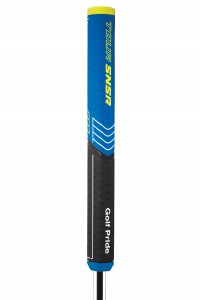 Eaton says the Tour SNSR Contour is an "evolution'' of the classic tapered pistol profile that is the shape preference of over 75 percent of Tour players. The pistol allows golfers to "lock in" their upper hand for consistent hand placement that translates to more confidence in every stroke.
Tour SNSR Straight, according to Eaton, offers a contemporary, non-taper shape promoting a consistent hand pressure and feel. The straight taper design features soft, rounded edges that are strategically beveled for palm and finger pad comfort.
The Tour SNSR Series is currently available at retail features a street price of $24.99.