No executive in the golf equipment industry is more detail oriented than Acushnet Company Chairman Wally Uihlein.
But the boss of the Titleist and FootJoy brands spoke about the equipment industry's picture in a recent conference call with Wall Street analysts to report Acushnet's Q1 sales and earnings numbers. The company reported Q1 sales of $434 million compared to $440 million in Q1 of 2016. Acushnet's earnings, however, increased to $38 million compared to $23.6 million in Q1 of 2016.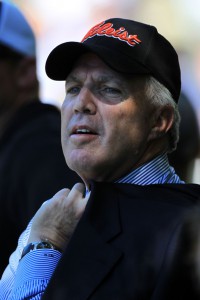 "Big picture, the industry's structural underpinnings continued to stabilize as the retail correction continues to play out,'' Uihlein said, who cited the annual Datatech/Yano size of market study at just under $12 billion at retail and between $7.8 billion and $8 billion at wholesale.
"The total commercial opportunity remains attractive,'' Uihlein said.
Recent changes such as fewer OEMs, (read Nike Golf), longer product life cycles and retail consolidation "are all part of the ongoing direction and a new normal,'' Uihlein said. "We think this correction is another 12 months to 24 months to run minimum. This is based upon the experiences of correction periods in recent memory 1999, 2000 dotcom correction and the 2008, 2009 subprime correction.
"And it is our opinion that not all of the revenue that previously existed will be sustained, previous high inventory levels represented supply at retail greater than annual normative demand, helping explain the eventual physical demise of those retailers no longer with us.''
This correction, Uihlein said, "remains very much a long-term positive and even the conservative and frequently vilified regulatory bodies (USGA and R&A) are helping brief fresh air into the industry with an objective of simplifying the rules of golf.''
Taking all of this into account, Uihlein said, the global golf industry "is in a pretty good place and remains an attractive opportunity for those companies and brands with advantage positions in the product, innovation, operations and rub to market arenas.''