Scotty Cameron has added a high-MOI mallet with enhanced toe flow to his new Titleist Futura line of putters – the Futura 5.5M – combining the forgiveness of a mallet with the feel of a blade.
Titleist parent The Acushnet Company says Futura 5.5M offers a new mallet option featuring the alignment and high-MOI characteristics of the Futura line coupled with a neck configuration that promotes a flowing, arced putting stroke more commonly associated with blade-style putters.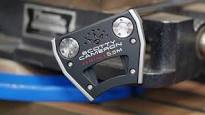 The Scotty Cameron Futura 5.5M is available in North American golf shops beginning Aug. 25 (Sept. 22 worldwide) at a suggested retail price of $410.
"The idea for the Futura 5.5M began as a prototype when Justin Thomas came to the Putter Studio looking for a new option," Cameron said. "He wanted a smaller mallet that he could align easily, but one that also promoted the arced putting stroke he preferred. We welded a flare neck to a Futura X5 Tour putter and sent him on his way. He went on to win three events, reporting back that some of his buddies wanted a putter like his. The wheels started turning from there.
"In addition to Justin's visit, I'd also received requests for a smaller version of the Futura 7M. So, in thinking about this new entry in the world of mallet putters, I was able to blend my MOI and toe flow thoughts into this new model, the Futura 5.5M. To achieve this, I created a leaned over, stainless steel half-neck spud off the topline that accepts a single bend shaft. This is an elegant way to give the player a full shaft of offset and also offer a clean view of the entire leading edge of the topline. The proportion is right. The weight is right. And now we have a mallet with more toe flow for players who like that arcing feel in their stroke, but want more forgiveness."