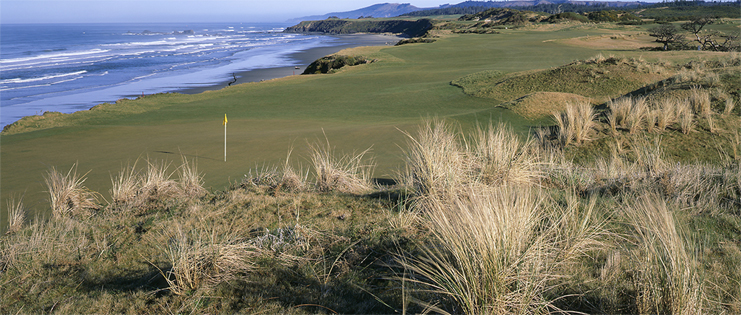 It's a question golfers argue over all the time. But no more. The A Position, the world's leading golf-travel website, has settled the argument once and for all by naming the top 10 golf resorts in the United States.
With the PGA Championship about to tee off at Kiawah Island—long regarded as one of the country's finest resorts—the well-traveled and extremely experienced writers at The A Position were polled for their lists of favorites, from which a master list was compiled.
While there was little question about the top choice—Oregon's Bandon Dunes (above) won handily—it was a close battle for places 2 through 10. The remainder of the list comes from across the country, north to south, east to Midwest, and out to Hawaii.
In voting for and then writing up their personal preferences, the members of The A Position were careful to note that a top golf resort must have more than just great golf. So along with world-class layouts, the list features outstanding restaurants, elegantly comfortable accommodations, and a long list of amenities from spas and skeet shooting to water sports and nature preserves.
The debate is sure to rage on, and readers are invited to submit their own selections. But this is a tough list to argue with…but we're sure you'll try.
1) Bandon Dunes
Once there was great debate among golf aficionados as to the best golf resort in North America. But let's call this one settled: I can't think of anyone who's been to Bandon Dunes that could make a case for another property. Bandon begins and ends with golf—four courses ranked among the best in the world, plus the new 12-hole, par-three Bandon Preserve (peerless among non-traditional layouts), plus the Sheep Ranch, a secret golf enclave just down the road. All that remains to argue is which of Bandon's courses is best: the open, traditional links of David Kidd's Bandon Dunes; the dramatic sand blowouts and quirky, pulse-quickening routing of Tom Doak's Pacific Dunes; or Jim Urbina and friends' Old MacDonald (the most fun to play, especially for folks who recognize features interpreted from famous golf holes worldwide). Regardless, what makes Bandon best is that moment when you drive through the gate (the back gate, if you're in the know) and absolutely everything else in the world falls away, except dreams of ocean breezes sweeping over firm, fast, rumpled terrain; a burger and creamy-topped Guinness in McKee's pub; and a cigar puffed in the company of good friends at the poker table in the Bunker Bar.
—Jeff Wallach, jeffwallach.com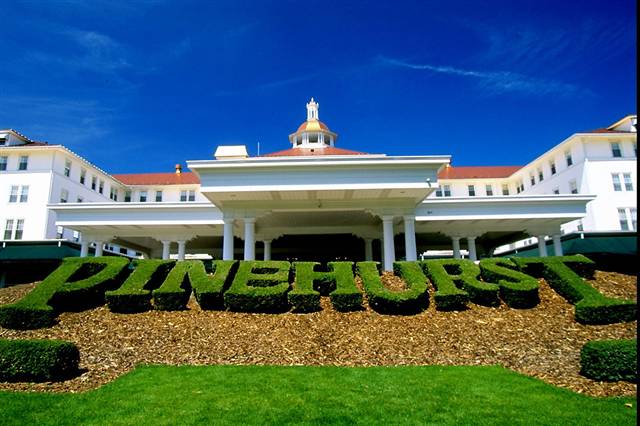 2) Pinehurst
No matter how busy or built out it becomes, Pinehurst retains a vivid sense of the bygone. Its historic buildings, the quaint village, and concentric shady roads recall a slower time even as modernizations flourish beneath the surface. The eight golf courses (with a ninth rumored), from the Donald Ross originals to those by later luminaries like Rees Jones and Tom Fazio, pull off the difficult trick of being classic while contemporary. And now that the famed No. 2 course has "de"-volved back to its Rossian fundamentals thanks to the curative work of Ben Crenshaw and Bill Coore, the sandy, scruffy, visual punch it packs is equal to its celebrated championship mettle. In an age when golf resorts all strive to be unique destinations with multiple courses, luxury amenities, and powerfully singular identities, its useful to remember that Pinehurst got there first, and still does it the best.
—Derek Duncan, theduncanlist.com

3) Pebble Beach
In the Lodge at Pebble Beach, each guest room has a wood-burning fireplace stocked with aromatic cedar and plush beds that put you to sleep faster than Lunesta. Its Tap Room is legendary for its hamburger and as a hangout for the likes of Clint Eastwood and Phil Mickelson. Nearby Stillwater Cove is the most gracious meeting of ocean and coastline on the continent. Then there's the eponymous golf course that Johnny Miller called "a piece of sacred ground," and where Jack Nicklaus would play if he had only one round remaining. Without connections you can play Pebble, Spyglass Hill, and several other highly rated tracks. With them, golf the Monterey Peninsula Country Club's superb Shore Course or the ultimate bucket list round at Cypress Point. Simply put, Pebble Beach is not only the best resort in the U.S., but the most sublime golf and travel destination in the world.
—Jay Stuller, jaystuller.com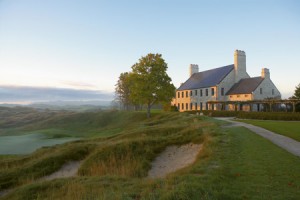 4) The American Club
Golf resort is not the same as golf course. Resort means food, lodging, golf, and other activities, and Kohler has these in spades. It's all in the numbers: 5-star hotel, 5-star spa, 4-star fine dining, 72 holes, 3 major venues, a top 10 course, the best bathrooms in golf, plus hunting, fishing, cooking classes, world-class yoga, anything you could possibly want to do. And a great caddie program!
—Larry Olmsted, larrygolfstheworld.com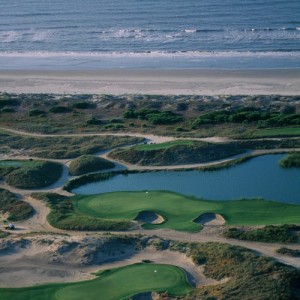 The things that make a golf resort great are all present and accounted for at Kiawah Island. Great golf in the form of five strong courses (seven if you count the private ones). Natural beauty in the form of the Carolina lowcountry, with its sandy shorelines, salt marshes, gators, migratory birds, and Spanish moss. Five-star accommodations: The Sanctuary Hotel earns a spot on anyone's list of fave places to chill. And history: Remember the 1991 "War by the Shore?" This year, the resort will host the PGA Championship and the world will fall in love with Kiawah all over again. The resort's Ocean Course is world-class, a Pete Dye-designed gem that will test the mettle of any player, especially when the wind kicks up. And you simply haven't lived until you've sampled their take on classic shrimp and grits at The Jasmine Porch restaurant.
—David DeSmith, daviddesmith.com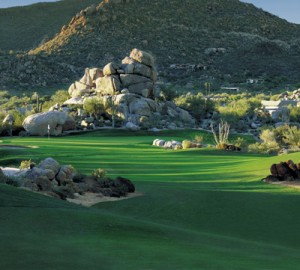 6) The Boulders
Arizona's High Sonoran Desert would seem an unlikely place to build a golf resort. But The Boulders in North Scottsdale, which opened in 1985 as a Rockresort, demonstrated that "understated perfection in an unspoiled, beautiful place" could be achieved on an inhospitable landscape. Dotting the site are enormous tawny boulders that spewed from a crack in the earth eons ago. They inspired the design of the main lodge and casitas, which blend seamlessly into the granitic setting; and the resort's two target-style courses, each designed by Jay Morrish to immerse players in one of the world's richest deserts. The Hohokam, the ancient Indians who built a sophisticated network of canals to irrigate their crops in southern Arizona, did no better at camouflaging their desert dwellings than did the developers of The Boulders. Now a Waldorf Astoria resort, the creature comforts at The Boulders are a match for its otherworldly setting.
—Brian McCallen, brianmccallen.com
7) Princeville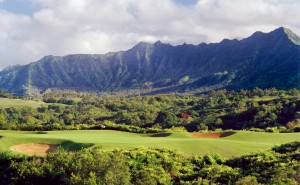 No doubt there are as many tests for resort superiority as there are great resorts. One that comes to mind in recalling Princeville at Hanalei, on Kauai's North Shore, is indoor-outdoor duality: Are the accommodations entrancing enough to make you regret not being able to spend more time there, or are they more like a foil for the golf and other natural splendor of the destination? You'd think in a setting proximate to the resort's two great golf courses, as well as geological wonders like Waimea Canyon and the Napali Coast, the answer would be obvious. But the single most memorable snapshot from our stay at Princeville is the mesmerizing view of Hanalei Bay from the window in our suite next to a mammoth whirlpool bath. Sure, it's easy to lose yourself playing the visually stunning but very difficult Prince Course, the more user-friendly Makai Course, or the nine-hole Woods Course, but first you have to get out of that tub. It's an image that's stuck with me for the many years since my last visit, during which the entire property's been extensively renovated.
—Tom Harack, tomharack.com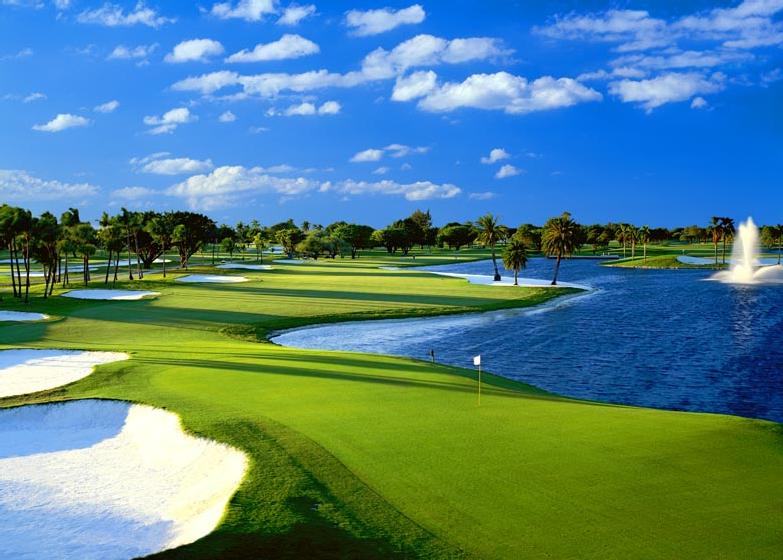 8) Doral Golf Resort & Spa
Doral isn't just the Blue Monster. It is a lot more, making it one of America's best resorts, not just golf resorts. Golf fans have 50 years of memories from the PGA Tour, challenging designer Dick Wilson's south Florida gem that now hosts the WGC-Cadillac Championship. And even though three years ago the course was rebranded the TPC Blue Monster at Doral, it's still The Blue Monster. The Donald purchased Doral this year for $150 million. He plans to put in $200 million more to rework the entire facility and has tapped Olympic architect Gil Hanse specifically for the Blue Monster. In addition, Doral's ambiance and amenities, including the spa, are world class. The restaurants are superb with something for every taste including a sports bar, the Bossa Nova eatery, and, well, you get the idea. Just thinking about them makes my mouth water. The old saying may be, "Man cannot live by golf alone." Doral fulfils all those other needs very well.
—Ed Travis, edtravisgolf.com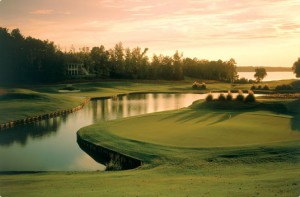 9) Reynolds Plantation
The true test of any golf resort is how much you hate to leave. Reynolds Plantation, nestled deep in historical significance and Georgia pines near bustling Atlanta, compels you to stay and play….and play. With six designer courses crafted by Nicklaus, Fazio, Engh, and others, 108 holes in pristine condition meander throughout 16,000 acres of elevations, wetlands, woodlands, and water. Factor in Lake Oconee with unparalleled fishing and water sports and you may stay forever, which is preferable because rentable homesite developments and the Five-Diamond Ritz-Carlton rarely infringe on the pastoral serenity of course routings. Should you need game improvement, Reynolds Golf Academy practically guarantees handicap drops. Become a "professional-for-a-day" through the TaylorMade Tour Experience and receive high-tech personal analysis and custom-fitted equipment, delivered the next day; grab those unspoiled clubs for an early-morning boat ride to Nicklaus' Great Waters, attempt top-100 instructor Charlie King's Red Zone Challenge, relax with sunset bass fishing, and enjoy dinner at the aptly named Linger Longer Steakhouse. The perfect day… until tomorrow.
—Janina Jacobs, janinajacobs.com
10) Sunriver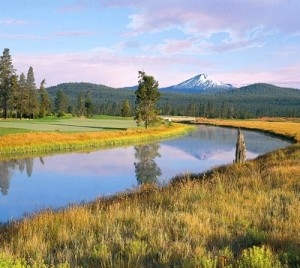 In 1965, a visionary named John Gray bought a 4,000-acre WWII army base along the Deschutes River south of Bend, Oregon, and turned it into a destination resort he called Sunriver. He erred in hiring a local golf pro to design its first course, but more recently, John Fought remedied that by designing a new course on the site, named The Meadows, worthy of its setting and its provenance. Robert Trent Jones, Jr, designed the resort's second course, now called The Woodlands, setting a standard for excellence that challenged a generation of developers in central Oregon to try to do as well. In 1995, Bob Cupp, who had demonstrated his design chops at Pumpkin Ridge in Portland, crafted the third Sunriver course, Crosswater, a brilliant amalgam of strategic design and environmental restoration. No desert course in the world is more beautiful or as tranquil, especially one capable of hosting a Champions Tour major, as Crosswater has. Sunriver not only inspired the development of a golfing tourism Mecca that now boasts more than 20 courses, it formed a bridge to Bandon Dunes, keeping the idea of high-quality destination golf alive in an area known more for rodeos, timber sports, and fly-fishing than tees and greens.
—John Strawn, johnstrawn.com