With spring and St. Patrick's Day around the corner, here's  an oldie but goodie in which some of the 2010 members of The A Position came up with courses that do the most for the environment, your wallet, Ireland…and anything else that's "green."

Surfside GC (Ocean Park, Washington)
On a map, the Long Beach Peninsula on the Washington coast looks like a finger pointing north, its narrow tip ending where the mouth of Willapa Bay meets the Pacific. Equidistant from Seattle and Portland, the peninsula has long been the workingman's getaway, its dunes and scrub pines a humble and less expensive counterpoint to the dramatic landscape of the north Oregon coast. Two nine-hole courses dot the peninsula, but neither is grand. I play the one at the north end, Surfside, which—because its neighbors expect it—has always practiced a minimalist approach to maintenance. The greens get a light dusting of nourishment now and then, but the fairways and roughs are on their own. Because it sits on sand—the whole peninsula is accreted alluvium—the course drains in a heartbeat after the heaviest rains. And because the grasses are native species that brown out in the summer, Surfside usually plays fast, with plenty of roll. Although it's not located along the sea, and trees surround most fairways, the course plays with the firmness and speed of a natural links. Surfside will never make a "best course" list, but it's closer to the primordial golf experience than most layouts. It's also green and sustainable—an honest, honorable little golf course doing the right thing.

—John Strawn, johnstrawn.com

Cypress Point Golf Club (Pebble Beach, California)
Cypress Point makes me green with envy—of the fortunate few who get to play there once, let alone on a regular basis. The location (felt by some to be the very greatest piece of property ever used for golf) that makes Pebble Beach's site look, well, just above average; the lore of the golf luminaries and celebrities who have walked its fairways; and the extremely low-key environs (according to contemporaries who have visited) all conspire to transform my skin to a shade resembling Kentucky blue grass. I have a friend, a fairly well known golf writer, who has played Cypress Point not once but twice, so there's always hope. Although if I hold my breath until my big break comes, I'll be a dark shade of blue long before I ever putt those greens.

—Chris Santella, chrissantella.net

Ballyliffin Golf Club (Ballyliffin, Inishowen, County Donegal, Ireland)

Picking one course to represent all of Ireland—the grandest greensward in golf—isn't easy. Ballybunion, Royal County Down, Old Head, Waterville, Royal Portrush…the names make one breathless. But given the chance to go back, I'd return to Ballyliffin, at the very top of Northern Ireland. Its two courses—Old, an Eddie Hackett design opened in 1970; and Glasheedy, a Pat Ruddy/Tom Craddock creation that debuted in 1995—shake out behind the clubhouse like an unmade bed sheet, bumping along toward the Atlantic Ocean on ideal links terrain that invigorates your every step. The golf is pure, the location is magical, a true pot of gold at the end of the golfing rainbow.

—Jim Frank, jimgolfrank.com

Eugene Country Club (Eugene, Oregon)

"Go Big Green!" is the mantra for University of Oregon sports enthusiasts. The U of O campus is located in Eugene, Oregon just minutes from the Douglas fir-lined Eugene Country Club. Originally designed in the mid 1920s by H. Chandler Egan (best known for his redesign work on Pebble Beach in 1928), ECC was retooled in 1966 by Robert Trent Jones, Sr., who, among other changes, enlarged and toughened up the putting surfaces. So how to approach—and master—massive, undulating greens? First, find a helicopter. If a chopper is not available, imagine one flew over the green you are surveying and dumped thousands of gallons of water onto the putting surface. Where would the water go? It has to run off for drainage, and the picture in your mind of the water heading in a particular direction will help you understand how your ball will roll out. Second, from the last moment your eyes look at the hole or putting line to when they settle back on the ball, spend a maximum of three seconds before pulling the trigger on your stroke. Any longer than this and the sense of area and length between ball and hole, so brilliantly calculated by your visual system, will quickly dissipate, resulting in poor distance control.

—Christopher Smith, ChristopherSmithGolf.com

El Camaleon Golf Course (Mayakoba, Mexico)

There is green. And then there's a vibrant, verdant shade of green rarely seen in nature, an Avatar-like hue so boisterously bright it nearly over-delights the eyes. We're talking acid trip green. Which is the color I saw when I arrived at El Cameleon Golf Course at Mayakoba, the resort complex on the Riviera Maya 40 miles south of Cancun. It was late fall, 2005, and floodwaters generated by Hurricane Wilma a few weeks earlier had receded from the fairways. Most layouts would have been toast in the wake of such an intrusion. But the Greg Norman-designed course, site of the PGA Tour's Mayakoba Golf Classic, is planted from tee to green in paspalum, the salt-tolerant wonder grass that has pioneered golf development in tropical regions. Seemingly airlifted into the heavily vegetated site, El Camaleon offers 18 holes in three ecosystems, circulating players from lowland forest to mangrove swamp to the fringes of a white sandy beach fronting the turquoise-blue sea. Framed by jungle-fringed lagoons and limestone-edged canals, El Camaleon was designated a Certified Audubon Cooperative Sanctuary in 2006, only the second course in Mexico to achieve the distinction. But mostly it should be remembered that when Hurricane Wilma's storm surge abated, the wall-to-wall paspalum did not curl up and wither the way Bermuda grass might have. It let out a wild Mexican arriba! and amped up the wattage on the color green, turning the dial well past 11.

—Brian McCallen, brianmccallen.com

Riverdale Dunes & Knolls Public Links (Brighton, Colorado)

In March, there's not much green on either the Dunes or Knolls course at Riverdale, set in the north Denver suburb of Brighton. In fact, even in the middle of summer's growing season, neither course is beset with vibrant emerald fairways. Instead, the turf is more Scottish in temperament, fertile but muted, and the bent grass on the course is swaddled by wispy Rocky Mountain meadow stalks just outside the areas of play. Still, playing at Riverdale offers one of the greenest golf experiences available— for your wallet. Even as the value-based leader in a metropolitan area that offers up a large number of good courses at fair rates, there's nothing cheap about Riverdale's Dunes course. As proof, the Pete and Perry Dye design, set near the South Platte River, features water hazards on eight holes and a preponderance of pot bunkers and hilly terrain. And with a peak-season rate of $46 for non-residents, you'll leave with enough green in your wallet to doubt whether you were charged correctly at check-in.

—Jason Kerkmans, jasonkerkmans.com

Buffalo Tournament Club (Lancaster, New York)

Notions of "green" golf courses typically, and rightly, focus on environmental sensitivity: minimal use of contaminating chemicals, protection of wildlife habitats, and so forth. But if the concept is expanded to embrace conservation and recycling of just about everything, it's tough to top Buffalo Tournament Club (BTC), opened in 2006 about 20 miles from downtown Buffalo, New York. The vision of Tim Davis, golf-pro-cum-golf-architect-cum-golf-course-developer, BTC took 11 years to complete, phased to coincide with the incremental financing he was able to acquire and a rotating "crew" that basically built the place by hand. The bunkers consist of sand created by running detritus from the 200-acre site's abandoned gravel pits through a screening plant built for the purpose. Cobblestones from torn-up Buffalo streets now form the course's halfway house, and hardwoods cleared during construction are repurposed as the bar and snack shack, while the pro shop is a modular structure that once served as a school. With five sets of tees and a low-maintenance, "updated traditional" design, BTC, whose slogan is "Big Time Public Golf," has green fees that top out at $56 (with cart), thereby reclaiming some of that green, too.

—Tom Harack, tomharack.com

Royal Ashdown Forest Golf Club (East Sussex, England)

Roses are red, violets are blue, grass is green, and golf courses are, too. Then there is Royal Ashdown Forest Golf Club, the greenest of them all. What is the magic that sets this laid back, low-key locals' club in the south of England apart from all others—besides an incredibly dog-friendly tradition that sees almost every group tee off with one or more of man's best friends? There are generally four things that get in the way of a golf course being green. The biggies are water and desert: It's hard to appreciate the green in Scottsdale when you are surrounded by barren Sonoran desert, and harder still in the target style "limited turf" designs, as fun as they may be to play. Then take Pebble Beach, which is made of grass like other courses, and quite green on the fairways, but everywhere you look is the dark cobalt blue of the Pacific, often accented with wind-whipped whitecaps. So let's rule out desert and ocean courses for the greenest. The next color intrusion comes inside the fairways, with water again, plus cart paths and bunkers. Royal Ashdown has a couple of wee burns like any good links, but you won't find any lakes. You certainly won't see cart paths (those are for Yanks). But unlike almost every other golf course on earth, what really sets Royal Ashdown Forest Golf Club apart is the fact that it does not have a single bunker, not one, anywhere. No sand, no rakes, nothing but the green, green grass of England. By contrast, Augusta National, which has really green grass, also has bunkers, lots of them, on all but one hole, making it distinctly ungreen. Which reminds me of one more green spoiler: flowers.

—Larry Olmsted, larrygolfstheworld.com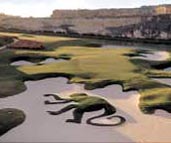 The Green Monkey Course, Sandy Lane Resort (St. James, Barbados)
Let me introduce you to the greenest course in golf, The Green Monkey at the world-famous Sandy Lane Resort in Barbados. Named after the famous Bajan green monkeys that inhabit the island, every one of your golfing buddies will be green with envy when they find out that you played here. After all, you have to be rolling in the green stuff just to stay at Sandy Lane, the spot where Tiger and Elin were married (coverage of whom now might make you green with nausea). Once you get the green light from the starter to begin your round on the Tom Fazio layout, you will immediately recognize that the superintendent has a veritable green thumb as you snake your way through the coral quarries; if you bang your ball off the quarry walls, no matter where it ends up, it's rub of the green. And as sure as God made little green apples, after you are done you'll head for the 19th hole. Just don't turn green around the gills when the bill comes. Just like your cocktail, it's sure to be a stiff one!
—Casey Alexander, caseyalexandergolf.com
Chambers Bay (University Place, Washington)
Robert Trent Jones II transformed a bleak, wrung-out, abandoned sand and gravel mine into one of the most lyrical links courses in North America, and one good enough to host the 2010 US Amateur and the 2015 US Open. This fine example of environmental golf course design is "green" for another reason, too: it's as close to the gorgeous, rolling, fescue-covered and magical mounds of Ballybunion, in Ireland, as you're likely to find anywhere on this side of the
Atlantic—or the Pacific, for that matter—as the course capers down to the still blue waters of Puget Sound. This reclamation project is the textbook example of how golf can be good for the earth. And super fun to play.
—Jeff Wallach, jeffwallach.com
The Links at Union Vale (LaGrangeville, New York)
Céad míle fáilte is scrolled right into the wrought iron entrance gates to the Links at Union Vale—"a hundred thousand welcomes" to the greenest course in New York State. Over a decade ago, members of the Irish Golf Association, tired of long waits for muni tee times in the metropolitan area, pooled resources to buy 200 acres about an hour north of Manhattan. They set architects Stephen Kay and Doug Smith to work on evoking a links-style track. Though far from the Irish Sea (or any other body of water), the club will celebrate its 10th anniversary for a week in mid-May with Guinness and Harp on tap, of course, and Murphy's in a bottle. The membership is predominantly Irish, but all are welcome at the semi-private club. And since mid-March is not often kindly disposed toward northeast golfers, the Links saves its really big celebration for September, a month-long Halfway to St. Paddy's Day party. Sláithe!
—Tom Bedell, tombedell.com
The Reserve Club (Southport, North Carolina)
This selection takes the high road—green as in socially responsible and highly eco-conscious. On that high road we meet The Reserve Club, part of the St. James Plantation golf community, where Mother Earth gets more than her due. Along with certification as an Audubon Cooperative Sanctuary, The Reserve Club pursues sustainability with programs like pond stocking with algae-eating carp (negates the need for algaecides), and mounting bluebird houses and bat houses—100 or more of them (natural pest control). Even the members get involved, slogging through tidal muck collecting bushel bags of oyster shells. That's the natural way to control creek erosion and rebuild the habitat that supports the marine ecosystem. Green is as green does, at this progressive (and yes, posh) golf community.
—David Gould, davidlgould.com