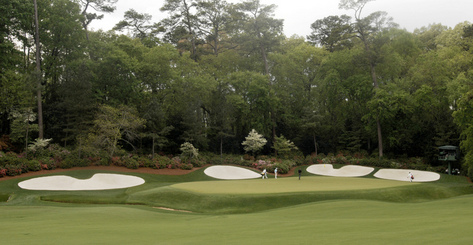 As golf's first major championship tees off, the writers at The A Position offer up their favorite Masters reminiscences and perspectives.
After hearing so many people describe how television flattens the course, I couldn't wait to see Augusta National in 3-D for the first time in 2003. True, it was far hillier than I could have imagined, but what really astounded me were the green contours. The 14th in particular left me dumbstruck: only the narrow back section is pinnable while the entire front half, like whale humps bulging and rolling enormously back into the sea, sweeps down into the lower fairway. Contours in the earth are the soul of great architecture, Augusta National is a museum of contour, and the 14th green its most extreme sculpture.
–Derek Duncan, theduncanlist.com
The first event that I covered as journalist that could be called a major historical event occurred April 13, 1997. On that day, Tiger Woods won his first Masters at age 21. As Woods made his way around Augusta National, the atmosphere about the place was electric. Tiger was about to become the first man of color to win the Masters. As I hurriedly walked with buzzing gallery toward the 18th green, I thought that in a moment the Masters—and golf—would triumphantly move into a new era that closed the door on an ugly past. When Tiger strode on the green, I saw that the clubhouse balcony and back lawn were full of Augusta National waiters, cooks, and staff—almost exclusively black—looking radiant as they waited in anticipation to share in this watershed moment. After he had sunk his final putt, there erupted a loud sound unlike any I'd heard before. It was not the thunderous noise that usually comes from sharing a victory with an athlete. It was more like joyous rapture. It was the happiest sound I had ever experienced at any spectator event.
–Tim O'Connor, timoconnor.ca
Here are a few observations about Augusta National, based on covering 24 Masters:
–It's the most exciting back nine in golf because it's not at all out of the question to shoot a 30 or a 40.
–Lag putting is an especially important skill at Augusta. But there are no statistics to tell us who the best lag putters are.
–Zach Johnson showed you can win the Masters by laying up on the par fives. Year in and year out, though, my money is on the man who can get home in two.
–Nearly every hole on the course has the potential to be among the toughest on a given day, depending on the pin position and wind direction.
–On the 16th hole, when the pin is on the back left be sure to take enough club to be in the Tiger Woods chip-in area instead of in the water if you pull it.
–David Barrett, davidhbarrett.com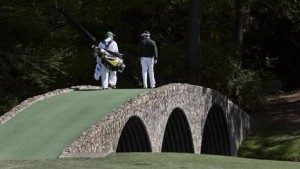 I have attended five Masters, always wearing the Barney Fife badge that is stamped "Media," not the Wyatt Earp badge stamped "Working Media." The two designations separate magazine guys from newspaper guys—the ones who have to get their facts right and file new copy every night, instead of going to dinner at a normal hour. To keep from feeling illegitimate about the sinecure credentials, I usually walk about 12 miles a day. Trudge. Watch golf. Trudge. Watch golf.  When I do sit down, it's usually in the fourth-tee grandstand, all the way up top, where the Pinkerton guard undoes a chain and lets me sit with the members, wearing their green you-know-whats. At that moment I feel pretty legit, whatever the badge says.
–David Gould, davidlgould.com
It was always a true privilege to talk golf shop with my late, great friend and mentor Paul Runyan. Of the Masters, and its inaugural winner, Horton Smith, he said, "Finest putter I ever saw." Smith won the annual gathering in Augusta in 1934, and again in 1936. "If Horton started to miss putts, he never made any drastic changes. He stuck to his guns and what had worked for him in the past, knowing it was only a matter of time before the putts started to drop again," Runyan shared with me in a conversation back in the late 1990s. In fact, it was Smith's 20-footer for birdie on the 17th hole (now the eighth) that secured his one-shot victory in the first Masters. Runyan himself finished tied for third in the event, playing the first 36 holes with tournament host Bobby Jones.
–Christopher Smith, christophersmithgolf.com
In 1996, despite the ongoing collapse, Greg Norman still had a puncher's chance when he got to the 16th tee. It was here where the volume was unnecessary. Thousands of fans were ready to will Greg to a miracle late-round renaissance. They were ready for a patented Masters roar. Instead they all hit the mute button together. Norman took aim, swung the club, struck the ball, and immediately looked down and slumped his shoulders in abject defeat. I have never felt such empathy for a golfer in my life.
–Casey Alexander, caseyalexandergolf.com
My Masters wish is that the tournament would go away, or more realistically, become just another stop on the PGA Tour alongside the Quad City Classic and John Deere. How this event ever got to be one of the majors is beyond me, but apparently the main reason is the folks who run Augusta National said so. Think about it: all the other majors are either national championships (US Open, British Open) or the championship of sport's professional body (PGA Championship). The Masters is the championship for old, rich, private white guys. Besides having no logical reason to be a major, it is also the only major that does not move and is never played on a course the folks who watch it on TV can play. The other domestic majors have bad track records, but at least there are a dozen US Open and PGA Championship Venues you can play, along with every single British Open venue in history. But Augusta does not want us, so why would we want them?
–Larry Olmsted, larrygolfstheworld.com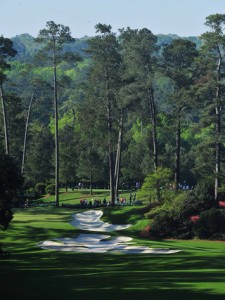 Having learned to ski on the slopes of New England, Augusta National's 10th hole is immediately familiar. This massive 495-yard par four is a downhill plunge to a huge fairway bunker far below, a slippery raised green the target. I remember during the 1994 Masters being very content to stand beside the 10th tee and watch players hit their drives during the practice round. I was most impressed by Jose-Maria Olazabal, probably the smallest player in the field. He teed his ball barely a half-inch off the grass and lashed his driver into the ball in a blur of energy, producing a high line drive that sailed far down the hill. When I saw him hit that shot, I had a feeling this short game magician would slip into a green jacket that week.
–Brian McCallen, brianmccallen.com
My first Masters was 1985, and more memorable than Bernhard Langer's green jacket was my winning a spot in the media lottery to play the course the Monday after. Everything was the same—the tees, the pins—except the weather: It poured. Water was everywhere, even soaking into the bottom of my bag whenever the caddie put it on the sacred, yet sodden, turf. I remember nothing about my play other than it was worse than the rain, and even my supposedly masterful Augusta National caddie couldn't help, possibly because I couldn't understand a word he said. When I reached a green, he pointed at some distant spot and made an utterance that sounded like Chewbacca gargling nails. Having no idea what I was aiming at, I putted, missed (often more than once on the same green), he shook his head, and we slogged on.
–James A. Frank, jimgolfrank.com
While a Masters' badge is often noted as one of the hardest sporting event stubs to get, there is still an even more difficult, yet far superior way to get on Augusta National during tournament week: as a volunteer. As one of the roughly 400 unremunerated pages working during Masters week, you receive free lunch each day and the exceptional bonus of getting to play the course on the last day of the season in May. Unfortunately, like becoming a member of the club, even getting on the list of volunteers takes more who-you-know than I know. The good news is that at least the price of an admission badge on the secondary market is down this year: Even with Tiger's return, SmartMoney.com has reported that seven-day badges that have cost upwards of $5,000 in years past are going for as low as $3,000 right now.
—Jason Kerkmans, jasonkerkmans.com
Redbud has nothing to do with Orson Welles and everything to do with the par-three 16th at Augusta National, normally about 170 yards. The hole has served up some memorable shots over the years (Woods' much-shown chip in 2005), although only one ace in 2009, and even then not during competition. Those attending Wednesday's practice round can do worse than park themselves in the stands surrounding 16, where the pros let their hair down attempting to skip shots across the pond fronting the green. Last year Vijay Singh sent a three-skip onto the surface (it's on YouTube); the ball then trickled backwards into the hole to the patrons' riotous delight.
–Tom Bedell, tombedell.com
Surely Martha Burk is not alone in surveying the lush empire that is Augusta National Golf Club and thinking, "If only." But a trip to Georgia by this reporter—made, coincidentally, the same year as the women-as-members controversy was seething—evinced the nearly opposite effect: "Who needs it?" That's because the primary reason for my visit was to check out the renovation of Augusta Country Club, directly across a stretch of Rae's Creek from its much-more-famous neighbor. It's a classic design attributed to Donald Ross—a story in itself since the original layout, circa 1899, predated his arrival (for a reworking) by more than a quarter-century. It's private, but without "the National's" occasionally oppressive decorum. Walking a Masters practice round showed Augusta National to be as vivid as it appears on television, but the net effect was to reinforce the abiding richness and variety of our golf universe.
–Tom Harack, tomharack.com