Golf is a game of standards and etiquette, and to love it is to live by its many rules. But even the most faithful golfer among us dreams of a few lusty indiscretions. So in this month's edition of "The A List," we let you in on what we really want to do on the golf course, from motoring around in a personal golf cart to sneaking out of the office for a quick 9, moving the tee markers to hiring female caddies. Like golfers everywhere, we simply long to tweak convention on the course.
Our guest guilt-tripper, Brandel Chamblee, has been a close observer of the game as a Tour player and television analyst. Now winning raves for his work on Golf Channel, Brandel loosens his tie, draws us close, and bares his unquenchable passion for . . . well, you'll just have to look and see.

We'd also like you, our faithful readers, to tell us know your guilty golf pleasures. We really want to know—if only to make us feel better about our own. So please use the "comment" command at the bottom of the list to get those dirty secrets off your chest.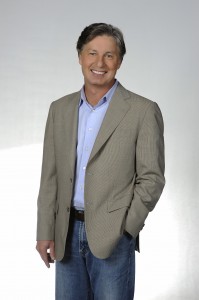 Bobby Jones once said that he would forgive a man just about anything while he had a club in his hand, understanding the impulses that rob us of our sanity, what little there is of it, when we are on the course. Tempers aside he might well have been thinking about the gluttonous impulses that grab us by the throat on the links. While sentimentalists will talk about all the things that make this game great, referring to the setting, the camaraderie, etc, you rarely hear anyone say that the five best words in golf are "hot dog at the turn." That's right, baseball enthusiasts may take up arms against me, but there is no better place to get a hotdog than at a golf course. It's almost always grilled, and course condiments beat stadium condiments, 8&7. Relish and onions are mandatory, but then there are the peppers, an assortment of mustards, and the perfect crunch of a slightly grilled bun. Each bite is a respite from a never ending stream of reasons to quit this game and one of the many guilty pleasures, like golf carts, bad clothes, cigars, and beverage cart beauties, that make me think that Mark Twain—who famously said that golf was a good walk spoiled—got at least one thing wrong in his life.
—Brandel Chamblee, Golf Channel analyst and former PGA Tour player
By the very lucky break of being in the right place at the right time, I was able to nab the spot bought by 10-time Surfing World Champion and no-show Kelly Slater in the Wednesday pro-am of the FBR Open two years ago. I played with a Top-10 ranked golfer, U.S. Open champ Geoff Oglivy, on the amazing stage of the world's most attended golf tournament, including the famous enclosed stadium par-3, and it opened my eyes to a whole new world of fun golf experience. Since then I have become a hopeless pro-am addict and will go almost anywhere I am invited to play in one. I've played in five other PGA Tour pro-ams—the Heritage (Harbour Town), Reno-Tahoe Open, Viking Classic (MS), Canadian Open (Glen Abbey), and Mayakoba Classic—plus pro-ams for the British Senior Open (Royal County Down) and Mississippi Gulf Coast Classic on the Champions Tour. Each was an unforgettable extravaganza that continues to make pro-ams my Guilty Golf Pleasure.
—Larry Olmsted, larrygolfstheworld.com
Some of my most enjoyable times on the golf course have come playing late in the
afternoon.  This was especially true during my 30-month stint at Garra de Leon (now Reserva Conchal) in Costa Rica. I would go out and play with some of the Costa Ricans on my staff. As the sun would start to go down over the Pacific, it would cool down. We'd have the course to ourselves; except for the occasional cries of birds, including some parrots, it was quiet and very peaceful—a great way to insulate myself from all the worries of the world. Instead of worrying about swing thoughts, I would just aim at a target and visualize the shot I wanted to hit. It was fun to watch the younger Ticos play the game. I recall one day where Calix was having a "Tin Cup" moment, hitting three balls into the water on No. 18. I commented, "I'm not sure you can afford this game." He answered, "I was getting the balls out of your bag, Senor McAfee."
—James McAfee, jamesamcafee.com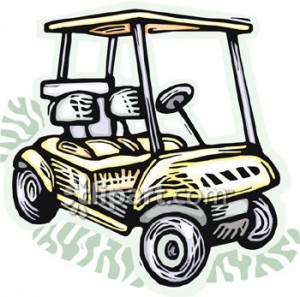 The Club Car sitting in my garage tops out at 17.5 MPH and gets me onto the first tee of the course across the street in less than three minutes. Yeah, I know golf is ostensibly a "walking sport," and that the righteous sign walk-only pledges and get all Women's Christian Temperance Union over carts. And I probably hoof most rounds anyway. But I've wanted a golf car since an uncle let me drive his when I was seven. Moreover, it's not only a conveyance but also a rolling locker room with extra windshirts, socks, towels, and old balls to hit over water hazards. In rain it's shelter and on hot days a place to sit in shade. Better still, on summer evenings I can bag nine holes in 35 minutes. To do that on foot, as Dewey Cox would say, you'd sure as hell have to Walk Hard.
—Jay Stuller, jaystuller.com
I'm a big fan of seeing how late into the golf season I can push "the last round.'' Here in the Midwest, most people have put away the clubs by mid-October, Halloween at the latest. I love those November rounds. With editors leaning on me for college basketball previews as well as a full load of college football, it's not easy to clear out the time. Add in less daylight and dicey weather, and the golf window closes relentlessly. But the rewards are many. The courses are uncrowded and often in great shape. As a low-ball hitter, I love the hard ground and fast greens late fall produces. And best of all, it's a way to answer fate, seize the day, and relish every shot. You never know which one might be the final swing. Of the year.
—Herb Gould, herbgould.com
To hell with 59. The greatest number in golf is 36, as in holes played in a day. Thirty six is all about that Mother Goddess-bestowed right to behave excessively, even illogically, like giving loads of money to Ducks Unlimited so you have more ducks to blast, or driving an Escalade to the Friends of the Planet fundraiser. If I actually cared about getting better at this racket, I'd play six holes, hit the range for the time equivalent of 12, and burn the second go around over at the practice green. I don't care about getting better. I care about playing golf, or my representation thereof. I'll endure ritual drownings of four-buck-a-pop balls and all manner of Munsons, shanks, and four-jacks—in fact, I'll freely risk twice as many of each—because the best day of golf is the day done twice. Now just get out of my way because I'll do 36 while you're plumb-bobbing and GPSing through 18.
—Ken Van Vechten, kenvanvechten.com
My office is six minutes away from my club. On a beautiful spring day I will tell my secretary that I have a meeting outside the office. Do I have a meeting? Not unless meeting my golf bag on the first tee for a quick nine counts as a meeting. Since my club has 27 holes, I can usually get around in about one and a half hours on a weekday. It's glorious. But when I get back to the office and I try to straighten my windswept hair and hide the pink glow on my cheeks that was polished there by the mid-day sun, I simply cannot look my secretary in the eye and say "The meeting went well."
—Casey Alexander, caseyalexandergolf.com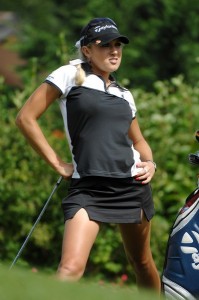 My guilty pleasure? I say this with a somewhat red face and some trepidation. It's Natalie Gulbis. Yes, I visit her website somewhat frequently (okay, every day) to check on what Natalie is doing, what she is thinking, and how she is looking (okay, a lot on how she is looking). I mean, it's cool right? My fascination with Ms. Gulbis is totally professional, or at least that's what I tell myself. Sure, she's pretty and sexy and blonde and….all that. But she is talented, too, and I admire her for her skill at hitting a golf ball more than anything else. I think. I almost met Nat once, at the U.S. Women's Open in Newport a few years back. She was walking off the putting green and strolled by me on her way to the driving range. I was going to give her my card and tell her I would like to set up an interview. But I couldn't open my mouth to get the words out and that was that. Anyway, no, I haven't purchased her calendar. My wife won't allow it. But she can't stop me from going on Natalie's website, which is where I'm going right now.
—John Torsiello, torsmangolf.com
Play the golf course as you find it. That's one of the rulebook's few underlying principles. I get that. All the same, I have moved tee markers, repositioning them to right an unfortunate wrong. You know the scenario: Some hungover 17-year-old sticks the markers 8 feet apart, facing the wrong direction, on a wet day with 30 foursomes coming thru to hit a 130-yard shot. So yes, I have moved sets of tee blocks, and felt neither guilt nor pleasure, come to think of it, just a vague sense of duty.
—David Gould, davidlgould.com
I have enjoyed playing moonlight golf. On more than one trip between my Florida college and Pennsylvania home, if there was a clear sky and a full moon, my buddy and I would stop off at clubs just off I-95 and play under the stars. Of course we didn't pay. Never got caught and it was fun leaving just as the maintenance people were arriving early for work. We called it "bolting on."
—Bob Fagan, robertfagan.com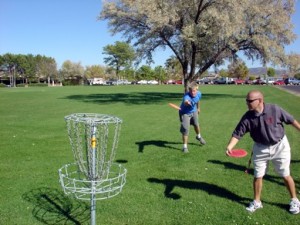 Hello. My name is Hal Phillips. And I'm a disc golfer… I played more disc rounds than actual rounds in 2010, a fact that tends to elicit real suspicion from traditional, hard-core golfers. But in truth I'm not guilt stricken. Why? First and foremost, between the ears the two versions are uncannily similar. A round takes no more than 90 minutes to play. There is no dress code; indeed, cargo shorts and a tee shirt are de rigueur, as are the obligatory PBR tall-boys in the knapsack that also accommodates your various discs: right-turning, left turning, distance-enabling driver, mid-range, putter, etc. There is absolutely no barrier to entry — any kid, any Xer, any middle-aged man or woman can just show up, rent a disc for a buck (rounds are $5-10), give it a whirl, and care not a whit that anyone might be put out by his or her lack of skill. What's more, the courses are really cool, all of them distinct, 3-to-1 miniatures of actual courses, with the added dimension that forested areas, if thinned a smidge, produce a corridor of play unlike anything in the actual golf world. So yeah: While I haven't switched teams, these days I'm playing on both.
—Hal Phillips, halphillips.net
My guilty golf pleasure is something that I abhor—and roll my eyes at—when other people do it even once during a round: play two balls. And I'm talking here about doing it on every shot. I only allow myself this pleasure when I'm alone and the course is wide open. Sometimes I play a match between the first ball and the second ball (I've disproven the widely accepted theory that the second guy is always better, as many posit after hitting one shot in the water and the replay two feet from the pin, or making their 30-footer on the second attempt). On other occasions I explore just how low of a score I can shoot by only counting the better of the two shots. And I always feel self-conscious playing in toward the clubhouse, thinking that there's probably someone just like me watching from the grill room and rolling his eyes.
—Jeff Wallach, jeffwallach.com
My guiltiest golf pleasure is derived from a few stolen moments of early morning viewership. Every July, I take an extended break from work during the British Open to watch the action live from Scotland or England. Morning here, afternoon there. It's invariably a scorching hot week at the height of summer in Connecticut. I take delight in creeping downstairs without waking the household and watching the action on a small TV in the basement. Scones are not available where I live, but I do make a full pot of tea, spread English marmalade on toast, and settle into an old sofa. I especially enjoy the Thursday-Friday rounds, when the event is wide open and the players are jockeying for position. I rather like it when the Open conditions are appalling, as the BBC commentators might say: A relentless wind blasting the links, a cold rain lashing players huddled under umbrellas. I especially like it when the players wear ski hats. Or big fluffy mittens. There's something heart-warming about playing hooky from work to see the world's best players get pummeled by the elements in their quest of the oldest Championship.
—Brian McCallen, brianmccallen.com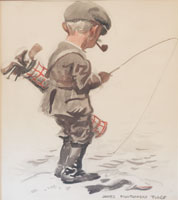 Most golf courses have ponds; some even adjoin brackish water lagoons or streams.  On those (frequent) occasions when the golf game is not working quite the way I'd like, it's very satisfying to pull out a fly rod and see what might be biting. If I sense that fish might be present around the course I'm visiting, I'll tuck a six-piece travel rod in my bag with a few appropriate flies. Many course ponds have carp—a vastly underrated sport fishing species. Some will also host largemouth bass, which can grow to impressive proportions in a pond where they're not bothered (much) by anglers. I've seen rising trout on a course in Idaho, even tarpon in a lagoon on Belize's one golf course. One thing I love about fly fishing: If I'm not catching anything, I can blame the fish!
—Chris Santella, chrissantella.net
Despite efforts to close gender gaps ever-present in the golf world, assumptions still abound labeling women as lesser golf partners. That's why guys may not relate to my two-part guilty pleasure: 1) the look on men's faces when I'm introduced as their fifth player in charity or celebrity outings, somewhat akin to getting socks and underwear for Christmas instead of new golf clubs; 2) the look on men's faces after they finally inquire, grudgingly, what I do and I mention my years of top international amateur competition, while ripping one off the lowly Forward Tee, about 50-100 yards past any drive of theirs…..if they're even in play. Not fair? Shouldn't be allowed? Then every course should have multiple tees designated and rated for women's various handicaps—just like men. Until then, I'll follow tournament rules and hit from the one "women's' tee," while my foursome grins and I plead shameless culpability.
—Janina Jacobs, janinajacobs.com
I'll just lay it out there, you can make the call:
My foursome plays everything as a lateral.
Hit it in the trees or water, hit it way OB,
We impose on errant shots a single penalty.
Getting rid of complications speeds up pace of play
And makes scores a little lower at the end of the day.
We don't do provisionals, don't do stroke-and-distance,
We honestly don't need any more resistance
To scoring.  Yeah, I feel guilty but allow me to say
I feel no obligation to the U. S. G. A.
The purists out there my group would surely shun,
But frankly I don't see how we're hurting anyone.
I guess it all depends on how you choose to measure
Not just how you count your strokes but how you take your pleasure.
—Steve Goodwin, stephenhardygoodwin.com
Despite all my best efforts to avoid it—at least hide it—I'm getting older. Yet the effects of aging on my golf game seem to be marginal, primarily thanks to equipment and the willingness to ride in a cart and not feel as if I'm violating some sacred trust. But the biggest help to this "maturing" golfer is my latest guilty pleasure, the yellow golf ball. A few years ago, I noticed (or, more accurately, didn't notice) that I couldn't see anything longer than a wedge shot while warming up on the range. My lack of vision has only gotten worse so now I have to rely on my partners to follow my shots and playing alone is almost impossible. But "optic" golf balls give me a fighting chance of seeing the entire trajectory, and when that random yellow or orange pellet pops up in the basket of range rocks, I'm almost as happy as if I'd hit a good drive. Almost.
—James A. Frank, jimgolfrank.com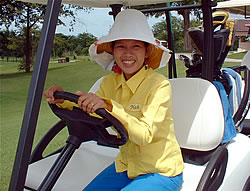 My guilty pleasure (it's not politically correct, I warn you) is to hire at least three caddies for a round of golf at Krunthep Kreetha or Panya Ramindra in Bangkok. The two courses are famed for their lovely female caddies. Many are stunning, some breathtaking, and a few even legendary beauties. Most golfers hire one to pull the bag or drive the cart, a second to carry the umbrella for sun protection and read the greens, and a third to carry a folding chair, towel, cellphone, and give back massages while you wait to hit or putt. A foursome has a dozen caddies, plus a "gallery" of the most exquisite caddies who embody the legendary charms for which Thai women have been rightfully praised since ancient days—to cheer every shot. This joyful celebration—and my guilty/non-guilty pleasure as a man—is "Thai-style" golf at its best.
—Peter Andraes, peterandraes.com