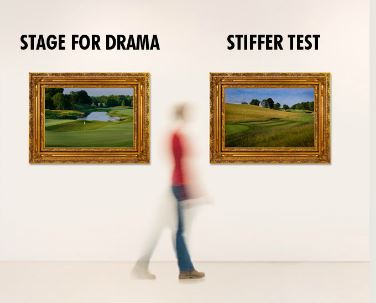 How is Valhalla setting up for the 2014 PGA Championship? It's longer and trickier in several ways we discuss here in The Grain: 2014 PGA Championship Issue.
There's plenty more for your reading pleasure, too: John Torsiello ponders whether another playoff could be in the offing,  Terry Moore serves up a Q&A with course super Roger Meier, James Mason suggests the handicapping odds, while David DeSmith compares Valhalla with his home course, Val Halla.
When you tire of relentless Tiger reports on television, check out Chris Santella's piece on the Tour pros' other passion–fly fishing, Tom Harack's ode to the blue blazer, and Derek Duncan's guide to bourbon.
We've enlisted David Feherty to add to our A List pundits in pronouncing what needs to be changed in golf,  and two videos from our Golf Road Warrior trips round out the program. But you'll also find some contests to enter in the e-pages: one could send you to Myrtle Beach to play with Natalie Gulbis, while another will send some lucky reader to Casa de Campo for four nights and four rounds. Nice setup right there.