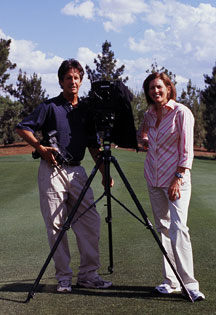 PREMIER GOLF PHOTOGRAPHERS, John and Jeannine Henebry have been specializing in golf course photography for over 25 years. A brother-sister team, they have traveled the world photographing some of the world's best and most beautiful golf courses designed by many of golf's most notable course architects and designers. John and Jeannine's work frequently appears in major golf magazines such as Golf Digest, Golf Magazine, Links: The Best of Golf, along with many other consumer and trade publications.
Among the Henebry's many national and international assignments, Robert Trent Jones II sent them to Aruba, Costa Rica, Germany, Japan, Mexico, Philippines, Portugal, and Thailand. They have photographed Nicklaus designed courses in Canada, Ireland, India, and Mexico. Palmer Design assigned them to photograph courses in Borneo, China, India, and Ireland. The Henebry's photographed for Tom Fazio all over the US on his beautiful coursed for the Golf Course Designs books. They were the first to photograph the first 18-hole course built in Nepal on the hunting grounds of the King, The Gokarna Forest Golf Resort.
The Henebry's expertise in photographing golf courses is sought after by golf's most illustrious course designers and publishers because of their ability to capture and highlight the beauty and subtleties of a golf course. For this reason, they have been both the featured and exclusive photographers in several books, publications and calendars. Books and publications featuring the Henebry's photography include Golf Course Designs by Tom Fazio, Golf Magazine Top 100 You Can Play, Nicklaus By Design, Golf By Design by Robert Trent Jones II, A Walk in the Park, Golfweek's Guide to Americas Best Classic and Modern Golf Courses.  They are the principal photographers for Planet Golf USA and the exclusive photographers for two popular golf books, Selected Golf Courses: Photos and Essays, Volume 1 by Hurdzan/Fry, and the renowned Shadow Creek by Steve Wynn and Tom Fazio. Eight calendar companies, both national and international, feature their golf course photography on their calendars, many of which are distributed worldwide.
Inspired by the renowned landscape photographers, the f64 Group of whom Ansel Adams and Edward Weston were members, John and Jeannine work with a large format view camera when photographing golf courses. Like the f64 members of the early 20th Century, they strive to achieve photographs in which everything in the scene is in sharp focus. This allows the viewer to decide what is visually significant in the scene rather than having the photographer make the decision by picking one item to be in sharp focus and letting everything else become soft due to lack of depth of field. By stopping a view camera lens down to f/64, a front-to-back sharpness of view can be achieved. Using a pinprick of an opening in the lens, the shutter speed may be as much as a full second–a long time in photography. Yet, the method captures the depth of field and the detail necessary for exceptional golf course photography.
Using this technique, John and Jeannine are meticulous about their work, often waiting hours for the perfect light and sun angle to showcase a golf hole's most subtle characteristics. To get their best pictures, they usually begin photographing courses just after sunrise or just before sunset. While their technique and perseverance enables them to have technically beautiful photographs, their true talent lies in capturing the essence of golf design. Because of its truly distinctive quality, there's no mistaking a Henebry photograph.