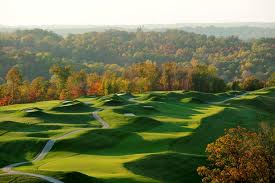 No such tonic is imminent for the current band of pennant-starved Chicagoans. But promoters of this resuscitated vintage resort, once renowned for its sulfur springs, believe they have a new winner in their lineup.
Now batting: The Pete Dye Course at French Lick Resort. Named the Best New Public Golf Course of 2009 by Golf Digest, the Dye course received its baptism last June, when Illinois golf coach Mike Small, won his second straight PGA Professional National Championship (PNC), the club-pros event that sends its top 20 finishers to the PGA.
Interestingly, Small and his 19 closest pursuers advanced to an established Dye masterpiece, Whistling Straits, in August.
"Since Mr. Kohler isn't here," the 84-year-old Dye said wryly at the grand opening of his French Lick links, needling Whistling Straits owner Herb Kohler, "this is a much better golf course than Whistling Straits. The ambience of this course is so different, so dramatic."
The Dye course can be stretched to 8,102 yards along the rolling hilltops above the French Lick Springs Hotel and its fancy cousin, the West Baden Springs Hotel, which features an ornate domed atrium that was the largest free-spanning dome in the world when it opened in 1902.
Whether it's better than Whistling Straits is an open question that will be answered by time and golfers.
But it's certainly in the discussion with Dye's other major works, which include Kiawah, Blackwolf Run, PGA West and the TPC at Sawgrass, as well as Whistling Straits.
I'm not ready to go there yet. Being a fan of Irish seaside links, I prefer Whistling Straits to all the Dye courses I've played, which include Blackwolf Run and Sawgrass.
But there's no question Dye has put another gem in his crown. It might be major-worthy, although with Louisville, the closest large city, 90 minutes away, logistics are an issue. But French Lick, which also has a Donald Ross treat among its three courses, certainly has the ingredients for a serious golf destination.
It needs them. Aside from a modest casino, the golf courses and the vintage hotels, French Lick is pretty much down on its luck. It seems more like a town where the mine closed than a retreat that once catered to the rich and famous, from Franklin D. Roosevelt to Irving Berlin.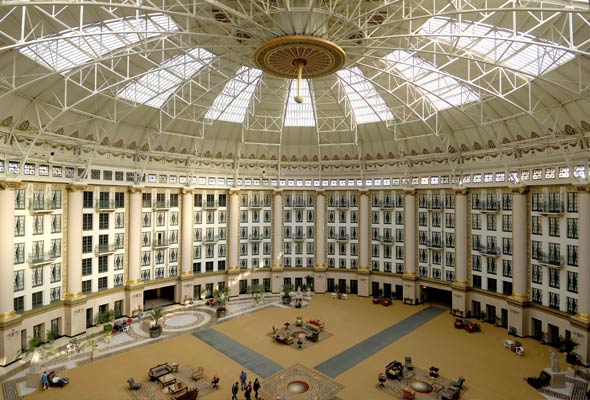 A hefty greens fee of $350 at the Dye course will give some golfers pause. But play-and-stay packages, including one that features two rounds—one each at the Dye and Ross courses—plus a night at the lush West Baden Springs, start at a more manageable $550.
In the world of golf design, Pete Dye and Donald Ross is a pretty good combination.
"Where else can you play Donald Ross and Pete Dye courses [in one complex]?" said Steve Ferguson, the chairman of the board of the Cook Group, which put a mind-boggling $500 million into restoring the West Baden Hotel, which had been shuttered for years.
While the Ross course, the site of the 1924 PGA, is whimsical and wide-open, the Dye course is a different kind of test.
"This is phenomenal," Small said. "Mr. Dye is one of my favorites. I love his golf courses."
Small and his challengers played it from 7,174 yards. Considering that it was barely 50 degrees, barely not raining and fairly windy, it was recommended that we amateurs go from 6,115 yards (slope 130) on a raw early-spring day—and that was good advice.
From the right tees, Dye's new French Lick course is great stuff, tough but fair. Although the scenic views are wooded, which create some spectacular fall views, the course is basically treeless. And it has only a few holes, notably the par-3 16th, where water is an issue. No. 16 can be stretched to a ridiculous 301 yards. But even from 170 yards, with a narrow, undulating green, a pond on the right and disaster on the left, it's no gimme.
The basic defense of this course is its ribbon-like fairways. Hit them, and you can play. Miss them, and you will have the ball above your feet, the ball below your feet — or no ball at all. The rough is designed to be kept short and playable. But watch out for those awkward lies.
That's especially true on the par-5s, which are all major-leaguers. No. 14, for example, measures no more than 500 yards from all but the back tees. But it's straight uphill to a green guarded by a great wall of grass that would make a perilous toboggan run in winter.
That said, this intrepid short hitter happily walked off with an adjusted card of 92. One triple came on No. 18, a par-5 where a yanked drive left a sidehill second shot in which the ball was about shoulder level. Another came on No. 4, a par-3 where a smothered rescue club rendered an equally impossible ball-above-the-feet second shot. And third. And so on.
And to think that two holes earlier, the same hybrid, same wind and same golfer had set up the only birdie of the day.
The bottom line is, French Lick's new addition is Dye-abolical. But not totally diabolical.