Yes, Machrihanish is out of the way. On the other hand, with two compelling courses at the mystical tip of the remote Kintyre peninsula, that's not necessarily a bad thing. It's only as remote as you want to make it.
That's especially true because it's no farther off the beaten path than magical Highlands stops such as Royal Dornoch and Cruden Bay. And when it comes to Scottish mystique, Machrihanish is second to none.
Time didn't permit us to check out Dunaverty, another nearby links. But after having spent a couple of days in Campbeltown playing Machrihanish and its young counterpart, Machrihanish Dunes, Liz and I wouldn't hesitate to camp out there for a longer stretch.
Designed by Old Tom Morris in 1879, the Machrihanish Golf Club—the old course, so to speak–is worthy of its status among the world's top 100. I know I often use the phrase `classic links,' but Machrihanish is exactly that.
It's a course I would place right alongside Royal Dornoch and Cruden Bay, two other splendid courses that took their current shape in the late 1800s. The basic difference between these three links and those in the Open rota is as much a matter of location as anything else. They're simply too remote to host a major event.
Meanwhile, the new course at the bottom of the Kintyre Peninsula, Machrihanish Dunes, fares well in comparison with other newbie links entries such as Castle Stuart and Kingsbarns. A natural beauty, Mach Dunes opened in 2009. It was designed by David McLay Kidd—architect of Bandon Dunes, the first course at the renowned Oregon resort, in 1999—who spent summers at Machrihanish as a youngster.
All three—Castle Stuart, Kingsbarns and Mach Dunes—offer the challenges and atmosphere of their elders, but are a tad more understanding when golf games go awry.
Liz is a big fan of all three. Mach Dunes is particularly whimsical because of its firm, endlessly bumpy fairways. To address environmental concerns, only seven of its 259 acres were altered—basically, the tees and greens. That means a low-running shot can end up virtually anywhere.
Far from being a drawback, the remoteness of Machrihanish adds to its allure. It is peaceful and uncrowded. And at no more than a four-hour drive from Glasgow and Edinburgh, Machrihanish is no farther than Scotland's main entry points than Dornoch or Cruden Bay.
The Ugadale Hotel, in the tiny village of Machrihanish, and the Royal Hotel, in Campbeltown, a 10-minute drive, are first-class in every way. There are also B&Bs in the area, but the Royal, where we stayed, had spacious modern rooms overlooking the harbor. And the pub downstairs not only had great food; we met an endless array of interesting people there.
A seasonal ferry that connects Campbeltown, near Machrihanish, and Ardrossan—which is near the many Ayrshire courses, including Troon and Prestwick—makes Machrihanish seem far less remote. There's also a passenger ferry between Campbeltown and Ballycastle, Northern Ireland, which also is home to a long list of must-play courses. There also is an affordable day-trip flying option from Glasgow.
Or, you could just do it the simple way, like we did. Enjoy the experience of driving down the Kintyre Peninsula and pull into the car park next to the Machrihanish clubhouse, which has the look and feel of someone's comfortable, old vacation home. Because that's what it once was.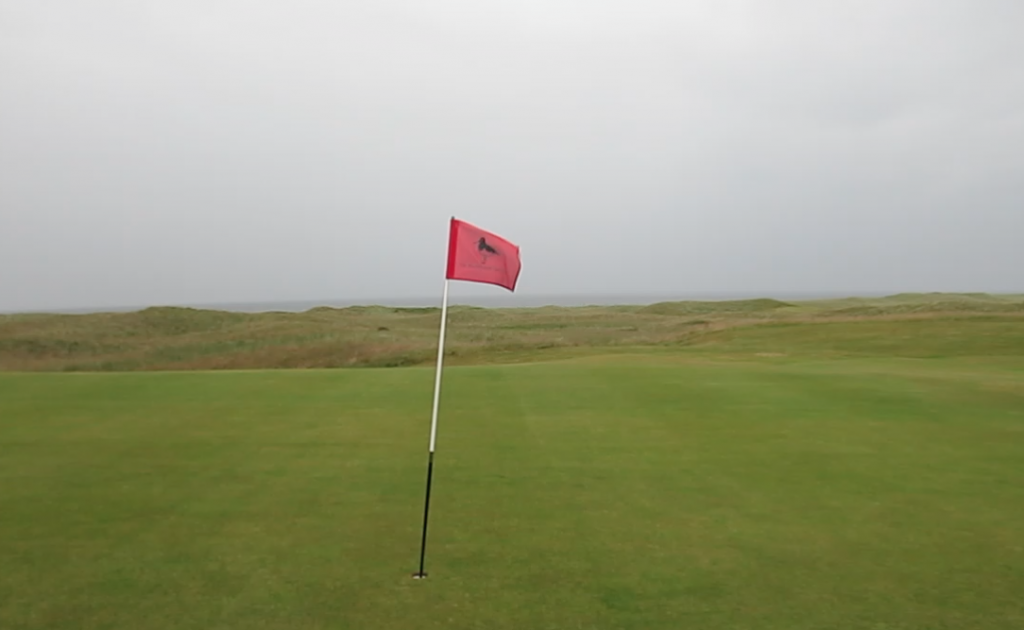 The truth is, while there's nothing wrong with combining Machrihanish into a larger trip, there' s also nothing wrong with simply hunkering down there for a bit.
The bar area in the clubhouse looked out on the first and 18th holes of the golf course. With the sea churning behind it and the sky seemingly growing darker, we looked out in anticipation—wondering what the course and the heavens held in store for us.
It was comforting to see the high praise inscribed on the wall from Sports Illustrated writer Michael Bamberger, in To the Linksland: "If I were allowed to play only one course for the rest of my life, Machrihanish would be the place."
It was also comforting to ladel some marvelous potato-and-leek soup from the large tureen sitting in the bar area while the storm clouds gathered.
Fortified by the soup and a pint, we crossed the street to the first tee.
As I stood there, I recalled another accolade, from James Finegan in Blasted Heaths and Blessed Greens: "The first shot here is my favorite shot in all the world.''
Even though he's one of my heroes, I have neither as good a swing nor as well developed a sense of first-hole adventure as Mr. Finegan. Give me a gentle opening hole, and you'll hear no complaints from me.
But faced with this challenge, I teed up the ball determined to make the best of it. The breeze was at our back, and there were only hints of raindrops at that point.
Setting up for a draw—not my most comfortable shot, especially with the driver—I took a hard swing and saw a low left-to-right screamer clear the beach area by feet, not yards. Safely on the short grass, though, it proceeded to run. And run. From there, par was a manageable task.
Liz didn't fare as well. Her drive landed on the beach. But she gamely went down and popped it back onto the fairway without problem. At least it was a civilized beach, and she recovered nicely with a bogey.
No. 2 is another good tester. A good drive is a must, because the second shot goes over a burn, some bunkers and some schmutz to an elevated green. Resist the temptation to take too much club, or you'll go right through that green.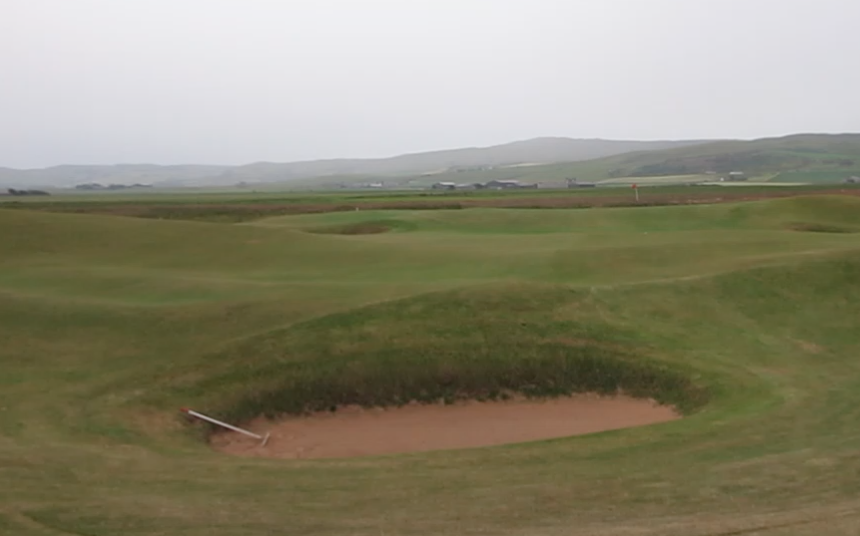 The first nine finishes with four par-fours that vary in length from 300 yards to 430 yards. What they have in common is that, long or short, an accurate tee shot is essential—and it's a good idea to find the right spot on the green, too.
"The best front nine in Scottish golf,'' said Allan McAllister Ferguson, author of Golf in Scotland, and very deserving of his title as the Rick Steves of Scottish golf.
I'm also a fan of the back nine, which has two par-fives and three par-threes. With the rain becoming more of an issue, we didn't linger. But I sometimes find that I hit the ball better in the rain, intent on hitting it as few times as possible.
I was especially proud of a par on No. 16, a 221-yard par-three. After nearly reaching the green, I chipped close with a 6-iron, a club I highly recommend for that kind of shot. It doesn't have much loft. I find it more manageable than the hybrid that Liz prefers because of its shorter shaft. And you don't have to whack it as hard as a putter, an important consideration on a wet apron and green.
With the raindrops gaining on us, we hustled through 17 and 18, and happily returned to our window seat in the Machrihanish clubhouse with a pint–to watch other crazy golfers battle the elements and a magnificent golf course.
Even on a dicey weather day, which is not all that rare in Scotland, it was easy to see why Machrihanish receives such lofty praise. A round of golf there is an experience not to be missed.
———————————-
For further information, http://www.machgolf.com/index.php
———————————-
Please click on photos to see enlarged view. Click twice for detailed jumbo view.