When you're talking about the perfect marriage of a traditional Scottish links course with an eye toward modern design and playability, you're talking about Kingsbarns.
This 18-hole delight, which opened in 2000 just seven miles down the coast southeast of St. Andrews, is well deserving of its status as a consensus top-100 course in the world. Although Kingsbarns is officially just 15 years old, golf has been played on its grounds since 1793. After being used for defense purposes during World War II, the golf course did not return until its marvelous 21st century revival.
On the personal side, Liz and I couldn't have picked a better place to finish our trip. That was especially true because we enjoyed a perfect weather day in the high 60s/low 70s that was breezy, but not too breezy. We also enjoyed the company of our playing partners, an Argentine businessman and his adult son, who were savoring a bucket-list moment after a London business trip.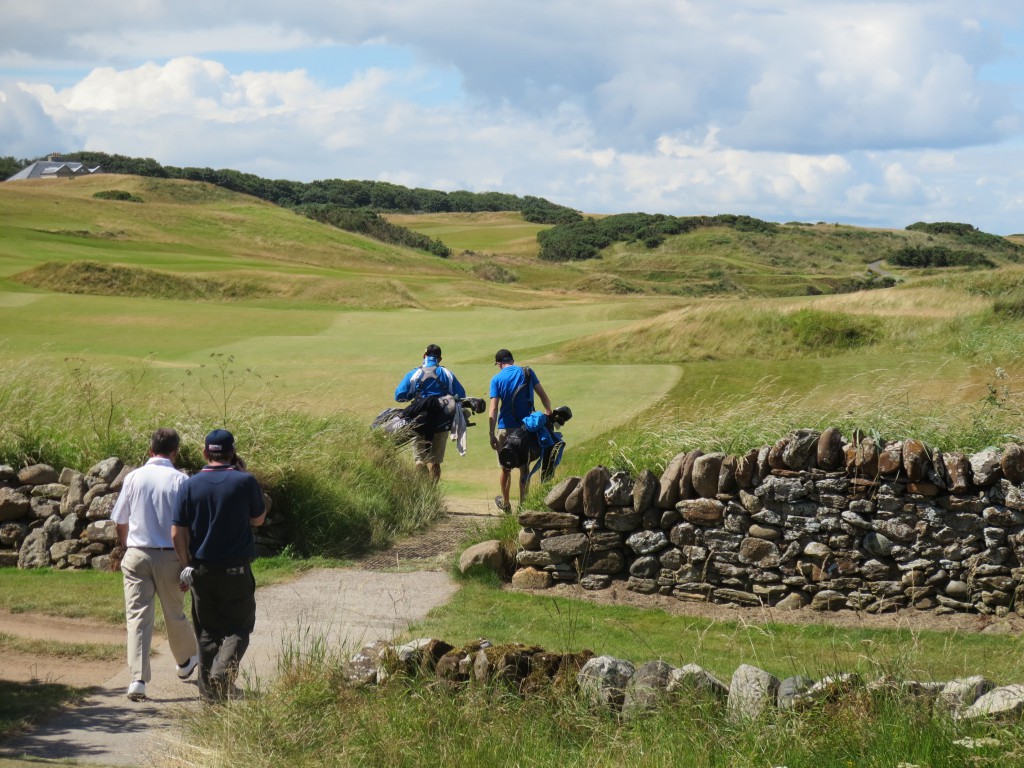 Kingsbarns not only is challenging, fun and beautiful. It's a golf course that transcends. We'll remember that day from so many points of view.
Certainly, Liz and I will smile when we think back on all the different ways you can maneuver your ball around Kingsbarns. But we also will savor the memories of its beauty—the rolling dunes and fairways, and the seaviews.
On a trip to Bandon Dunes a few years ago, I remember walking down the fairway with Blackhawks broadcaster Pat Foley gazing out at the misty Pacific and the nature all around us. "It doesn't get any better than this,'' we kept saying to each other.
Kingsbarns is that kind of deal.
Continuing my Scottish pattern, I started slowly at Kingsbarns, owing to my usual hyper-ventilating excitement at playing a round of golf in Scotland. After wrestling with a bunker on No. 1 and over-cooking a chipshot on No. 2, I settled down a bit.
Exhilarated by the panoramic view from the sixth tee, I handled this par-five well. On the 300-yard par-four sixth, I flipped a blind-shot wedge to the sloping green. Walking around a fescue-laden mound, I was pleased to see the ball below the hole. Missed the birdie, but no biggie—tap-in par felt good. An into-the-wind par on the 500-yard ninth also was satisfying.
In between, Liz made a nice par on the downwind, downhill, big-bunkered eighth hole, planting a nice shot on the green of the short but perilous par three.
No. 8 and the two back-nine par-threes are all memorable. That's three really good one-shotters if you're keeping score at home. No. 13 plays no longer than 148 yards, but isn't about length. It requires a gentle shot from an elevated tee over a valley to a plateau green. Mistakes aren't easily overcome here, although Liz did have a moment of excitement, draining a 60-foot putt from off the green to salvage a bogey.
If No. 15 isn't the signature hole at Kingsbarns, it's certainly worthy. A par three over a rocky beach and corner of the North Sea, the Pebble-Beach-like 15th has been known to bedevil European Tour players, who often must tee up from ridiculous length.
While there is a tee from 212 yards for those who want a 7,210-yard course, the regular tees were a reasonable 148 yards from the eminently enjoyable 6,343-yard teeboxes. Kingsbarns also has a 6,804-yard layout that sets up for a 185-yard shot on No. 15, which tends to play into the wind.
Flyover shows the majesty of Kingsbarns, notably No. 15 (at 14-second mark) and No. 18 (27-second mark).
After bailing out left and long on No. 15, I discovered there's more room on and around the green than it appears from the tee. I also realized the large undulating green is tricky to negotiate. So bring your courage to this memorable hole. And bring your camera.
My favorite shot of the day, though, came on the par-five 16th. After a mundane tee shot and a mis-hit second into the mounting wind, I hit a low 3-wood from 230 yards out that ran and ran, riding bumps and dodging bunkers until it settled on the front of the green.
There was no such luck on the 17th, a healthy par-four. The adventure started with a slightly-pushed drive that found one of the nine bunkers on this daunting dogleg right.
Things went a little better on No. 18, an excellent finishing hole that played downwind. I didn't want to mess around with a risky second shot to the elevated green. It's guarded by a "cundie''—a Scottish drainage ditch which is front of a vertical no-man's-land. But a layup and a wedge made for a comfortable bogey.
We then headed across the 17th-century bridge over the cundie that provides access to the 18th green for a welcome pint. The long-forgotten bridge was unearthed during construction and was quickly incorporated into the design of this memorable finishing hole.
Like the rest of Kingsbarns, the clubhouse is just right. It has big picture windows that overlook the course and the sea, and a cozy bar and seating area.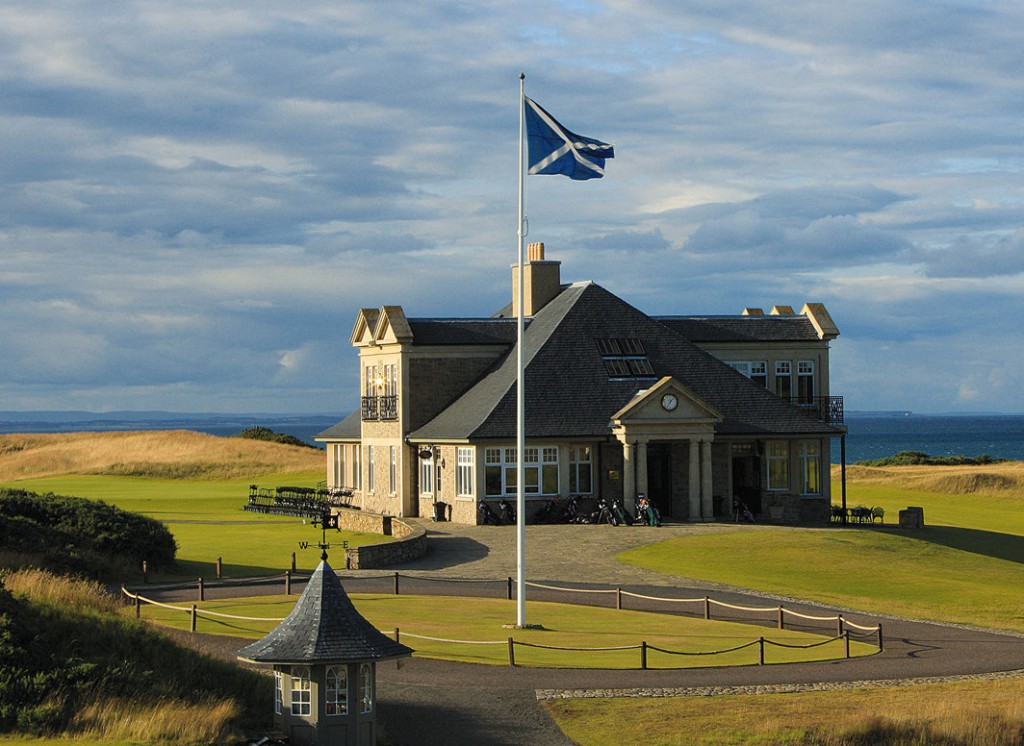 Understated and functional, the clubhouse reminded me of the sturdy stone building at Whistling Straits. That was no surprise, because the entire golf course is similar to that Wisconsin venue, which will be hosting the 2015 PGA championship next August.
"You're the third person today who's told me that,'' Kingsbarns chief executive Alan Hogg said as we looked out  from the clubhouse pub at the course and sea, glistening in the afternoon sun.
Considering that nearly two-thirds of Kingsbarns' players are from the United States and Canada, comments like that shouldn't all that surprising, either.
When Liz and I mentioned that Kingsbarns also reminded us of Castle Stuart, another newer traditional links, that came as no surprise, either. After serving as co-designer with Kyle Phillips and developer at Kingsbarns, American golf entrepreneur and designer Mark Parsinen sold his Kingsbarns interest to play the same key dual role at Castle Stuart, which opened in 2009 near Inverness.
In both cases, Parsinen has come up with sweet layouts that let everyone play, from elite golfers to double-digit handicappers. Liz and I played Castle Stuart a couple of weeks after Phil Mickelson won the 2013 Scottish Open there, and had a great time.
When rain began pelting us on the 12th hole at Castle Stuart and I suggested that we retire to the pub, Liz replied by putting on her Gore-Tex. Advising me to do the same, she showed her special appreciation for Parsinen's modern links approach.
"Some courses are designed for pros, but amateurs can play them,'' Hogg said. "Our couse is designed for amateurs, but we can make it difficult enough for pros.''
That's one of the great appeals of links golf for me. Whether in Scotland or at American links courses like Whistling Straits and Bandon Dunes, they are as accessible as they are starkly beautiful.
Adding to the experience, we made the short drive up to St. Andrews, where we had been enchanted the previous year. After watching some players tee off on the Old Course, we went over to the Himalayas, the irresistible miniature-golf layout adjacent to the first
A stroll over to Playfair's, which has become our favorite restaurant in St. Andrews, was a perfect way to complete our second (annual, we hope) extensive golf excurion to Scotland.
On both trips, we played 10 rounds, all of them different, for a total of 20 Scottish golf experiences. I would return to them all, but I already have a list of must-play courses we haven't played that goes on and on.
This trip began with Cruden Bay and ended with Kingsbarns—it doesn't get any better than that.
———————————-
For further information, http://www.kingsbarns.com/
———————————-
Please click on photos to see enlarged view. Click twice for detailed jumbo view.