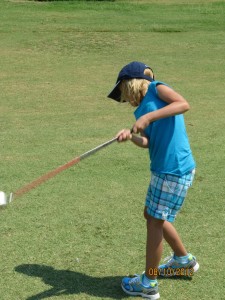 After seeing other of my grandchildren not take up the game, it makes me happy that it appears the youngest, Laura Dodd, 9, has added the game to her love list that includes Monster High dolls and Build-A-Bear thanks to her participating in the second annual Kids Play FORE Kids event at Firewheel Golf Park along with 116 other youngsters.
"Poppa, I'm going to need some free lessons," she said after participating in the fun event at Firewheel before falling asleep en route back home.
Laura felt that having Mr. Softie there to hand out free ice cream didn't hurt either.
My wife, Betty, and I got to go to the pizza luncheon to see all the excited kids and their parents gather in the Jerry Andrews Pavilion, a perfect place even in the summer with all those big trees blocking the sun.
The Northern Texas PGA Junior Foundation conducted the event, also designed as a fundraiser, netting more than $61,000 for junior golf and the Make-A-Wish Foundation, a charity that Laura is well aware of since one of her best friends got her wish to go to Disney World before passing away.
It was nice to see that the NTPGA elected to give two grand prizes, trips to the Ryder Cup at the Medinah Country Club, to Holden Wisener of Garland and Kyle Mahan of Midland, who both raised more than $5,000.
"For it to be just our second year conducting Kids Play FORE Kids, I could not be more pleased with the outcome," said Mark Harrison, executive director of the NTPGA. "The day was fantastic, and the kids and their parents worked extremely hard to achieve this total, and we are certainly humbled. A special congratulation to Holden and Kyle who exceeded all expectations. We love that we are able to create such a neat environment of having fun while golfing as well as contribute to wonderful organizations who do such great things for our North Texas community."
With a full circle of programs, including competitions and scholarships, the NTPGA Junior Foundation impacts close to 5,000 children and parents each year. It has certainly come a long way from its start more than 30 years ago when my friend Harvey Johnston started conducting junior tournaments himself before getting locals pros like the late Kim Brown involved.