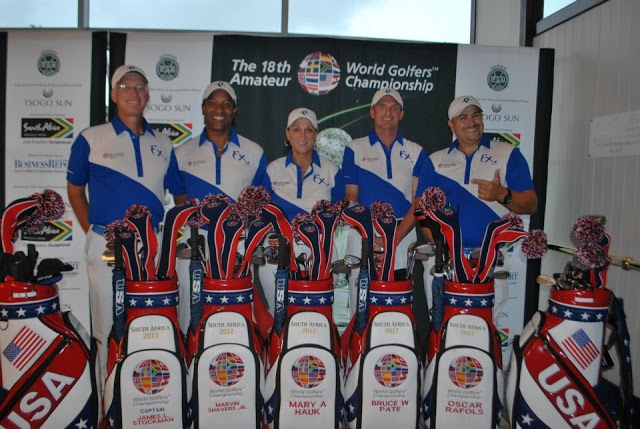 Trying to conduct a handicap tournament on the world level has to be difficult because there is no one handicap system in place worldwide.
Although they try to make adjustments after each round, officials at the World Golfers Championship still find it hard to create a level playing field as certain countries always seem to wind up at the top of the leaderboard.
A review of the past 10 years reveals that Malaysia, the 2012 champion, has won three times and 2012 runner up Indonesia twice. Meanwhile, the best finish by the United States was a sixth this year at the Cotsworld Downs, the Durban Country Club, Prince's Grant Golf Estate and the Umblah Country Club in Durban, South Africa.
"We're making steady improvements and I think part of that is the result of our qualifiers being more competitive after surviving a 54-hole finals instead of 36 holes as we did in the past," said Anders Bengtson, President of World Golfers USA.
The U.S. team of Oscar Rafols of Miami, FL, Bruce Pate of Germantown, WI, Mary Hauk of Canton, MI, , Marvin Shavers of Jacksonville, FL and team captain Jim Stockman–subbing for Adam Holewinski of The Woodlands, who missed the trip because of surgery–posted a 72-hole net total of 1,237, finishing five strokes behind South Africa #2.
"I am so proud of our team, after struggling with the weather conditions" said Stockman. We never gave up and fought to the end. I've never seen weather conditions like we had." Pointing to winds up to 50 mph, he added, "the flight of a boomerrang best described how the ball reacted when hit into the wind."
Looking at the final scores for the U.S. team, no one came even close to matching net even par 288. Shavers had the best individual finish at fifth with a 72-hole net total of 303 in the fourth flight (16-20). Stockman slipped from second to a tie for sixth in flight 5 (21-25) with a 311 total. Pate was seventh in flight 2 (6-10) at 315, Hauk 12th in flight 3 (11-15) at 325 and Rafols 22nd in flight 1 (0-5) at 335.
A pair of Malaysians—Pakhrudin Adb Majid and Chianjg Soui Yee—claimed flights 2 and 5, respectively. Other individual winners were Jessica Dreesbeimdieke, F Wangdduoli and Andries Claassens. I didn't recognize the flags beside their names and there do not know what countries they represented.
In the separate invitational, M.D. (Marie Diane) Hudon of McKinney, TX and Andres Jacobs of Chicago placed 22nd out of 43 teams. Hudon placed eighth in flight 2 with 332 net while Jacobs was tied for 13th in flight 3.
American golfers will always be hard pressed to compete on a level playing field until a world-wide system is put into place. However, Anders and Stockman will have another go at proving me wrong when they take another team to the 19th World Golfers Championship to South Africa next fall.