One of the more interesting things I did at the recent PGA Merchandise Show in Orlando, FL was to take a couple of shots on the 16th at TPC Scottsdale, host to the Waste Management Phoenix Open, on a new simulator game at the Aquino booth where my longtime friend Parker Smith was helping out.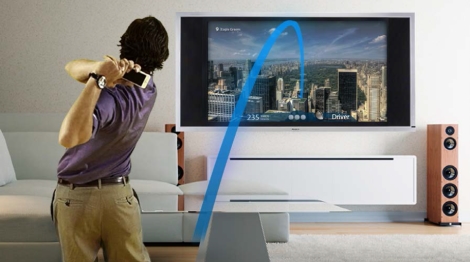 Aquimo Pin High is a mobile golf simulator that uses the iPhone's motion sensors to analyze your personal golf swing. Following instructions, I was told to take the phone in both hands just like with a golf club, facing the direction I wanted to hit the ball, which was a view of the 16th green on a big screen television. Then I wrapped the pointer finger of the right hand over the top of the phone to secure it. I pointed it at the ground where a ball might have lay and waited a second until the phone vibrated.
Playing at 150 yards, I then took what I thought was full swing with a 7-iron, but came up short left. Switching to a 6-iron, I was dead on line, but just short of the green. That's when Smith noted that I might have not rotated my arms through impact like I might do actually playing. Guess I should have taken one more swing, but had another meeting and never got to try again as there were long lines of others playing the game each time I got by.
You can get a free app on the Apple appstore. Once inside, you tap "aiConnect" and register an account, verifying your email to activate it. Then you navigate to play.aquimo.com on your web-enabled display—television, computer, laptop or tablet—and log in using the same credentials used on the phone.
Now you are ready to play. Tap "play golf" and then "play solo" and enter hole 1 at Eagle Greens. Pick a club from the golf bag at the bottom right of the phone screen and hit as many times as you want on each of the available nine holes. Your score is kept on a scoreboard located in the bottom left of the phone screen.
Once you have completed all nine holes, you can join monthly free tournaments in the tournament mode, where you only get to play each hole once, getting three tries. Top scores receive prizes. Results can be checked at www.aquimo.com/tournaments.
Offering stunning graphics, a realistic simulation with an easy-to-use design that allows your iPhone to act as a club, Aquimo Pin High is just the answer when you want to enjoy a little golf and don't have time to venture out on the course or there is snow on the ground like there is today. In the near future, you can play scenic holes in Bangkok, Chicago, Paris and Yosemite. I'd certainly like to see how I would play Bud Chapman's Infamous 18 also.
The game was developed by professor Mark Jefferey of the Kellogg School of Management and technology guru Manaj Rana with an assist from teaching professional Mike Malaska, the 2011 PGA Teacher of the Year.