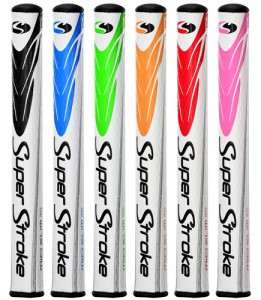 n a recent survey, it was revealed that consumers relied on the advice of club professionals over touring professionals when it came time to make a decision of what product they bought. I don't always try to follow the example of the touring pros either, realizing that companies pay them big bucks for such endorsements.
However, I did make the switch to the SuperStroke Flatso Ultra grip after seeing the success Jordan Spieth had on the greens in winning rookie of the year honors last year, winning the John Deere and finishing in the top 10 eight other times. I also noted that Jason Duffner and K.J. Choi were using SuperStroke grips along with many on the European Tour.
This oversized grip with a flat top design just seems to be more comfortable for me, allowing me to lighten my grip pressure and keep the pressure even in both hands, using the left hand low method. I'm able to keep my palms facing each other as Dave Pelz recommends. I don't seem to have as much tension in the wrists and forearms, allowing for a more natural, on plane stroke. It's going to stay in my golf bag, even if I switch putters in the future, and I think others can shave strokes if they follow my example.
Perhaps an even better endorsement is the report that former touring pro Dave Stockton who now is considered a putting guru with many going to him for advice has recommended it.
With a variety of size options, there's no reason that golfers of all ability levels should be able to shave off strokes just like the touring pros.