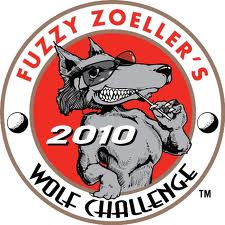 It's easy to see why Fuzzy Zoeller is so popular in his home state of Indiana. The fun-loving, wise-cracking golf professional has helped the Riley Children's Hospital raise almost a $2 million with his Wolf Challenge.
Bringing a tour event back to Indiana—the Champions Tour had an event from 1994 until 2000—was once a Zoeller objective, but finding a corporate sponsor, especially in this tight economy, willing to come up with big bucks has made this impossible.
Zoeller now believe his Wolf Challenge, which moved to the Brickyard Crossing Golf Club next to the Indianapolis Speedway this year after 13 years at Fuzzy's Covered Bridge Golf Club (location), may have a chance to become a national event with national television coverage.
He told Phil Richards of the Indianapolis Star that the once popular made-for-television skins games may have run their course. "I think we have the format that works," he said. "People get the interaction between the pros, the talk and the chatter, and it's just not boring. It's a new game every hole. It's a great format for tv."
Watching the 2010 Wolf Challenge—Vijah Singh, Nick Price and Bo Weekly joined Zoeller– with up to 1,000 fans back in August, I would have to agree.
The format involved four players who rotated as the captain, who after seeing a player hit his tee shot can pick him as a partner or he can wait and pick another player or if he is daring—maybe hitting a ball close like on a par 3–take on all the others. On the first six holes, $3,000 is up for grabs on each hole and carried over if the hole is tied. The rewards increase to $6,000 for holes 7-12 and $9,000 for holes 13-18.
Closing with five straight birdies thanks to a hot putter, Singh came out as the big winner by pocketing $45,000. His last three birdies kept Zoeller from being shut out and eventually winning $28,500. Weekly collected $27,000 and Price $7,500.
The players wore microphones. As expected, Zoeller talked all the way around, including calling his wedge shot on one hole "neurotic" and another near shank as a "hosel rocket." Weekly jabbed Zoeller after he left a birdie putt inches short: "Guess his skirt got over his eyes again." Singh and Price aren't really wise crackers, but seemed content with playing the roles as straight men.
During a practice session on the first day, I got the chance to visit with Zoeller and he prefaced his remarks with, "Ask me anything you want. We're not married; I'll tell you the truth."
How did he get into the vodka business?
"Some people came to me to put my name on a wine, but I can't do that. I can't put my name on something I don;t endorse. I've never done that, I mean I used PowerBilt clubs, so I have Powerbilt on my bag.
"I'm not a wine drinker. I couldn't tell a good wine from a bad wine.  They all taste the same to me. I do know sweet and dry. I have developed that taste, but other than  that, all wines taste the same."
When someone else then asked about vodka, Zoeller then thought this was a good idea. "No athlete's  taken a shot at that yet. And I know vodka. I mean I drink vodka."
Calling around the country, Fuzzy's group found six distillers willing to do a private label. Taste tests answered the question about which one to go with the one from Bend Distillers in Bend, OR.
"Most vodkas are only charcoal filtered three to five times, Fuzzy Zodka is filtered 10 times," he explained. "And it sits in an oak barrel for a month and a half, two months."
After seeing the figures about how much vodka is consumed by golfers, the group decided to  target the golf course market, deciding on a golf theme for the bottle.
Fuzzy Zodka also decided to target the racing fans by  sponsoring an Indy 500 car with Ed Carpenter driving No. 20 in races around the country.
What do you do when your game is off?
"I go back to basics—timing, rhythm and balance. You've got to pay the price and go to the
practice tee."
What one rule has changed the game the most?
"Allowing the use of the long putter. Anchoring the putter to your body has really helped a lot of people. That's the one mistake the USGA made regarding equipment."
Continuing, he added, "The ball is the biggest difference in the game. The old balls tended to float more. The new ones just go right through the wind. Players no longer have to work the ball as they once did."
Talking about the rash of low scores this season:
"When they (today's players) get on a roll, it's unbelievable. They make everything."
On today's newer courses and the architects:
"They're forgetting who plays the game, making monuments to themselves and the owners who hire them."