TPK Golf of Waconia, MN has added a new professional version of its popular training aid, the Putting Stick®. Following up on suggestions by teaching professional Mitchell Crum, who had success using the original model in helping Bo Van Pelt made dramatic improvements in his putting in 2012, Vlad Gribovsky tweaked the original model and filed a new design patent.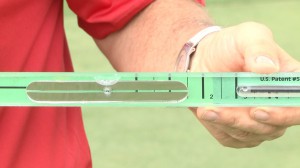 Instead of having a mirror attached at the far end of the training aid to aid with proper eye alignment, the mirror is built into the other end where there is indention for the golf ball. "Crum felt this worked better, especially for professionals, and he's listed as a co-inventor," Gribovsky said. "The pro version is definitely more portable."
Gribovsky also pointed out that the far end of the stick is now beveled to allow a more consistent roll as the ball leaves the training aid and that the leveler can now also designate up and down along with side to side.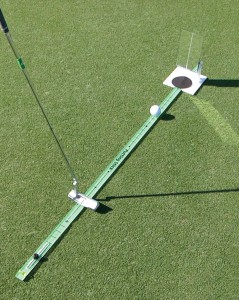 "If golfers spend 10 to 15 minutes a day of proper practice with square-to-square or inside-to-square-to-inside strokes on the Putting Stick®, it will change their lives on the greens," said Crum, Director of Instructors of the United States Golf Schools (www.ussog) in Murrels Inlet, S.C. and President of the Professional Golf Teachers and Coaches of America (www.teachgolf.com).
"By utilizing the Putting Stick®, we can gain precise feedback about a student's putting stroke," he continued. "Lack of feedback is the chief reason golfers do not improve putting even with practice, especially incorrect practice. Most importantly, it teaches the student to learn without the thought of mechanics and shows the accuracy of a square blade at impact since the ball will roll off the stick if not struck correctly."
Chris Baisch of Hazeltine National Golf Club in Chaska, MN has found that using the Putting Stick® has also helped his students. "The Putting Stick® gets them to realize their faults and gives them instant feedback on whether or not they are doing it correctly," Baisch indicated. "It helps them to get the putter square at impact and to make an accelerated stroke," he added, pointing out how the ball will roll off the stick to the left if the face is closed and off to the right if it is open, especially if the stroke is too short.
Baisch really likes the new pro model where the mirror is inserted into the training aid. "This makes it more convenient to carry around with you in your bag," he added. "The mirror helps ensure their eyes are over the ball."
Baisch noted that one of his members purchased the training aid four days prior to a big tournament since he was struggling with his putting. "He quickly realized it had a lot to do with his setup," Baisch explained. Using the Putting Stick® 10 minutes a night prior to the event and overnight during the 36-hole tournament, the player won the prestigious event. "He felt much more comfortable with his setup, which freed him up to think more about making a good roll on the ball," Baisch said. "With the Putting Stick®, it forces you to make a good roll. If you don't, it won't stay on the stick!"
Mike Barge, Director of Instruction at the Hazeltine National Golf Club, also recommends it to his students."The Putting Stick® will give you immediate feedback on your stroke, which is crucial for learning," said Barge, ranked as the No. 1 teacher in Minnesota by Golf Digest. "The more success you have rolling the ball along the Putting Stick® will lead to more confidence on all putts, especially the short ones."