I can remember when the Texas State Open was played at Tapatio Springs in Boerne 30+ years ago when it was the first destination resort in the San Antonio area and one of the top 10 golf resorts in the state. However, on a visit five years ago, I found the course had really gone downhill and didn't even have grass on the greens. Floods in May of 2015 also caused some damage.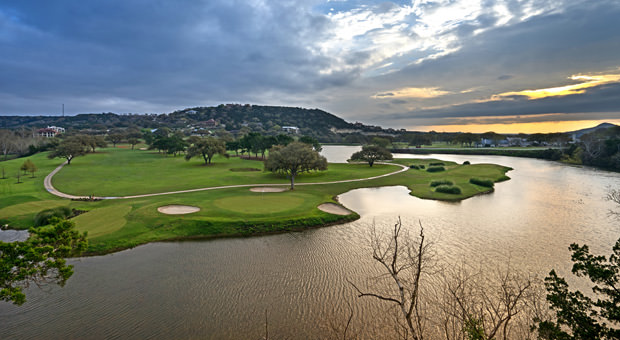 The good news is that the resort course at Tapatio Springs Hill County Resort and Spa has undergone a $2 million restoration by Tripp Davis and Associates that has turned an outdated landscape of tired holes into a "must play" golf experience again.
"There was a time in the late 1980s and 1990s when the Tapatio Springs Resort Course was regarded as one of the best in the state, if not the region," Davis stated. "The golf course is simply beautiful with great rolling terrain, huge old live oaks and stunning vistas. Our focus has been simple; to regain the best of its original character and add certain unique enhancements for today's playing styles and the resort's many guests and members. I'm extremely proud of the work we've done."
"Attractive bunkering is one of the key ingredients in defining the visual character of a golf course; the greater the visual and strategic character, the greater the experience," offered Davis. "I'm not sure I've ever seen a bunker and tee project have as big an impact on the visual and strategic interest of a golf course as what's been achieved here. The new bunker designs incorporate turf faces and flatter bottoms, which together provide a less sever obstacle than years past. The result is stunning, including less penalization for the high handicap golfers."
My cousin Eldon Tarver, a member of a Texas Golf Association course rating team, and I both liked the new and artful bunker designs. At least until Eldon's drive on No. 10 ended up near the lip and a 9 spoiled another effort for the then 74-year-old to shoot his age.
It's a player-friendly course that is short by today's standards at only 6, 504 yards from the back tees. Resort guests can enjoy it from 6,114 yards, seniors at 5,843 and women from 5,185. Members play a mix of gold and white tees at 5,843. Long hitters will have opportunities for putts at eagles as three of the par 5s are reachable in two at under 500 yards.
As part of the renovation, many of the tees were relocated to provide better sightlines, the fairways were re-graded to improve the playing surfaces and drainage, three of the greens were resurfaced and a new putting green added.
Matt Reams, the director of golf, believes Davis did a great job of restoring the playing conditions for golfers of all skill levels. "Based on our guest feedback, we're well on our way to regaining our proud position as one of the top 10 golf courses in Texas," he said.
"We now have a solid stand of good turf and guests continue to say they've never seen it in as good of shape as it is now.
When my wife and I visited, we also got to see a new $1 million swimming pool and really enjoyed our min-suite and the fine dining options.
Since our visit, golfers are now able to get an even better practice experience as the range was lengthened, a teaching tee added at the other end and new target greens added. The 19th hole also has been upgraded.
Davis definitely brought the course back to life and the new management team has made great strides with other improvements. So if you haven't visited in a long time, it's time to return