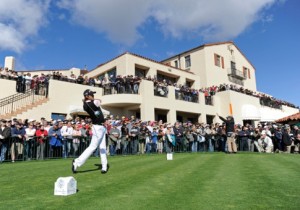 Years ago I worked in Manhattan, and always tell those wary of New Yorkers that when you scratch below the surface they are decent people who will be there when it counts.
Now a Floridian, its been my immense pleasure to visit my son in Los Angeles and spend a day at Riviera Country Club during the Northern Trust tour event.
The course wowed me.  The greens, many of which are small, defied belief with miniscule targets, and subtle but deadly undulations that frustrate the pros and would destroy the average golfer.
Despite rough of just 2-3 inches, the high scores proved that devilish green and set up can rein in the supreme length and talent of the touring pros.
But enough of praising Caesar, I led with New York and want to bury some of the Los Angeles attitude of entitlement.  Driving the perpetually clogged highways and byways, the behavior of many drivers is just RUDE.  Where New Yorkers' defensive armor is their skin, in LA it's the automobile.
Six times near intersections approaching gridlock I kept open a gap to let drivers make a left turn or enter the road.  Not one time did anyone ever so much as nod or wave a hand of thanks.  On the day I was driving to the Riviera parking area, I was cut off when a large SUV just bulldozed in…with the license plate (I kid you not) A PUTZ.
It is possible these drivers were all also members of Riviera.  Walking the course near the end of the round and talking to several marshals and volunteers I was shocked.  When I asked them about how difficult playing the course was for them, they told me they were not allowed a day to play Riviera in appreciation of all the hard work they put in.
Many of the volunteers also worked other tour events, and all provided a free round at a later date.  The last time I visited the Masters and spoke with a long time volunteer he talked about the appreciation round…and this is Augusta National!
So thumbs down to the owners and board who don't let their volunteers play the layout they toil on.  It's an amazing course, and it should be shared with the people who give so much…not hoarded.