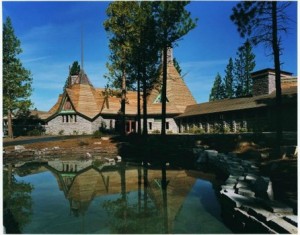 With mild apologies to visitors expecting to see yet another photo of scantily-clad and golden-locked Daenerys Targaryen, the following is not at all about Khaleesi of the Great Grass Sea, Breaker of Chains and the Queen of Meereen, but instead is an update on The Dragon golf course at the Nakoma Resort, in the California High Sierra about an 80-minute drive north of Lake Tahoe.
After last year's High Sierra Media Golf Tour, I posted a fairly comprehensive piece on the somewhat controversial golf course and its surrounding residential development, the link to which is below.  In short, the property's original owner wanted North America's toughest golf course, thinking the challenge would attract the game's bravest players.  It did.  But the Dragon scorched so many so badly, that few returned for a second chance.  And when Winter came in the form of a recession starting in 2008 – – to keep up the Game of Thrones metaphors – – the economy around Truckee and Plumas County showed all of the life of the White Walker's Army of the Dead.
But enough of HBO.  Last year the resort at Nakoma was showing real signs of life, thanks to maintenance and

design changes that softened the course and aggressive marketing by the property and its public relations agency.  The resort's Villas saw an ever-increasing occupancy rate.  And now, work is nearly completion on a new 42-room Lodge, which is being built to complement the resort's existing amenities and its Frank Lloyd Wright-designed Clubhouse.  The 23,701 square-foot hotel features raw and natural materials such as tumbled travertine, antique woods and stone, as its widows overlook the Dragon's eight green.  And with staff already hired and in training, the hotel should open by mid-summer, 2015.
Meanwhile, at the resort's Wigwam Room restaurant – – sitting around a massive stone fireplace within the dramatic spire that characterizes the clubhouse – – continues to serve exceptional fare, with a fine selection of wines.  At a recent dinner I had the stuffed pork loin, bathed in a creamy mushroom sauce and in portions I couldn't finish.
For a much more detailed look at the Nakoma, click on Nakoma Has the Wright Stuff.