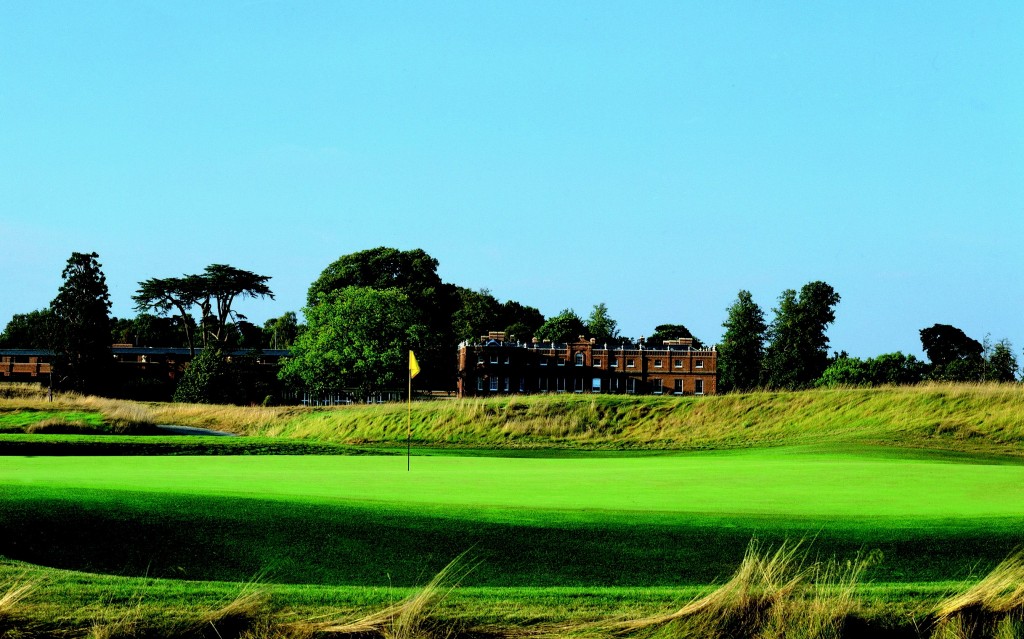 Thirty minutes from both Heathrow Airport and Big Ben, The Grove Hotel, in Hertfordshire, imparts a modern twirl to the former longtime home of the Earls of Clarendon.  The first house was built on the 300-acre wooded estate during Elizabethan times.  In the 18th century, one particular Earl essentially created the notion of the "country weekend" house party on the property.  Guests included all manner of royalty, including Queen Victoria.  Today the family-owned five-star hostelry exudes a decidedly whimsical, anti-corporate stance.  Startling modern art (much of it expressing visual puns) adorns 227 richly appointed guest rooms, suites, and other facilities.  Check out the five-panel aluminum waterfall at the entrance to the Sequoia Spa.  Even the extensive gardens communicate interconnected ideas, repeated rhythms, and a rich, hip, leafy aesthetic that mixes with the old-world architecture like … well, … convivial guests at a weekend house party.
Parties of golfers will thoroughly enjoy the Kyle Phillips golf course on site.  The 7,152-yard venue follows natural slopes, ridges, and mounds and proffers an afternoon that feels part links, part parkland, part heathland.  The lovingly-crafted holes encompass stream crossings, lake avoidances, shaven swales, gnarly humps and hollows, and rugged bunkering en route to sculpted green complexes that are, well, complex; many are set at angles to the approaches and therefore require a deft touch.  Boomeranging doglegs turn beneath chestnuts, cedars, and other vertical hazards (trees).  Number seven, a simple 150-yard par three may be the money shot here—it plays uphill to an angled green you can only see a sliver of, and which falls off in the front and back.  Behind the hole, the welcoming brick façade of the hotel hints at all manner of après-golf delights in the spa, restaurants, "beach" area, and guest rooms.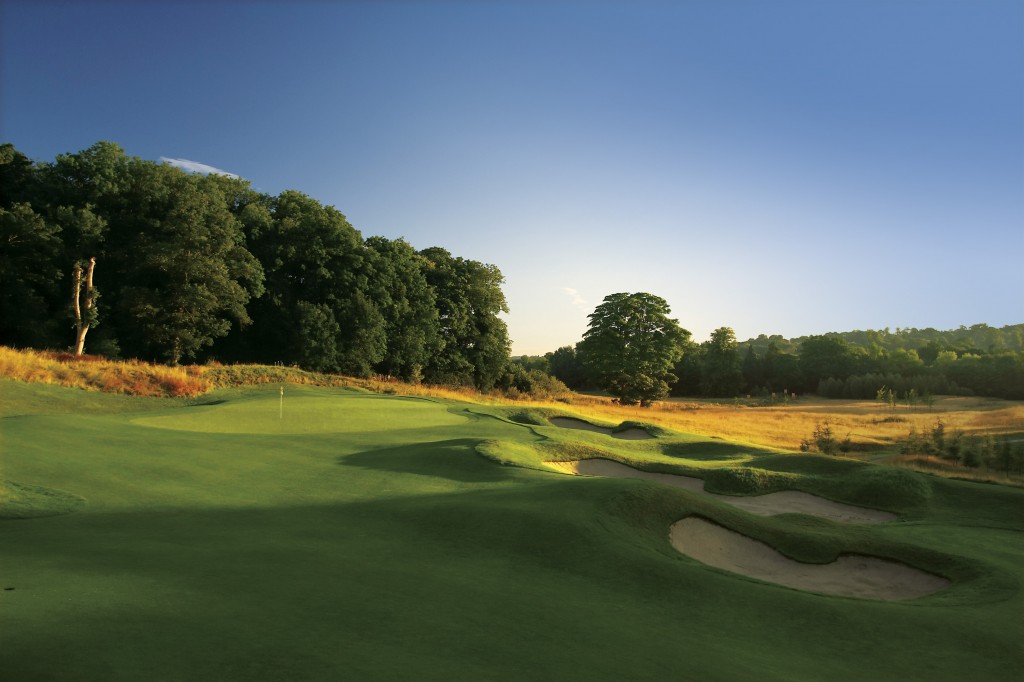 In the unlikely event that you tire of The Grove's golf course, several other world top 100 venues lie within a short coach ride: Even the most retiring Earl (or someone staying at his former home) should still be seen strutting among the upper crust at such venerable clubs as Wentworth, Walton Heath, and Sunningdale. The Grove makes for the perfect base from which to reconnoiter these other courses, which maintain a stiff British decorum yet are accessible even to American visitors wearing loud orange golf shirts—as long as your socks are not too short (I am not kidding about this).
Wentworth alone boasts three courses played out of an 18th century Gothic style clubhouse that is as much a white castle full of esteemed pleasures as a place to change your shoes and imbibe a five-star lunch in the posh, stylish dining room.  Just remember to doff your hat inside or you may find yourself buying a round for thirsty old members.
Harry Colt designed the East and West courses in the 1920s.  Each features demanding carries over vast fields of purple-blooming heather and occasional gorse clumps to narrow fairways.  The East Course encompasses a number of diagonal hazards in addition. West has played host to the PGA and World Match Play Championships.  John Jacobs, Gary Player, and Bernard Gallacher collaborated to create the parkland Edinburgh Course in 1990.
West, the premier layout, is also known as the Burma Road course because the overgrown fairways were cleared by prisoners at the end of WWII, and a British officer commented, "Let this be their Burma Road." Among the best holes is number 13, a 437-yard par four requiring a right-side tee shot and an approach lofted over trees and bunkers, with no place to bail out.  The course finishes with long, back-to-back par fives that should further prepare you for a visit to the oak paneled Burma Bar overlooking East's 18th green.  Seed merchant Samuel Ryder began a long history of trans-Atlantic contention in the bar with an idea for a tournament that still bears his name.
The expanses of lovely, tangling gorse at Wentworth only seem epic until you encounter the two courses at nearby Walton Heath, laid out by Herbert Fowler just after the turn of the century (the previous century, that is).  Wentworth has been a favorite of British press and politicians (including former member Winston Churchill) for decades.  The legendary James Braid was the club professional for 45 years.
The sandy golf terrain carved from heather, gorse, and bracken is open and mostly treeless (with the exception of occasional pine, birch, and oak) and routed across a high rise, thus wind is a factor on both the Old and New courses.  Members say that the New is two strokes easier.
Wide, deep bunkers with steep faces draped in blooming heather recall links hazards, and the turf is firm and fast.  Famed golf writer Bernard Darwin wrote of Walton Heath, "It has something of the fierceness and defiance which belongs to the sea."  Writing of the Old Course he also said, "I know of no sterner finish than that provided by the fourteenth, fifteenth, sixteenth, seventeenth, and eighteenth."  He might have mentioned, too, that accurate driving is the key to carrying vast oceans of heather, but even great drives will set up deceptive short pitches to the large greens.  The 7,462-yard venue begins with a par three—of 235 yards— followed by a 475-yard par four.  The course finishes with a comparatively short par four of just over 400 yards with a humongous cross bunker parked lengthwise in the fairway.
While in the neighborhood of great British inland courses, you'd be remiss to miss Sunningdale, with Willie Park's Old Course (from 1901) and the brash, upstart New Course laid out by Harry Colt in 1923.
Park's longer-standing layout is a bit like Napoleon: short but deadly.  103 bunkers mine fairways lined by pine, birch, oak, heather, and manicured hedges.   Landing zones are rife with grassy knolls and proffer a plethora of shot options.  Bobby Jones once commented that he wished he could take the course home with him.  Favorite holes here include #2, a 489-yard downhill par four with a blind tee shot and a downhill blind shot to a green that reveals only a glimpse of flag and no view of actual putting surface. Number six presents an island fairway barely floating in a sea of heather.  Even 273-yard number nine is dangerous, but is followed by the traditional sausage sandwich at a lovely little halfway house. The first nine plays steadily uphill, so fortified by sausage the return feels downright festive with relief (if also a bit in need of a nap).  The 6,627-yard layout concludes beneath the famous Sunningdale oak.
Colt's New Course is considered more rugged, with less bunkering and fewer trees on its 6,729 yards.  The contoured greens have a particular talent for shrugging off mis-hit approaches.  Playing both in one day—with a bracing clubhouse lunch in between—is one of the singular pleasures of British golf, and will leaving you feeling if not like an Earl, than at least most Frankly glad to be there.
Save the Wales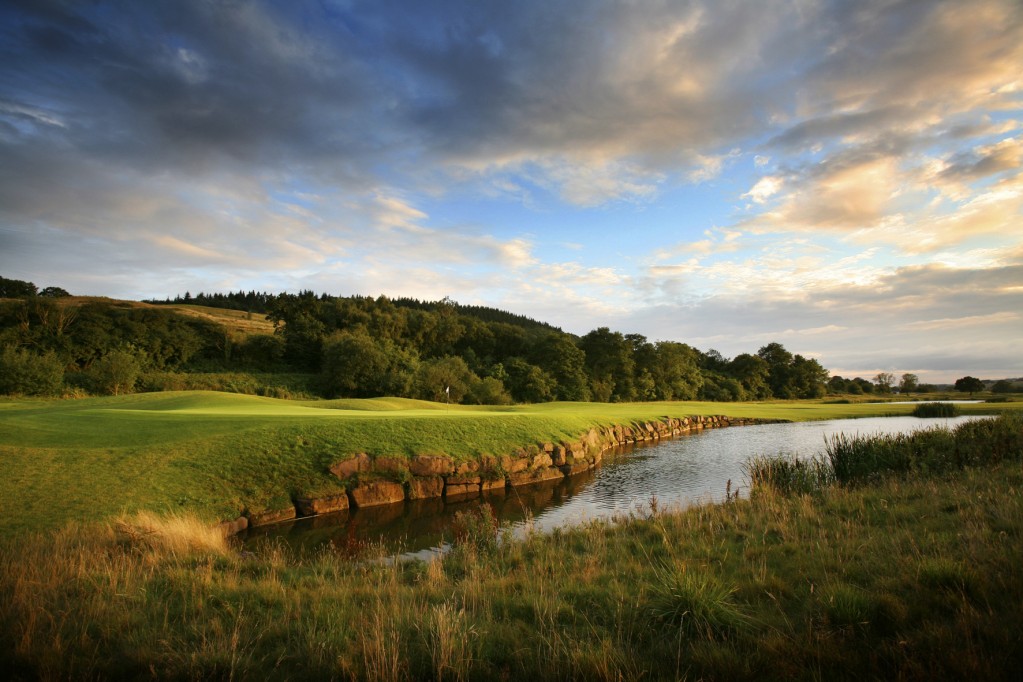 The country of Wales is to England what the Oregon Territories once were to, for example, Philadelphia and New York: which is to say, beautiful, unspoiled terrain that looks a lot like land now sporting major cities once did before it grew crowded and over-developed.  While finding the same level of refined luxury as at The Grove may be difficult (but not impossible: see Celtic Manor, below), the point of taking the several-hour detour to cross the Severn Estuary into Wales is to be transported to an earlier time.  Some say that golfing Wales today is what golfing Scotland was like fifty years ago.  Expect great, natural, uncrowded golf courses full of locals, and simple, hearty clubhouse pub fare washed down with excellent lager in gorgeous, rolling country where you'll be fully unable to read signs, menus or written communications of any sort.
The 1400-acre Celtic Manor Resort, in Coldra Woods, is a fine place to begin a limited incursion into Wales.  Just three hours from London and two from The Grove, this massive five-star American-style resort has everything, including three golf courses, one of which will host the Ryder Cup in 2010.  Yet, surprisingly, that's the least inspired of the golf offerings, exuding a corporate feel that belies the fact that it was essentially designed by committee—or re-designed, as a perfectly lovable Robert Trent Jones II course (called Wentworth Hills) already occupied the grounds. European Golf Designs built nine new holes across the floor of the Usk Valley and redesigned nine from Jones's course to create a massive, muscular, but wholly exhausting 7,493-yard par-71 track.  Nine holes feature water.
When you play a hole that you love on this course it was probably one of the original holes designed by Jones and imbued with risk/reward characteristics rather than constructed merely to award length and strength.  The par threes actually turn out to be quite playable, while many other holes will elicit the scribbling of the dreaded 7x on your scorecard.  Fourteen is the identified signature hole, with lakes on both sides of the fairway and an angled green with a narrow entrance creaking open between sand to the right and water to the left.  Although many courses claim that while playing them you'll use every club in the bag, on the impossibly demanding Ryder Cup Course I found this to be nearly true of just the first hole.
I much preferred RTJ Sr.'s Roman Road Course, featuring delicious elevation changes, ravines, lakes, trees, streams, and gigundo bunkers.  Several dramatic descents characterize the front nine, while the back is simply twisty and interesting.  The course plays to a par of 70 over a tad more than 6,500 yards.  One of my favorites was number 11, 185 yards flush downhill to a green surrounded by mounds of rough and a bunker short of the dastardly, sloping green.  The par-69 Montgomerie course, with deep pot bunkers, wide valley views, and a linksish pedigree, fills out the golf dance card.
No trip to Celtic Manor is complete, however, without venturing down the road an hour or so to Royal Porthcawl, one of the true links wonders of the British Isles—and the place where they should have scheduled the Ryder Cup.  Holes on the 6,829-yard beauty point in every direction, which is unusual for a links course and proves a factor given the wind (making club selection as much a guess as a science).  The lack of massive dunes here allows you to see the foamy ocean from every hole.  Also unusual are several heathland holes routing across a high plateau above the Bristol Channel.  Henry Colt and Tom Simpson are largely responsible for the current design, which is gorgeous, sublime, and a refreshing tonic to playing over-designed American layouts.  Royal Porthcawl is just pure, spotted with perfect pot bunkers and sweeping curves framed in fescue.  Holes one through three follow the shore and require long carries from the tee and approaches to greens located close to the sea.  The four closing holes average 450 yards in length, and the eighteenth is a rollicking downhill roller coaster.  Twelve overnight rooms are available in the clubhouse, which is drooling distance from the beach.