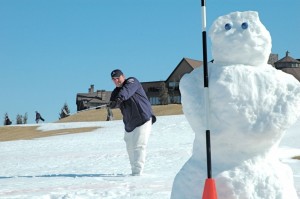 I've never had much interest in snow golf. I have a hard enough time playing in shorts and a T-shirt so the idea of trying to swing in seven layers, a parka, and ski gloves is way past scary.
However, I may reconsider my freeze on frozen golf to tee it up at the second annual Winter Golf Pentathlon, coming up on Saturday, February 26, at Crystal Springs Resort in northern New Jersey.
Okay, there will be no sniggering about New Jersey golf. The Garden State (where I was born and spent many wonderful years) has numerous world-class golf courses including Pine Valley, Baltusrol, Ridgewood, Mountain Ridge, and more.
There are seven courses at Crystal Springs, which is about an hour's drive from New York City and Newark Airport. One of the courses, Ballyowen, is among the state's finest, a regular among lists of the country's top resort layouts. The others are quite good, as well, offering varying degrees of difficulty all the way to Minerals, a par-three particularly well suited to families and newbies.
The one-day Winter Pentathlon will feature five competitions:
Frozen Turkey Challenge, which is held on the first, second, and last holes of the Wild Turkey course. Rental clubs are provided
Closest to the Snowman Contest
Stymie Putting Contest
Two-hole Simulator Tournament
Cabin Fever Shootout
Prizes will be awarded to the individual winner in each event as well as the top three overall finishers. Grand prize is a membership to the resort, valued at $4,000. (I have no idea if accepting a prize for snow golf violates the USGA Rules on Amateur Status. Or the U.S. Ski Association's rules, either.)
Registration begins at 11:30am on Feb. 26, with the first event scheduled for 12:30pm. Registration is $99 (unless you're already a resort member, in which case there are discounted rates), and besides the competitions the fee includes a hot-buffet lunch and an awards ceremony with hors d'oeuvres, beer, wine, and soda.
The field is limited to 40 players. To sign up, go to the Pentathlon website or call the pro shop at (973) 827-1442, ext. 1.
Accommodations are available at the resort, and anyone who stays onsite Saturday night receives a free ski pass to nearby Mountain Creek ski and snowboard area for Sunday the 27th.
Besides golf, Crystal Springs boasts luxury accommodations, fine restaurants (including a nationally recognized wine cellar), two full-service spas, indoor and outdoor pools, meeting rooms, and other mountain amenities.
And if you want to hang around a little longer, two new attractions—ominously named The Zipline Adventure and Mountain Coaster—open this June.
I don't do those, either.