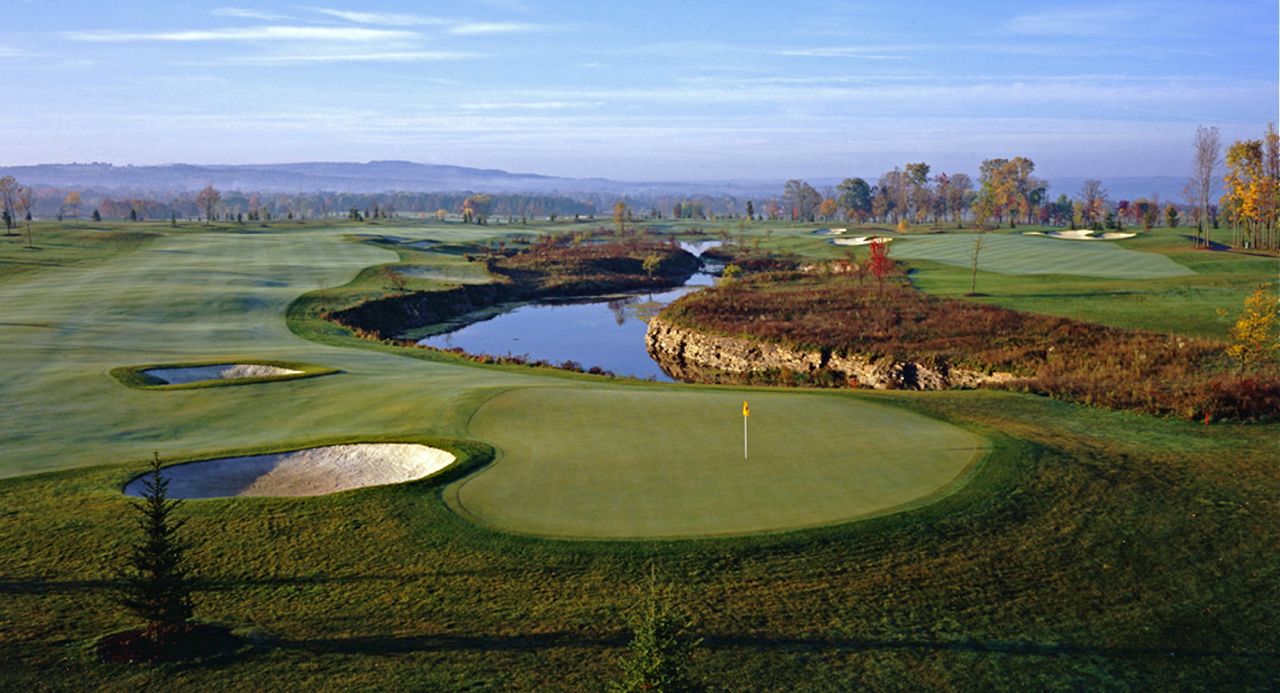 At most casinos, management tries to trick the patrons, turning night into day, pumping in oxygen, messing with the lights, and finding other ways to ensure that gamblers stay in their seats and never go outdoors.
At Turning Stone, going outside isn't only allowed, it is encouraged. And for golfers, it should be mandatory. Because no matter what kind of player you are—golfer, gambler, or both—this resort casino in upstate New York hits the jackpot.
Located 30 miles east of Syracuse and owned by the Oneida Indian Nation, Turning Stone has all the expected amenities: 120,000 square feet of Vegas-style gaming—machines, table games, high-stakes bingo, poker room—as well as four hotels, at least 10 restaurants, a regular flow of name entertainment, spa, conference center, shopping, a dance club, and other things I've forgotten. Unforgettable is the level of service, which is incredibly attentive, reminiscent of the finest five-star hotel. For example, a bartender at an off-site clubhouse got in her own car and drove to the main hotel to get horseradish for our Bloody Marys. At 11 in the morning!
And if you care about spinning a Titleist as well as spinning a roulette ball, Turning Stone is a lay-down, a royal flush, a six-card 21. There are five courses—three 18-holers and two 9-hole charmers—and the year-round Golf Dome.
The course you may know is Atunyote (shown at top), which means "eagle" in the Oneida language. Designed by Tom Fazio and opened in 2004, it was the site of the Turning Stone Resort Championship, a PGA Tour event that ran from 2007-10. About 20 minutes from the main hotel, Atunyote operates like an exclusive club with its own clubhouse, pro shop, and practice area. Immaculately maintained, it's a stiff challenge in the mold of Fazio's finest, with wide fairways, big rolling greens, steep-faced bunkers, and a fair amount of water.
Atunyote is the resort's showpiece course, the big-ticket item, but not the only one worth tackling. A short walk from the hotel, a single clubhouse handles the other two 18-holers, Shenendoah and Kaluhyat.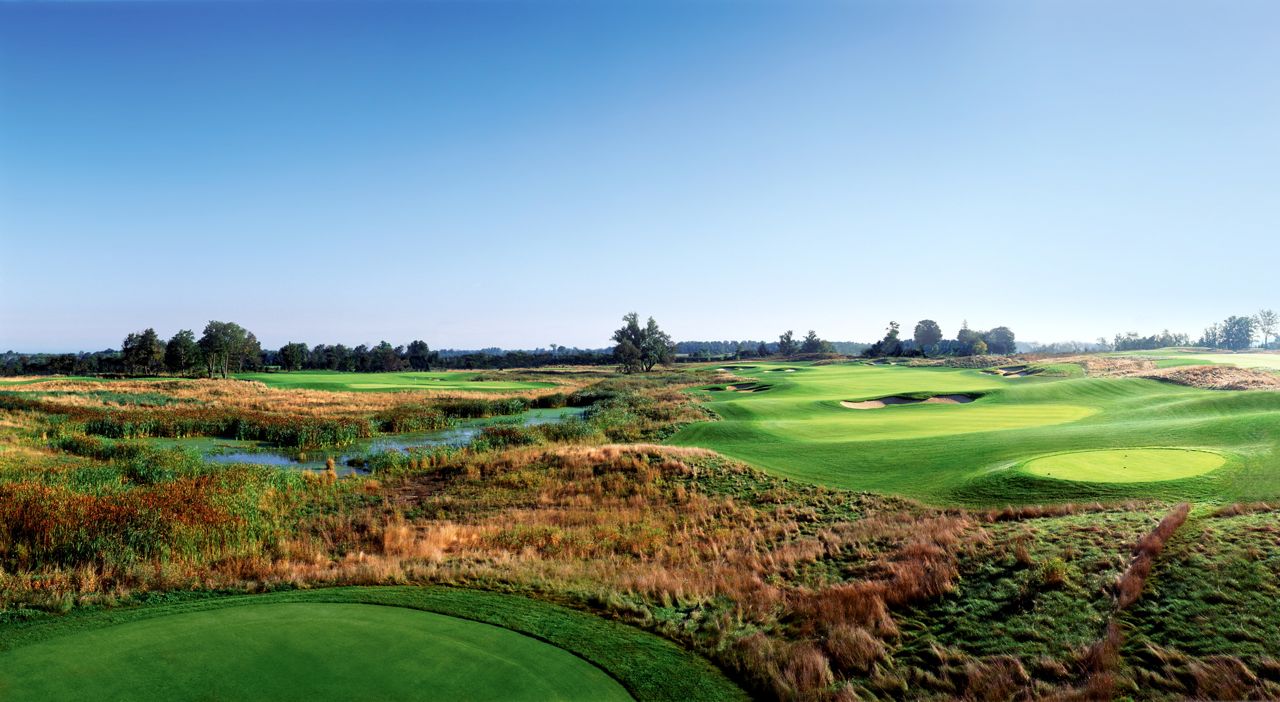 Shenendoah (above) was the resort's first course, opened in 2000 and designed by instructor Rick Smith, he of the much-praised Treetops courses in Michigan. Although parts of Shenendoah play through thick stands of trees and wetlands, I'd describe it as heathland, featuring rolling fields of fescue (the surrounding area is largely agricultural and it's easy to imagine all the courses once home to cows and corn). It is the most pastoral of the layouts, filled with all manner of birdlife. As to netting your own birdies and eagles?  Shenendoah is harder than it looks.
But the hardest course is Kaluhyat (shown below, with the hotel tower off in the distance), which is pronounced "ga-LU-yat" and means "other side of the sky." The 2003 creation of Robert Trent Jones Jr., this is the most interesting layout, throwing everything at you from long carries and big water to a great mix of holes long and short. Accurately described as "a shot-maker's course," I'd also recommend it to geometricians because you need to play the angles—numerous offset fairways and greens—while knowing precisely how far you hit each club.
Two facts about Kaluhyat: 1) It gets about half the play of next-door Shenendoah, and 2) it has the second highest slope rating in New York State—146 from the back tees—second only to Bethpage Black (148). A course worth playing, just do so from the correct tees.
For a warm-up or cool-down, check out the two nine-holers. The Smith-designed Sandstone Hollow is no pushover but is a Certified Audubon Signature Sanctuary. Pleasant Knolls is friendlier, great for kids and new players.
Should you want a lesson, to see your swing on video, hit into a simulator, or otherwise analyze the hell out of your game, enter the Golf Dome. It's 330 feet long, 240 feet wide, and 75 feet high, and the indoor home of the resort's golf academy. It's also a winter-time golf heaven.
When it comes to accommodations, unless you're hard-core for the gaming, stay at the Lodge, which sits between the hotel tower and the Shenendoah/Kaluhyat clubhouse. The rooms are spacious, elegant, and non-smoking, and the house rule is to pamper the patron. On the first floor is Skana Spa, featuring treatment rooms, a full-service salon, sauna, steam rooms, whirlpools, and a co-ed mineral bath. There's also a sweat lodge, located just off Shenendoah, open seasonally.
Turning Stone has made the middle of nowhere somewhere worth going. Call it a safe bet, a sure thing, or choose your own gambling metaphor. It's a winner.