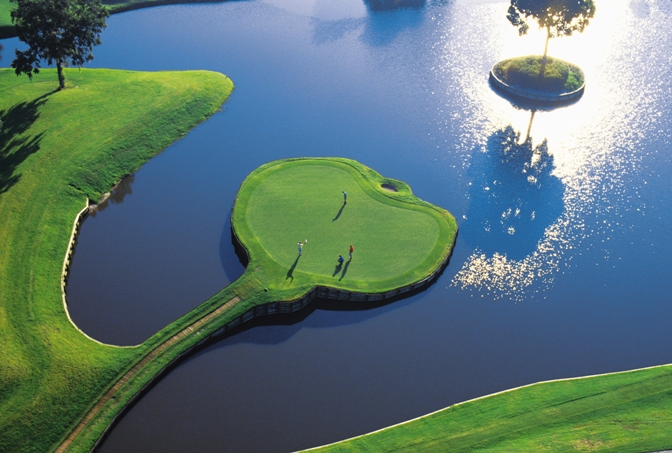 The world famous TPC Sawgrass is a dream destination for most traveling golfers. It also has nice sister TPC course and recently revamped Marriott hotel. But it still did not make Conde Nast Traveler's new best golf resorts in Florida list. What beat it out? Among others, two different hotels sharing the single just okay course at Orlando's Grand Lakes.
Over the past two days, I have analyzed the stupidity of the "Top 80 Golf Resorts" reader poll in the June 2010 issue of Condé Nast Traveler.
To reiterate, I am not doing this because I hate Condé Nast or its magazines. I am doing this because I know for a fact how seriously  many readers take this thing, how many will actually buy plane tickets and make reservations and tee times, and in the process, how many will get ripped off and waste their time. I especially pity those who will arrive at the "best" golf resort to find little or no golf at all.
But really what I'd like is for someone at CNT to read this and take notice and make the structural changes necessary to avoid the blatant inaccuracies and totally irresponsible and erroneous results that have become an annual affair.
I promise this is the last in my series!
My previous two blogs looked at the defects in the way the poll works and the defects in the categorizations they use. Along the way I gave many examples of golf resorts that simply should not and cannot under any reasonable consideration made the various geographic best lists. Now I want to briefly consider the errors of omission, golf resorts universally (outside of CNT) considered impressive or even world class, which were left off to make room for some of the crap they included, a few of which do not even have golf, as I cannot stop mentioning.
Critical omissions by region:
Top 5 Western US Golf Resorts
Bear in mind that most other regions were Top 10 or Top 15. Apparently they could not find more than 5 worth mentioning in the Western US. As a matter of fact they did not even find five, since they included the Wynn Las Vegas, which is the second best golf resort in Vegas. In the process they skipped:
Bandon Dunes – widely considered to have the finest public golf course in the country, and one of only two resorts (Pebble is the other) with two top ten courses – and three Top 100 – plus an acclaimed new fourth that has not been rated yet. Seriously? The best golf course in the country plus three other great ones can't equal the Hyatt Regency Tamaya in New Mexico?
Shadow Creek – it's been a US Top 10 and World Top 100 ever since it opened, and is easily the best course in Nevada – and using the same CNT standard of making any hotel with guests access to the course a "golf resort," as they did in this very section with the Ritz Carlton Bachelor Gulch, whose loosely associated golf course is half an hour away, how could they overlook Shadow Creek which is paired with Vegas' best luxury hotels, the Mansions at MGM, Skylofts and theHotel at Mandalay Bay, as well as Bellagio, Mirage, Mandalay Bay, MGM Grand and Aria?
Sunriver, Oregon: Maybe a hidden gm but definitely one with three excellent courses anchored by the acclaimed Crosswater, plus some resort facilities unrivaled in the US, like a state of the art astronomical observatory for guests. Go figure.
Top 10 Foreign Golf Resorts
This is the list that included the no-golf "golf resort" of Esperanza, the mediocre course at the excellent Dromoland Castle, the excellent golf at the mediocre Hilton Los Cabos in lieu of better lodgings, and the Fairmont Southampton, Bermuda, with only a par-3 course. To include little or no golf, they skipped:
The Lodge at Doonbeg, Ireland: A very good links course with arguably the best on-course lodging of any golf club on earth. Great Irish golf and hospitality? Why include it when you can have some par-3 course in Bermuda?
Waterville House, Ireland: not many people know about this fancy inn associate with the Waterville golf course, but everyone knows the course, one of the world's best. That's not enough for CNT.
Mission Hills, China: It's the largest golf resort in the world, with twelve course, at least half of which are very good, plus an excellent full service hotel with huge spa, many good restaurants, and literally every facility you could imagine. Mission Hills simply is not missing a single thing in the pantheon of great golf resorts with 216-holes, but why not skip it for a resort with zero?
Kauri Cliffs, New Zealand: A world top 100 course and universally beloved ultra-luxury accommodations with private beaches, thousands of acres and more things to do than you could imagine. This is at the top of many golfers dream to-do list, so why not ignore it?
Casa de Campo: It is the only resort in the Caribbean to ever have a Top 100 rated course, and has another one as good or better, but still could not make the list. The entire Dominican Republic has long been the 800-pound gorilla of Caribbean golf, and has at least two other resorts that easily most of the poll's choices, Cap Cana and the Punta Cana Resort & Club.
Honorable mention: Ritz Carlton Powerscourt, Ireland; Ballyliffin Hotel, Ireland; Machrihanish Dunes, Scotland; Lough Erne Golf Resort, N. Ireland; Chateau Tremblant, Canada; Verdura, Sicily; Four Seasons Nevis; Sandy Lane, Barbados and many, many more.
That's it, I'm done. Final verdict: The Condé Nast Traveler June 2010 Top 80 Golf Resorts poll is not worth the paper it is printed on – in fact, its not even worth the memory it takes up online.