(originally published April 11, 2011)
Sometimes the Masters enhances stars; sometimes it anoints them; sometimes it is the star.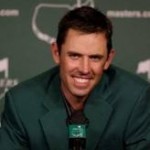 Charl Schwartzel wore the green jacket at the end of the day, charging to victory with birdies on the last four holes.  Still, he'll have to forgive us if we think of it forever as simply "the 2011 Masters," one of the most dramatic golf tournaments ever held.
The 26-year-old South African, ranked 29th in the world, chipped in at the first hole for birdie, holed out from the fairway on the third hole for eagle, kept his head through a long and loud afternoon, then closed with a finishing kick that matched Jack Nicklaus's magical final four holes (also four under, eagle-birdie-birdie-par) in 1986.
Schwartzel turned in the lowest score, but everyone watching was a winner.
There are many ways to set up Augusta National, and for much of the last decade the club seemed bent on keeping scores high by making it as difficult as possible.  Longer, firmer, tougher – by placing the holes near ridges, shaving the banks near hazards, and quickening the greens to lightning speed, Augusta National could protect par and delete drama.
But the course – and its second nine especially – was designed for drama, with reachable par-fives and cunning slopes that can reward a well-planned approach with birdies and eagles and charges up the leaderboard.  While the U.S. Open finds its champion by punishing mistakes, the Masters should be a place where a golfer with flair can make great things happen.
That's just what they did for four dizzying hours on Sunday.  In a week of beautiful weather and little wind, the roars reverberated through the trees as in the glory days of Jack and Arnie and Gary, of Ben and Sam, and early Tiger.
Eight different golfers held or tied for the lead at one point or other.  They hailed from six different continents – everywhere but Antarctica, as David Feherty observed.
There was the powerful Argentine Angel Cabrera, South Korea's K. J. Choi, the South African Schwartzel, and an American named Tiger Woods, who returned to major championship contention with a performance that either proved he will win again or showed why he won't.
A trio of Aussies – Adam Scott, Jason Day, and Geoff Ogilvy – threatened to be the first from their homeland to win the Masters.
The lad from Holywood in Northern Ireland, 21-year-old Rory McIlroy, led by four strokes after 54 holes, then contributed a performance that brought to mind the painful Sunday effort of Aussie Greg Norman at Augusta.
McIlroy's round was hard to watch.  His putting stroke was shaky from the start, and it took just three holes for his lead to disappear, assisted by Schwartzel's early fireworks.  He managed to hold himself together through the first nine holes, but his drive on ten hit a tree and wound up between two of the club's guest cabins, closer to South Carolina than to the fairway.   After another gruesome pull-hook and then a clipped tree on a pitch shot, he took a surreal triple bogey and all the air whooshed out of him.
If it were a prizefight, they would have stopped it after McIlroy's four-putt on the 12th, but golf asks its reeling competitors to keep going forward, and the final number was 80.  It is what's supposed to happen to a 21-year-old sleeping on a third-round lead in a major for the first time; he will recover and win again, but these scars will do him little good, and they underscore what a cruel game golf can be (and how unique and amazing Tiger was at the same age).
McIlroy's struggles turned a young man's coronation into a democratic free-for-all.  Once he had finished his implosion on ten, there were ten players within two shots of the lead.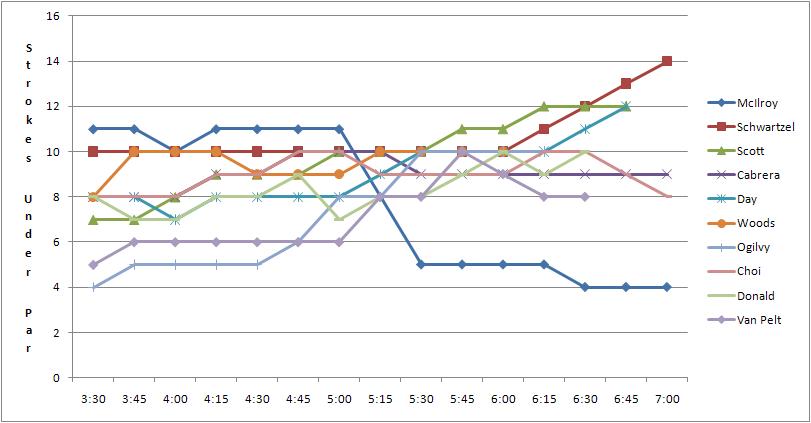 One of those was Tiger Woods, whose eagle on the 8th hole had set off the largest roar of the day – until his second shot on the par-five 15th settled four feet from the pin.  The putt would have given him the lead by himself, but he drilled it over the right edge of the hole and had to settle for birdie.  It was one of several disappointing shots on the back nine after his sizzling 31 on the front; he missed a similar putt on 12 for bogey, pulled a seven-iron long and left on 13 to make par after a great drive put him in perfect position for an eagle, and dumped his approach on 17 short of the front ridge when he knew he needed birdies coming in.  He showed enough of the old Tiger to put himself into spots where the new Tiger could come up short.
"We've been saying that the young players aren't afraid of Tiger," Jim Nantz said after Woods's eagle on 8.  "We'll find out about that now."
We did.  They're not.
Playing alongside Adam Scott, Jason Day birdied four of the last seven holes, nailing a long uphill putt on 17 to create some roars of his own.  If Scott was feeling any heat, he didn't show it, wielding his broomstick putter for birdies on 11 and 14, and scaring the hole with his tee ball on the short 16th before settling for a one-foot kick-in birdie.  Purists will argue long into the night that the implement should have been banned from golf as soon as it appeared.  Regardless, that punt has poled on down the stream, and Scott has embraced the method to overcome his putting woes and seemed ready for his major-championship breakthrough at last.
While Scott was making par on 17 despite hitting his tee shot into a greenside bunker on number 7, Schwartzel rolled home a 20-footer on 16 to match Scott at 12 under, drained a nine-footer on 17, and enjoyed the walk up the final fairway knowing he only needed par.  He made one last birdie, holing a putt he'd studied during the practice rounds.
The victory was sweet for the newlywed winner, and the road to the ending was something for all to savor.  This year's Masters more than lived up to its considerable annual hype.